Discussion
Win a Signed Vinyl of Rodney Crowell's 'Close Ties'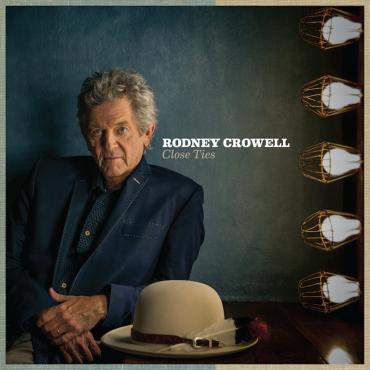 Rodney Crowell's latest album, Close Ties, is a celebration of the relationships we hold dear — even after those ties are broken through movement or death. The singer-songwriter's contemplative lyricism and careful guitar playing are on full display here, so we're pretty thrilled to be giving away a signed vinyl copy of Close Ties to a No Depression community member. 
"After Emmy and I wrote the songs for The Traveling Kind, a number of really close friends of mine die," the troubadour tells our own Henry Carrigan. "Guy Clark, Glenn Frey, my business manager of 38 years, among others — and songs like 'Life without Susanna' and 'It Ain't Over Yet' grew in that season. You know, close ties are the connections, the relationships; the most valuable part of relationships is what you learn."
From a press release:
Close Ties both demonstrates Crowell's strengths as a songwriter and illustrates how he has learned to balance personal recollection, literary sophistication, and his profound musical reach. It's at once his most intimate record and his most accessible, the product of years of understanding the ways songs can enter - and be entered by - life. It is a roots record, in the sense that Crowell himself has deep roots that stretch back into the alternative country scene of the early seventies. But it defies easy classification. Is it country? Is it a singer-songwriter record? "I have declared my loyalty to Americana. It's a hard category for people to get their heads around, or at least the terminology is. But all the people who represent it - Townes Van Zandt, Guy Clark, Lucinda Williams, Steve Earle and more recent stars like John Paul White and Jason Isbell - share a common thread, and that thread is poet. Whether they are actual poets or their music exemplifies a poetic sensibility, generally speaking, the Americana artist
shuns commercial compromise in favor of a singular vision. Which resonates with me."
To enter: Comment here with your favorite Rodney Crowell memory, whether it was a show, an album, or just the right song at the right time. We'll choose one winner and send them a copy of the album. Comments posted on social media don't count toward the contest. Anyone may enter but prizes can only be sent to US addresses.
Comment anytime between midnight Eastern on Friday (April 7) and 9 p.m. Eastern on Thursday, April 13. The winner will be announced shortly thereafter. 
(More info about the album, including a full track listing, is available here.)