Interview
All in the Family: The Lack Family soars to Adult Alternative radio with Cali harmonies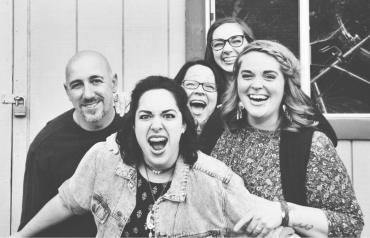 As one can recognize by the name, the Lack Family isn't just a band; it's a family. A real family and not just a group of unrelated musicians who adopted Ramone as their last name. Their harmony-filled new album Seven has received the welcome committee on Adult Album Alternative radio stations, especially in Colorado. Leader and daddy Scott Lack recently sat down for an interview.
Q: The Lack Family is a real family. Are they involved in the songwriting process, too?
A: The songwriting has probably been the most exciting to see develop with our family. We're already finishing up our eighth album, and our youngest daughter Chloe has contributed the most songs on this particular album, which is so exciting.
Q: What instruments do you all play, and how did you learn?
Scott Lack, dad (guitar/vocals): I picked up a friend's guitar at 16-years-old and instantly fell in love, been playing ever since.
Paula Lack, mom (keyboard/vocal): She learned how to play chopsticks as a kid, then started learning the hymns, and eventually writing her own songs.
Deborah Lack, oldest daughter (bass/vocals): Our bass player got sick years ago and couldn't make it to a Christmas gig, so we gave Deborah a crash course on bass playing to fill-in at 14-years-old, and she's been playing ever since.
Sarah Lack, middle daughter (drums/vocals): Sarah's is probably the craziest story. Six months before we went full-time on the road in 2009, we didn't have a drummer and we were rehearsing "Carry On My Wayward Son." During the rehearsal Sarah kept raising her hand and asking if she could play the drums. She was only 11 at the time. She kept insisting, so we said "OK Sarah, you'll have to not only play, but play to the click track, and sing the harmony at the same time." And oh my goodness, she played it from start to finish flawlessly, we were all in tears, we had our new drummer.
Chloe Lack, youngest daughter (guitar/mandolin/ukulele/whatever): This kid was just talented out of the womb. Anything that was laying around the house she was able to pick up and play. She used to ask to play my guitar in the RV, but she would bang it into everything, so we got her a ukulele, which was a mistake. Because she played it non-stop. She wrote about 5,000 songs and had us laughing and crying all the time.
Q: How often does the Lack Family perform live?
A: It feels like non-stop! We play pretty much two to three times a week during the winter, where we stay up in the mountains of California. Then we tour from June to December playing in several countries, three to four or more times I week.
Q: What was your introduction to music? How old were you, and how did it affect you?
A: I was influenced by my dad's classic rock albums early on, I remember listening to "Stairway to Heaven" on full blast at 12 years old. My wife, Paula, was a prodigy flute player in the school band and grew up around lots of harmonies and church singing. Our daughters, on the other hand, had music constantly filling the house, they were harmonizing as soon as they could talk and would pick up whatever instruments we had laying around and started to learn them and eventually master them. Music was the way that my wife and I met. It's the way our family has stuck together, and now has become the center of our lives. Music is also the way that we have had the opportunity to meet so many wonderful people around the world. We couldn't be more thankful.
Q: Did you grow up in a musical environment?
A: I didn't grow up in a musical home. Paula grew up with lots of choir and church music and also in the school band. The girls absolutely grew up in a musical environment.
Q: What styles of music had the greatest impact on you creatively?
A: Anything with guitar solos and lots of harmonies. You can hear both of those in pretty much all of our songs.
Q: What was the first song you ever wrote?
A: Paula and I wrote our first song over 20 years ago called "Listen." It was about hearing God's voice.
Q: What artists influenced you the most growing up?
A: I would say definitely the Eagles, Led Zeppelin, Switchfoot, and a band from the '90s called PFR.
Q: How have you evolved creatively?
A: Every year, people say to me, "Man, you guys are better every time I see you," so our live performance has definitely evolved into something quite entertaining, and hopefully inspirational. You can pretty much here the evolution of our song writing throughout all of our albums, creatively and in the production. We write, record, engineer, and produce all of our own music. It's probably most noticeable watching the younger girls grow in their talent and their age.
Q: What's the most personal track on Seven and why?
A: I wrote a song about my girls called "Our Last Mile." It's pretty much a biography of our adventures together so it's very dear to my heart. But there is also a tune that was written for a friend who passed away unexpectedly. It was called "Steve's Song." We were in Mexico last year when we got the news that Steve had passed away from a heart attack. He was only in his 50s, probably one of our biggest fans. We love playing the song "Free Bird" by Lynyrd Skynyrd. It was Steve's favorite song. They postponed the celebration of life memorial until we arrived home from Mexico just so we could play for Steve one last time. They asked us to play "Free Bird" at his memorial. It was tough, but during the guitar solo they played a video of Steve and I jumped off the stage to look up at the screen. At the exact moment I looked up at the screen, he was looking right back at me dancing on the video; it was a surreal moment.
Website: https://www.thelackfamily.com