Interview
Amy Boone on The Delines, The Damnations and What Exactly is a Social Message?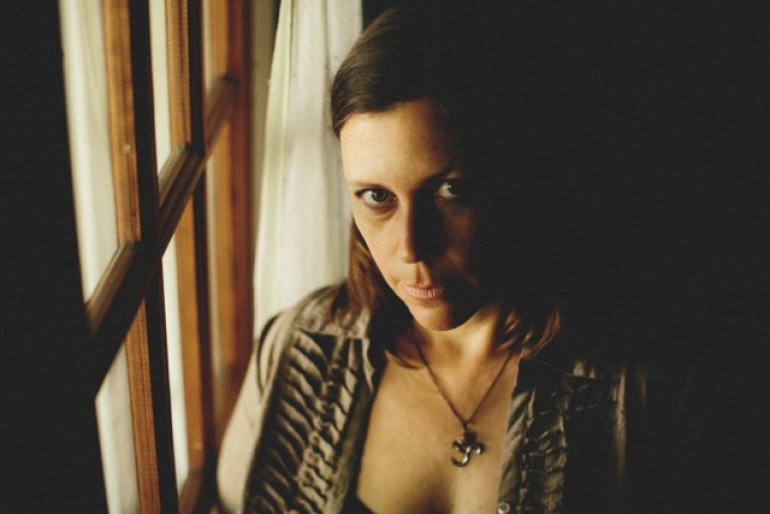 "You know with The Delines I write bigger songs because I think Amy can sing anything. I don't have the courage or ability to pull off a lot of songs she can." That's what Willy Vlautin had to say about Amy Boone. Last year he wrote an entire album around her voice; her late-night, soulful, long-worn voice. The album was Colfax, the debut release of Vlautin's second band, The Delines.
She has decades of history making music. Amy and her sister Deborah Kelly started alt-country band The Damnations in 1994. "The Damnations' music was all over the place, we played ballads, cow punk, a lot of different styles, we were a bar band. That doesn't mean our music didn't have depth, it was just more hidden."
"This past May, Kevin Russell from the band Shinyribs asked The Damnations to play on a Ted Hawkins tribute CD that he's putting together. It was a blast because it felt like a reunion for old Austin friends. We're also planning on putting out an EP this fall. The Damnations are my family; my sister and my brother in-law are in the band, so we'll always be a band even if we don't play out or make records. The Damnations aren't able to do any touring right now, so it's pretty easy to make The Delines a priority."
Her sister Deborah Kelly had been working with Richmond Fontaine – Willy's original band. You can hear her on their album The High Country for example. But when Deborah became pregnant Amy replaced her on a Richmond Fontaine tour. On hearing and working with her, Willy decided he wanted to write songs specifically for Amy's voice. (Legend has it that tequila was involved in the decision). The rest is history.
Amy plays bass and keyboards, and "after a few Irish whiskies I can play a mean kazoo." In Belfast last year at The Delines gig she was empty armed at the mic though, just her and her voice, apart from moving over to the keyboards for a stint. "I played a Randy Newman song on this cool old upright piano for the Colfax CD, so when we toured I played key boards on that tune while the fellas all went to the bar. It's a good strategy to have me play a song or two alone so they can go get a fresh drink."
"At first, I had trouble thinking of myself as a front person without an instrument. Having my hands free felt awkward and I couldn't hide behind anything. I'm beginning to really like being just a singer, for this band in particular, because I can take more risks with my phrasing and dynamics. It's a lot easier to concentrate on setting a mood without having to think about playing an instrument at the same time."
And mood setting is important. "Willy's writing is straight forward, he lays it down in a stark and sometimes brutal way, no frills, but it's poetic and very socially poignant. When I sing his songs, I feel like I'm having an intimate conversation with someone. He has the gift of making these songs feel really personal. The characters in his songs are often people who have gotten themselves into tough situations and are trying to get out. Loneliness, regret, being stuck, growing old, are very relatable emotions, and he's such a great writer that it makes it easy for me to feel connected to who and what I'm singing about. "
"The Song "I Won't Slip Up" is a good example of getting into character. There's a part in the song where the woman is explaining the circumstances in her life that are wearing her down. I sort of talk/sing my way through that part so it sounds like a conversation. The woman is confiding all this to the guy she wants to get a ride to the bar from. Apparently she's "slipped up" in the past but is promising to not do it this time. She wants another chance but she seems so beaten down by life she's probably going to have more than "a couple of drinks." Drinking helps her escape the part of her life that's demeaning. It's a good song."
If you don't know it, "I Won't Slip Up" is a drowsy smooth husk of a song. Amy's voice pours it into a thumb-printed glass; there's no soda. As a song writer herself though,does she have any input into what she sings with The Delines? "Willy has always said that if there are lyrics or anything that I feel uncomfortable about singing that I should tell him and we can change things or not do the song at all. That hasn't happened yet but I know he was sincere about wanting me to participate."
All this being said, does she think music with a social message is important? "I think all music has a social message, sometimes unintentionally or indirectly. Some music reflects the power of the music industry and all its strange machinations, and that's when we say "Yuck." A lot of radio pop is full of lyrical narcissism but still there is a social message in there, just not a noble one. I like singing Willy's songs because his characters are working class people or outsiders who struggle with real problems, shitty bosses, low paying jobs, loneliness. A lot of people fall through the cracks in our society and lyrically I think that's a worthy subject."
The Delines are touring Europe in September, will there be any new songs? "We aren't making an official second record until October but we will still play a lot of those tunes live. The plan is to make a road CD before we go out on tour in September at a home studio. The road CD will have a whole different batch of songs that I'm just learning. All the members of The Delines have done a lot of touring in different bands, but this band is new for all of us. We're just starting out and the more we tour the better we'll get. We have a lot of time between tours because I don't live up there in Portland, so I'm really excited about going out on another adventure with my pals again."
Does it differ much between touring with The Delines and touring with The Damnations? "Touring with The Damnations had its ups and downs. I had my sister with me so that was usually really great. Back then, we roughed it a lot, slept on people's floors or shared one room, lots of long drives. All that can wear you down after a while. Also, because we were all so close we fought like siblings sometimes.  Touring with The Delines is a lot easier because we have someone driving us and I don't have to deal with any of the business side of things. I can focus on singing, talking to people, and traveling to places I've never been, which is really enjoyable."
What's it like being the lone female touring with a band of blokes? "These guys are from the West Coast and modern men so they're pretty respectful, at least when I'm around. When I went out on tour with Richmond Fontaine, I did notice that one guy might barely grunt and they all understood what was said. A few times I needed someone to fill in the gaps with full sentences, but I think that only happened because they've toured together for so long. Luckily I get to decompress in my own room every night, but at that point I usually need a break from everyone, male or female."
So how did this whole musical journey start? "My grandfather wrote songs and played violin, piano, and flute, so live music was always being played around the house. When we were kids, my sisters and I would stand around the piano while my mom played traditional folk songs. When we tried to harmonize, I remember getting into big fights about which one of us was singing out of tune."
"My parents had records, lots of Motown and folk music. In my twenties, I listened to a lot of underground stuff, fellow musicians from Austin and cassettes that people would give me when we were on the road. We had a great group of bands that were touring around The States in the 90's; there was a real sense of camaraderie.  We all went to each other's gigs and exchanged road stories. Actually that's how I met Willy; The Damnations and Richmond Fontaine toured up the West Coast together."
I've read that Amy hasn't always been enamoured with country music – is it true? "Growing up in a small town, we had limited radio stations so the Oldies station and classic rock was mostly what was coming through the airwaves. I knew there were some great moments when country music was not imitating or mocking itself. Loretta, Dolly, Patsy, they had the license to sing about those classic country topics and old time values because it reflected their experiences and their generation. Sometimes newer more commercial country has this strange fake thing going on maybe because the production is often very slick and the lyrics seem formulatedto some kind of outdated country values.  I guess any genre of commercial music that strives to have mass appeal will loe something in the process."
"Living in Austin for the majority of my life, I've heard all the old stories about Austin declaring its own identity separate from Nashville.  According to those stories, it was the outlaw country musicians that realized Nashville wasn't the only place to make music. I actually liked some of the country soul music coming out of Nashville in the seventies like Bobby Gentry.  But I think one of the musicians who brought me back to my country roots in a modern way was Doug Sahm, a local Austin hero. He had all these interesting influences. He combined country music with Tex/Mex and was able to make it relevant to the times. The bass player in The Delines, Freddy Trujillo, is a big Doug fan, so we have lots of conversations about Texas music in the van. "
How does she balance all this with having a life? "I realized a while back that I like to socialize while I'm working on projects. My close friends are either the people I play music with or people that understand I may disappear for a while. I've always had trouble with time management because I have a lot of interests and I'm easily distracted. I'll drop everything for a good adventure. Episodes of acting immature and irresponsible help balance my life."
Great. I'm looking forward to a good dose of immaturity in Dublin this September.
Video credits: dreamvue1, KEXP, Gerry McNally, savannasaurus's channel, MB7rock