Interview
Au Pair: The Unlikely Collaboration of Gary Louris & Django Haskins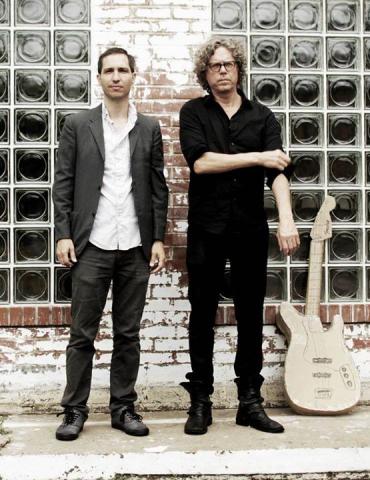 Au Pair is the friendship-based, and well fitted musical pairing of the Jayhawks' Gary Louris, and Django Haskins of the Old Ceremony. The duo met in 2013 at a Big Star tribute concert - Big Star's Third -celebrating Big Star's enormous influence on music over all these years, with original drummer Jody Stephens and a wealth of artists including Messrs Louris and Haskins.
"I was immediately drawn to Django by his openness and sense of humor" Louris explained. Haskins came from a different angle - "It was mostly Gary's shoes. He wears very convincing shoes." 
They then went on to co-write the album One Armed Candy Bear which they released at the end of last year. Where they met is a clue to the sound of the album, Louris considers "Big Star 3Rd as a jumping off point", but that barely scrapes the surface. Power pop drives right through tracks that can turn left at any point into krautrock, then a wee taste of new wave, some Bread-like harmonies in the background, swathes of Americana … it goes on. And on. The mixture of sounds and styles explains not only the tastes of the two artists involved, but the wealth of elements to their work and the desire to create something very specifically their own. This is not the Jayhawks; their new album is due in the spring. Neither is it the Old Ceremony who are still promoting last July's album Sprinter.
Django Haskins is named after Mr. Reinhardt himself. He fronts the North Carolina based pop-noir band the Old Ceremony with guitar and vocals, but he's also known for his skills on piano and violin. Sprinter was the band's sixth album, but as an artist in his own right Haskins has released records solo, in collaboration, and in previous bands.
Interestingly, song writing is not the only medium his writing is applied to however. After studying literature at Yale he has gone on to author non fiction books with topics as diverse as a touring memoir, and the biography of a survivor of RMS Titanic.
For Gary Louris, Au Pair is a project that keeps his creative juices flowing. In a 2014 No Depression Q&A he talked about how "Although the audience might get confused, an artist gets bored and typically has more than one side to his musical personality". The Jayhawks have been blazing their alt-country trail for more than thirty years now, and as a founding father, Louris has been on board right from the beginning.  However, from the Jayhawks to Golden Smog to Au Pair, Louris' musical personalities have been reaching out in various directions.
2015 looks like it was a busy year for Louris, writing, releasing and starting to tour One Armed Candy Bear, as well as working on the Jayhawks 2016 album. His Jayhawks plans for the coming year however are not all he is developing.  "I am hoping to get my solo record going and I have a few other side projects I want to pursue…" he told me in the below interview. "Idle hands are …well you know how the saying goes."
Cara Gibney: The pair of you met at a Big Star's Third concert in 2013. What was it that brought you to decide "yeah I could work with that guy … maybe even put out an album?"
​Django Haskins: It was mostly Gary's shoes. He wears very convincing shoes. ​
Gary Louris: I was immediately drawn to Django by his openness and sense of humor. There was a lot of waiting around as the powers that be decided who was going to rehearse their song next.  We started chatting and I was complaining about all the clichés I hate like "It's all good" or "My bad" and we decided to write a song using all the clichés we could think of as a kind of goof. That is what started it. And then we just seemed to click. 
CG: Where did the name 'Au Pair' come from?
DH: We can't tell you that. I don't know, maybe Gary can.​
GL:  Just brainstorming….I had seen a hilarious trailer for a movie from the sixties called "Au Pair Girls" I believe and it just stuck in my head….And then there is the fact that Django and I are a "pair" of …well… it's a band name and it doesn't make any sense but everything else good has been taken...
CG: There is a thread that runs through the One Armed Candy Bear album, that no matter how beautiful or upbeat the track, there is something not quite comfortable about it. There are unidentifiable noises, and stalkers and even the candy bear is "a sick motherf**ker".  Does this ring true to you? Is there a central theme to the album?
​DH: That definitely rings true to me. I generally gravitate toward music, art, movies, music or people who are a little off kilter. I'm not sure there's a central theme to the album: that's for the theologians of the future to decide. 
GL: let's look at it this way... too much sugar gives you cavities.  Too much of the acrid gives you a stomach ache. But together they make for a delicious meal. I always want a little dissonance with my beauty.   
CG: There are so many different sounds and styles in One Armed Candy Bear. How did that work with the song writing and recording processes? Did the pair of you come to the table with ideas of krautrock flourishes and body percussion in mind? How much does producer Brian Haran have to answer for? Or are all three of you equally guilty as charged?
​DH: Each story really got its just punishment. For the writing, the rule was to make songs that pleased us. Brian was a big part of the particular sounds we got. He signed on to the "anything goes" attitude of the record and tended to push it further. That's why he was perfect.
GL: The involvement of Brian Haran on this record makes me believe in fate. He was definitely the man for the job.  I could bring up the most obscure avant-garde reference for a sound I wanted and he would know the outtakes from their first record that was never released stateside.  I know that Django and I had the Big Star 3Rd as a jumping off point having met doing those live shows with Stamey and Co.  So the approach was let's write great songs and then twist them until they almost break.  
CG: What was the connection with Brian Haran – why did you bring him on board to produce the record?
DH: My other band (The Old Ceremony) had played a few times with Brian's various bands, but we'd never worked together. I just had an intuitive feeling from knowing him that his aesthetic would be right, and I was dead on as it happens.​
GL:   All Django.  I never had met the man.  Now I am his biggest fan. He will be appearing at shows sporadically as his time allows.   
CG: What form did that body percussion take? What track is it on?
​DH: There's body percussion on a lot of tracks -- claps, stomps, chest thumps, heavy breathing, beat boxing. "Middle Distance"  and "Sullivan's Ghost" a​re two big examples.
GL: You seem quite obsessed with our body percussion! Haha.  We didn't want to open up that can of worms of bringing in a real drummer and bass player and I have always loved the concept of creative percussion.  I always loved that cool vocal percussion on Time Of The Season by The Zombies. And Django and I both have incredible bodies so why not use them??!! 
CG: "One-Eyed Crier" is haunting. How did you manage to create that atmosphere?
DH: The melody kind of has that floating feel -- lots of major 7ths and 9ths will tend to do that. That and some fairy dust, courtesy of feedback guitars and some pretty far-out treatments from Brian.​
GL:  I don't remember who actually did what. Brian definitely set up the chain of effects and synths and then we all had a go twiddling some knobs.  I know that we wanted something filmic or cinematic. 
CG: Django – you spent some time in China where you would play your own songs at your local pub where no one understood what you were saying.  You have said that this gave you better insight into song writing, saying "It takes away all opportunities for in-references, clever lyrics, etc.," and it "boils it down to melody, rhythm, feel, and sound". This will of course be applied to all your song writing, but can you give any specific examples on One Armed Candy Bear where that experience helped or had an influence?
​DH: There are several songs that launch into Morricone-style instrumental sections - sometimes those are the most emotional parts -- the end of "Baby on Trial" or "One-Eyed Crier" are two of those...​
CG: Gary – You were an architect over thirty years ago, but it still captures you enough to write "Sullivan's Ghost", a song about architect Louis Sullivan, the "Father of Skyscrapers". Do you still find yourself looking at the world around you through an architect's eyes?
GL:   Yes, unfortunately I do, because what I see isn't pretty… All these cookie-cutter condos going up look cheap and uncreative now. Imagine how they will look in 20 years… I do see all around me and sometimes just want to dig a hole in the ground and stick my head in there… nowadays it seems one must build their own little world of beauty… I know I am hypersensitive about it and that is my lot in life.   But it is a known fact that the more money or people that are involved in anything whether it is music architecture or any other art, the more diluted it gets… How about those Vikings?
CG: Gary - how have you managed to juggle Au Pair and One Armed Candy Bear, and the work on the new Jayhawks album?
GL:   I haven't put out enough material in my lifetime. It is time to do a Ryan Adams perhaps and regurgitate every idea that comes to my head.   The Au Pair album was a low budget stream of consciousness affair and the Jayhawks record was fairly quick compared to our 90's records. Most of the work on the Jayhawks record was done in preparation …we were very very very prepared.   I am hoping to get my solo record going and have a few other side projects I want to pursue… Idle hands are …well you know how the saying goes.
CG: Django – what does the Old Ceremony have planned for 2016?
​DH: The Old Ceremony's sixth album, "Sprinter," came out this July on Yep Roc​. We'll keep plugging that one for a while and get back to the studio and work on a new one at some point next year I imagine.
CG: Au Pair are touring the U.S. right through to February 2016. Will Au Pair take a break after that for Gary to concentrate on the Jayhawks release?
GL:  Well it's not exactly "Au Pair Over America".   We have sporadic shows…Django has a family and responsibilities that keep him home and I have ….well…I guess I am available if anyone needs a guitar player. By May I will be gearing up for some hard-core touring with The Jayhawks…We are taking this next record very seriously.
CG: Now that One Armed Candy Bear is released, can you see any future work together?
​DH: I think so. We're having a good time figuring out how to play these tunes live, and we have a coupla new songs in the works already. It's gonna be a big, bloated, Eagles-style sell-out album about high tax bills and drug busts. Lots of studio musicians to cover our mistakes and airbrushed band photos, the works.​
GL:   I would love to work with Django again….We don't have a real agenda other than making music we both love and as long as we seem to have the connection we have established we will continue to record...
CG: Would Au Pair ever consider touring Europe?
​DH: Yes.​
GL:  Definitely…I see a train tour in our future….I believe that Au Pair may do better over in Europe. We will never be road dogs with this band…We don't expect to sell many records. I do think our music would lend itself to film…but I see two guys with guitars over their shoulders with possible families in tow hopping on train…Japan anyone??
Video Credits: rw104, dschram1, Au Pair,