Interview
Backstage at Bonnaroo: A Chat with Anderson East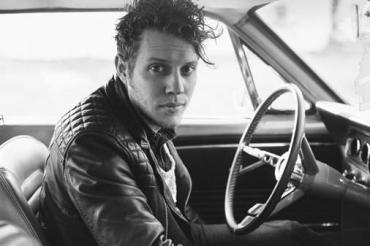 Athens, Alabama's Anderson East is an artist who has been turning heads since releasing his major label debut Delilah and the single "Satisfy Me" last year.  He's made his first appearance at Bonnaroo, as a performer at least, on Saturday and I caught up with him backstage after the show to get his impressions as well as to hear one of the more unique Bonnaroo histories I've gotten from a performer.
Chris Griffy:  You're a couple of hours removed from playing what I believe is your first Bonnaroo.
Anderson East:  It's my first time as a performer.  I actually came three times previously as a fan and once as a lemonade vendor.  This is a far more enjoyable experience!
CG:  There's got to be a story in there somewhere.  From lemonade vendor to packing out This Tent.
AE:  It sure feels like a story for me, just to be part of the entertainment rather than the entertained!
CG:  The energy seemed high from the audience.  How did it feel from the stage?
AE:  It felt great.  You never know what to expect when you're at a festival, especially in the daytime.  When you look out and there's no more room to be had, it's a really special place and we enjoyed being up there and giving it everything we had.
CG:  Having come as a fan and a vendor, you had experience with Bonnaroo before, but what was your thought on Bonnaroo before?
AE:  When I came, the first three years as fan, it was the first three years they ever came.  It was more for the experience.  I was just a music lover and where I grew up there was no place to go see music.  When you're 16 years old, this is exactly it, especially in the Southeast.  This was the tastemaker, the place where you could hear everything you love.
CG:  Listening to your music, you obviously take influence from a wide range of artists. What bands really spoke to you back in that time when you were 16-17.
AE:  Probably not what you would expect.  I was always drawn to the songwriters, a James Taylor, a Carole King, a Paul Simon.  But I was also one of those kids who was into jam bands too, The Dead, Phish, Umphrey's McGee, and groups like that.  That's what first drew me to this acreage was because those bands played here.  It may not seem like it seeps into our music, but its deep in there.
CG:  You tipped your hat to another influence today when you covered David Bowie.  Why "Rebel Rebel?"
AE:  It just felt like the right song for this environment.  The people who are the outside perimeter of society.  It felt like something we could all relate to at that moment.  There aren't many artists left that I relate to as much as Bowie and it just seemed right.
CG:  You've had a chance over the last couple of years to tour with artists like Jason Isbell and Sturgill Simpson.  What have you learned watching those more established artists?
AE:  We've been on the road with some really fantastic people.  The thing that most comes away from it is community, being true to yourself, and being a generally kind person.  Show up every night, give a show to the people who want to see you, and keep your head on your shoulders.  In the end, you make art for yourself and hopefully the people in front of you can relate.