Interview
Backstage at Bonnaroo: A Chat with Luke Bell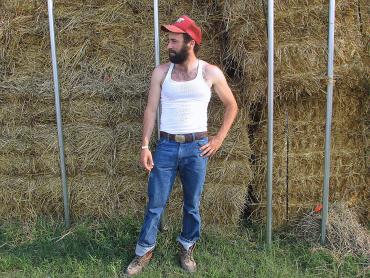 Wyoming born and Nashville-based singer songwriter Luke Bell has been garnering attention over the past year after a string of well-regarded festival performances and features in publications like Rolling Stone.  All of Bell's press plays up his traditionalist nature, rooted in the Bakersfield Sound.  But when I caught up with Bell backstage at Bonnaroo in advance of his Who Stage performance, I discovered a soft-spoken and contemplative artist with a well-rounded grounding in numerous musical styles.
Chris Griffy:  Living in Nashville, you can't help but have had some knowledge of Bonnaroo, but how much did you know about the details?
Luke Bell:  I didn't know a lot.  Obviously I knew what it was and I knew it was a huge festival and a big deal, but not much else.  I didn't know about the Dr. Seuss theme.
You recently played Stagecoach Festival in California.  How do you tailor your setlists or your approach to a genre specific festival like Stagecoach vs. a diverse music festival like Bonnaroo?
I don't really change that much for the type of festival.  I try to design my music more to cater to the energy of the crowd more than anything.  If they want to dance, we'll play dancing songs.  If they want to relax, we'll play more relaxed songs.
There's been a lot written about your sound and its connection to the Bakersfield Sound, which seems to be making a bit of a comeback.  What bands influenced you in your music?
Some of my first musical experiences came from bands like Mike and the Moon Pies, Ramsey Midwood, and a lot of bands I saw in Texas at this little hole in the wall called the Whitehorse.  I recognized these guys had studied older material and had used those techniques and tools in their own work.  And I also saw a lot of that in New Orleans and in Nashville.  There are some amazing artists who understand their history and done their homework and I try to hone toward the same craft.  The Bakersfield sound was really an accident.  I had written this song called "Sometimes," well I had half of it written and finished it up in the studio.  Me and the drummer Jimmy Lester were just goofing around and this Bakersfield style came out, so we just rolled with it and made a honky tonk record.
You spoke about Texas and New Orleans.  There's been a lot written about the connections between the music of Nashville and Texas, but not as much about Nashville's connection to New Orleans.  What do you see as the major overlaps between those two cities' style.
There's a lot of cross-pollination and you see a lot of artists from both cities go to the other to tour.  But there's two different attitudes.  New Orleans has a very purist mentality about their music as far as tradition goes.  And they're very regimented, very disciplined.  They are amazing performers, the best performers I've ever seen as far as people getting up in the streets without a microphone and making a couple hundred dollars in a few hours.  But Nashville has its ups too.  The live shows in Nashville -- some of the stages are just unparalleled.  And the studios here are amazing.
You spoke a little before about writing "Sometimes" and you've recorded a video for it which was kind of a unique take.  Tell me a little about that.
We were just getting a fun shot.  I think every artist has their party video where they invite their friends out and tip their hats.  A lot of the people in that video are people who have supported me for a long time so this was a chance to just say thank you and so glad to have you along. It gives them a chance to smile for the camera and cameo.
It was kind of a "through the looking glass" take on all the karaoke bars in Nashville.
Yeah!  That's actually Santa's Pub, which is an interesting little spot we have been hanging out at since I moved to Nashville.  My friend Carter Brollier who plays bass with me hosts a country night there every Sunday and we get together and drink beer and learning honky tonk songs.