Interview
Backstage at Bonnaroo: A Chat with Reuben Bidez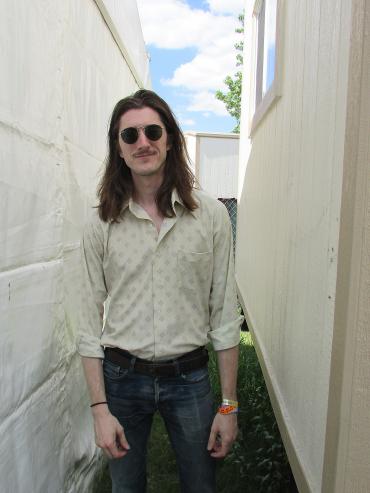 Nashville songwriter Reuben Bidez is based in Nashville, but originally came from Atlanta. His history there performing in churches has influenced his current career of thoughtful folk rock music. I caught up with Bidez backstage in Bonnaroo's press area the day before his set at The Who Stage on Saturday to discuss his unique musical journey, the competitive Nashville scene, and his prior knowledge of Bonnaroo.
Being a Nashville-based artist, I'm guessing Bonnaroo is more familiar to you than many bands playing.
Yeah, being originally from Atlanta, I've driven past Manchester many times on the way to Nashville. I've seen the billboards every year, so it's exciting to finally be playing here. It's a real honor to be playing Bonnaroo. It's one of the premier festivals in the US. They've been great to me so far. I went and checked out the stage I'm playing at and watched a few artist play. I'm pumped!
Your show is being advertised as a full band show vs. a solo show. Talk to me a little about how you structure your concerts differently with the band.
When I do a solo, it's just me and my 12 string guitar, maybe an electric. It's total freedom and I can stretch my legs a little more. My band shows are more structured. But as we get more comfortable as a band we are starting to flair out a little. But the energy level is huge. That's a huge difference. I also have two amazing vocalists in the band, so that's a luxury to have. We can take it up an extra notch.
How long have you been playing with your current band?
It's kind of happened over a couple of years. Actually, believe it or not, I met a couple of the guys at my day job. We personally gelled and had a lot of similar musical influences. My bass player, Wyatt, has been the first and most committed. He's who I co-wrote my most recent song with. So it's been a year and a half with some of the band members, but it's been locked in with this full group for about six months. Just a few practices ago it really started to click all of a sudden and I thought "this is what I've been looking for. This is the chemistry."
You spoke a bit about structuring a solo show different than a band show, but do you change your set up for a festival set where people aren't necessarily there specifically to hear you?
I'm going to bring a little something extra. They have a lot of other things they can be doing. Festival crowds are a little different than club crowds. I feel like if you are coming out here to spend a weekend baking in the sun, you really are here for the music. So I feel like they're going to be optimistic. I know they came to hear U2 or Chance the Rapper, but I get them at 2:00 on Saturday with fresh ears, so I'm hoping I can win them over. We have our new song to play and then a couple of covers up our sleeve as well.
You started in Atlanta and moved to Nashville. Can you contrast the Nashville music scene with Atlanta?
Nashville is so concentrated with great music, great musicians, and the music business. It was a natural move for me. I've found this amazing community of songwriters out there. And some who started independent and have started signed. Aaron Lee Tasjan is starting to get some attention now. Or Margo Price who just a few years ago was an independent artist and now is everywhere. Nashville has a great community. The big difference for me was the concentration. Atlanta has so many things going on but you come to Nashville and it's like "we do music. That's all we do. So you'd better be good! -laugh- That community pushes me to get better. I see these amazing shows and I know I need to elevate my show. It forces me to get better.
You started out as a singer in churches. How did that style of singing help you in your current career.
It teaches you to get comfortable in front of an audience. There are some big churches in Atlanta, so you're playing to 1000 people on a Sunday morning. And it's a lot more difficult to sing for a 40 year old dad who just had to get his kids up for church on Sunday morning than a bunch of people in a club wanting to have a good time on Saturday night.
But I think it helps you keep the spirituality of music in focus. There's more than just a good song, there are intangibles you can't explain. Growing up around that has made me want to never take the spirit and soul out of music. It's what separates music from written words. Music has soul. Music has spirit.
Listening to your songs, I've noticed that you're an artist who is willing to let the pauses go, to let them ride.
Someone once told me that pause and rest and silence were just as important as notes. For me, that pause in the moment, pause in the music is a reflection of my deeper mission to get people to slow down for a minute, to relax, to embrace the moment. We're surrounded by so much noise, everything is trying to grab our attention. With my music, I want them to take a minute to be in that moment and connect. So those pauses are a direct reflection of my mission to embrace those human elements like pain, and love, and joy.
Who influenced you as a singer and songwriter?
George Harrison was a huge influence on me, as was Tom Petty. Petty can write these completely catchy tunes that are completely cryptic at the same time. Vocally, guys like Roy Orbison and Jeff Buckley. People who are able to completely captivate their audiences with just their voices.
George Harrison is one I want to circle back to, because he's usually the third guy of the four Beatles who gets mentioned as a songwriting influence.
Someone once said everyone goes through Beatles phases as they get older. As a child, you love Ringo because he's catchy. As you age, you fall in love with Paul. He's happy and he writes great melodies. Then you hit your rebellious phase and you gravitate to John. But eventually, you find George because he writes about joy and peace and happiness. And he's incredibly spiritual in his music. He had this spiritual mission of peace and love that fits with my mission. Feeding that spiritual side is so important.
Reuben Bidez will play Saturday at Bonnaroo at 2:00 p.m. on The Who Stage.