Interview
Backstage at Bonnaroo: A Chat with Sara Watkins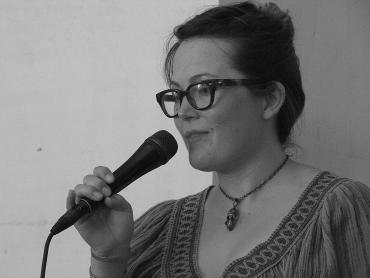 Sara Watkins was a star on the roots music scene before she was even in high school.  She played her first Bonnaroo with Nickel Creek back in 2005.  Now she's back as a solo artist and also with her family brand Watkins Family Hour, to play at the Bluegrass Situation Stage and to help curate the annual Bluegrass Situation Superjam.  I caught up with Sara backstage at Bonnaroo right after she finished up a press conference with members of The Record Company and Band of Horses to discuss the Superjam, her collaborative nature, and her forthcoming album.
Chris Griffy:  You're playing the Bluegrass Situation Stage on Sunday, but this is the first year they've actually partnered with another group to curate the Superjam.  How did Watkins Family Hour become part of that?
Sara Watkins:  We've known Ed (Helms) for quite a while out in Los Angeles, The Watkins Family Hour.  He's a friend. We've played some of his shows there and he has played some of ours.  The asked us to be the house band and we said yes.  It sounded exciting.  It should be a lot of fun.
Chris Griffy:  You've got some strong people in the Superjam, including Steep Canyon Rangers, Sam Bush, The Wood Brothers.
Sara Watkins:  Yeah. We've got a loose idea of some songs we might have in common.  We're encouraging people to bring songs that aren't necessarily their songs but just covers they want to play.  Then we also made some requests of songs people wanted to hear people sing, and people obliged.
Chris Griffy:  Watkins Family Hour is a rotating cast of characters.  Are you at liberty to tell us who is in tomorrow's house band?
Sara Watkins:  Yeah, I've been really vague.  The house band is cool.  There have been some guests not announced, that's why.  Our drummer is Mark Stepper who we have known for years and have toured with us.  We have Tyler Chester on bass, who has worked with us and has been touring lately with Blake Mills lately, as well as Jackson Browne.  We've got David Garza, who is a really great score.  He's an amazing musician from Texas.  And of course my brother (Sean Watkins) and I and a ton of guests.
Chris Griffy:  Your career has had a lot of moments where you seem to have really thrived on those collaborative bands like Watkins Family Hour, the I'm With Her Tour, and even the live nature of your appearances on Prairie Home Companion.  What keeps drawing you back?
Sara Watkins:  That's where the fun is!  There are two things that really excite me.  There's the really high practice, really refined, honed in experience of things happening exactly to plan.  Then there's also this great thing where you collaborate with people and you never can know what others are going to bring in.  I like being part of other people's bands because I enjoy being a supportive person, and it also makes me a better leader when it is time for me to do my own show.  It's just great to mix it up, to focus on one thing for 9 months and then have a completely different role.
Chris Griffy:  You started your career very young, so what do you learn when you get to collaborate with a Sam Bush?
Sara Watkins:  I don't know what I'm going to learn this time, but Sam's a powerhouse.  Rhythmically, he's just a machine, but he's also such a fun and lively person.  Sometimes I learn things about music and sometimes you learn how they think and how they treat people and how they run their business and all those really important things behind the scenes.
Chris Griffy:  You've got a new album out in July and in your press material it's been described as a "breakup album with yourself", which is really interesting. Can you go more into that?
Sara Watkins:  That's an oversimplification.  There's a song or two on the album that fits that description well, but overall I think it's much broader.  It's more of a course adjustment.  Every 5-10 years of your life you have to take a status check of things and you might adjust your life course, your jobs, your relationship, where you live.  Sometimes those are easy and sometimes those cause a little turbulence.  This album came out of that turbulence that registered as a good positive feeling.