Interview
The Ballad of Evan Magers: Embracing His Wild Child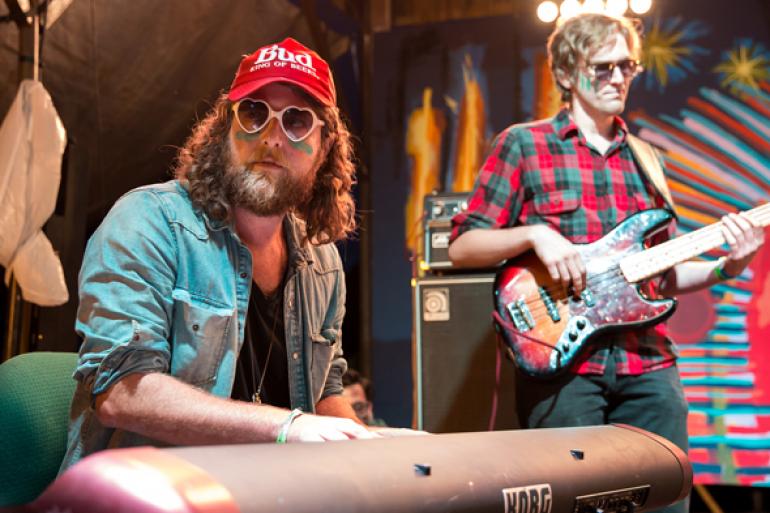 Austin indie Americana darlings Wild Child are poised for national prominence. After two successful albums garnering near idol worship acclaim from numerous national publications, enviable major festival slots, and a tour of the night show circuit, the stage is set for this year's SXSW performance to usher Wild Child into stardom. But the group very nearly never existed.
Despite his background position, pianist Evan Magers was not only integral to the group's formation but took it from side project to headlining act. Of course nothing in life happens so easily, and it was only at the cost of Magers' tech company, his band La Vega, and his own personal expense that Wild Child has become what they are today. It's a fascinating story of one man giving up nearly everything for the long shot odds of something he believes in, which flies in the face of all the horrible things we've come to suspect of the music industry today.  
The fine tradition of gambling predates currency. Unfortunately, the more delicate sensibilities of modern society look upon wage staking as sinister. But there is something pure and beautiful about taking a stand, putting your money where your mouth is, and letting it ride. Whether it be the line cook laying down months of savings at a Vegas poker tournament, the stay-at-home mom flipping houses on credit, or profiteers organizing the assassination of a US president to keep the government contracts rolling on, the element of uncertainty determining vast victory or crushing defeat in some few moments of our precious lives is a thing of glory. Call it nefarious if you will; the line cook will have to find a way to explain to his children why they won't be eating that week, the market's crash will mean the housewife, after bankruptcy, can only be called a wife, and so many parents of the preceding generation received medals and consoling letters in exchange for their sons.
Still, the mechanics of wagering are entirely neutral. It's our desires and intentions that should be feared and mistrusted. The dice are ignorant to what the loan shark will break, should they come up aces. Monsters walk the earth, they do not hide in the probabilities of mathematics. Gambling need not include money, and it is so ubiquitous and involved in so many aspects of our lives we rarely when realize we do it. The outcomes aren't necessarily so stark. That extra couple minutes of sleep are staked against unobstructed traffic. The hesitant acceptance of an unwanted drink can eventually lead to proposal on bended knee.
To turn your attention now to the subject of this interview, allow me to introduce you to a young man by the name of Evan Magers. You've likely never heard of him before, and for the moment there's very little reason why you should care. He's a perfectly ordinary young man born of common stock lineage from Atlanta. He is neither very attractive nor influential -- not yet, at least -- and his (most recent) chosen profession (wager) is one to inspire filial despair. You see, Magers decided to become a musician. But what makes him unique isn't his poor lifestyle choice to chase that bold font marquee title. Rather, it's the path that has lead him to this decision. It's the security of his own gushing tech business and a woman you'd cut every man in the room for a shot at, that he's willingly sacrificed to chase these pipe dreams.
"I've been part of Wild Child from the start," he says. "How do I say this without overstating my importance? Alexander [Beggins] and Kelsey [Wilson] are the songwriters, leaders, the creative curators of the band. Let me be really, really clear about that. And, my respect for both of them as artists is huge. But a band is a business — has to be treated as a business, with the way the industry works today. And, in that sense, I've been a critical piece of how this puzzle has come together. The three of us actually wrote the very first Wild Child song together, when they were on tour in 2010 as part of the backing band for a Danish singer-songwriter called The Migrant. I was living in San Francisco at the time, and Alexander [Beggins], who's my cousin and best friend, called and asked if they could crash with me when they came through the city.  
"They were there for three days," he continues, "and during one dead afternoon, we sat down together in my living room. [Beggins] took a ukulele riff that they'd been playing around with in the van and teased it out into the first full real Wild Child song, 'That's What She Say' [from Pillow Talk]. It was this amazing moment of creative chemistry. Though they'd been playing around with the idea of starting something together before they got to San Francisco, I think those creative juices came [together to form] some sort of tangible fruition that afternoon in my apartment. I think [it] played a kick-in-the-ass kind of role in suggesting that the project could be something more than a dalliance."
The draw to entertain is a rather common ambition amongst youth. America's traditionally robust economy, generous social programs and relatively modest price of living has inspired generations of young people to slum it with the bohemians and live as radicals outside of societal norms. If only for a time, anyway. We all know someone to go this route and the history books are full of like material. Stories abound: the odd sibling escapes the sleepy hamlet and disappears into the bosom of a major metropolis; the privileged daughter of the politician cohabits with the married artist decades her senior in open defiance of both her family and the times; the heir to the most powerful throne to ever exist abdicates for the love of an actress. Poe, Miller, Berlin, Whitman, D. Parker... many of the brightest minds and sharpest wits birthed of this nation followed the lofty ambitions of the creative life.
"Alexander was sending me these demos at a pretty furious pace," Magers recalls. "I think they did 12 or 15 in the first month after they got back to Austin. And they were good. He and Kelsey are great songwriters, and the two of them together is just sort of magic, in that indescribable way, where something or somebody just has it. The X-factor thing. So, serendipitously, I'd just come into some money from the sale of some of my ownership in my old company, and I was toying around with the idea of using that money to start a record label or something. Basically, I was determined to claw my way into making music, or being involved with making music, in any way, by rook or crook. And once they started sending me these demos, I was like, 'This is it!' So I approached them with the idea of making a record, told them really effusively that these songs deserve a real band behind them, and offered to help make an album happen, financially and logistically."
"When you ain't got nothing, you got nothing to lose." So the song goes. Because it is such a gamble, and because it requires either massive ignorance or else massive conviction, this lifestyle is typically attempted by the young or the poor. The poor because nothing has to be immediately sacrificed and the young because it is with youth the greatest amount of hope resides. While many people pursue artistry into later stages, while supporting themselves through industry, there is a golden window of opportunity when a young person so interested in devotion to the artistic life may reasonably attempt it.
Having done rather well for himself at the age of 32, Magers fits none of these categories. So why do it?
"In February 2011," he explains, "I packed up a car full of gear, rented us a big, weird dilapidated house in south Austin, and drove halfway across the country with my engineer, Alex Peterson, to make Pillow Talk. We camped out in that house for a month, used my recording gear, gear borrowed from friends, some stuff we rented, and basically assembled the band, arranged the instrumentation for 15 songs, and made the record in a month. I played keys. I'm a classically trained pianist, and the songs needed keys. We also added a drummer and a cellist. It was an incredible experience, even though none of us knew what the fuck exactly we were doing, to be honest. I think you can hear that on [Pillow Talk], and I think it's a part of the charm, the magic.  It's a piece of work that's sloppy, flawed, and amateur, but earnest as fuck."
Art reflects life in that there is no set path to success. However, with the more typically safe professions, a certain modicum of ease can be expected that just doesn't exist for the average art-influenced youth. Outside of trust fund babies, child prodigies, and industry insiders, musicians, even the classically/collegiate-trained will suffer profoundly in their attempts at exposure, financial stability, and most agonizing for any self-made artist, peer respect.
The question remains. Why do it?
"Balance is something I don't know how to do yet," Magers admits, frankly. "Maybe one day I'll figure it out -- how to have a healthy sane life, normal relationships, all that, while making the things I feel this tremendous compulsion to make. It's more of a need than a want.  It's something really fucking elemental to me, to my happiness, and it always has been, and I'm sure always will be.
"These days, now that we have a real manager and a record label and a booking agent and an expensive publicist and distribution," he continues, "I'm nothing more than a musician in the band.  Alex and Kelsey write the songs and bring them to us. Together we create the instrumentation, the meat on the bones. Creatively speaking, I get to write the [piano] parts I myself play in Wild Child songs. I get to voice my opinions and ideas about other secondary aspects too, but I don't have anything at all to do with the core or the heart of the songs.  All the credit for that goes to Alexander and Kelsey." 
Along with military expenditures, America is undeniably the world's largest exporter of culture. Brave dreamers, we make war and art. We are second to none in these fields. What makes America unique amongst its European progenitors is that American culture is largely propagated by the marginalized sections of society. America makes street art; it is the Basquiat of global culture. We saw Europe's fine tradition of dramatic opera and raised, with jazz born of whore houses and dirty delta saloons. Russia's noble literary giants, Pushkin and Dostoyevsky, were checked by the working men Poe and Twain. The full house of the Louvre has surely been trumped by the royal flush that is Hollywood. America created the blues, rock and roll, rap, and hiphop independent of any organized school, whether it be a physical university or the informal gathering of great thinkers. We put the pop before culture. The American conservatoire is a windowless woodshed in the Deep South, a dank, fluorescent-lit basement, in our cities' streets.
Fundamentally, the American Dream can be tied into our production of art, ideas. Free enterprise and the affluence of capitalism has created a standard of living comfortable enough to produce pretty but useless decoration. The liberal American consciousness has encouraged the cross pollination of class values and emboldened the individual to critique the status quo. As Fleetwood Mac popularized, "You can go your own way."
What we have with Wild Child is rock music without a guitar in the digital age. Anymore, it's almost contradictory to think there's a brand out there that believes more in the band. If you talk of money for musicians, forget what you've heard in the digi-press of popular opinion. Remember Robert Johnson played guitar because he didn't want to be a share cropper. Brian May crafted Red Special, to escape his own working class fate. So maybe with Magers we've found Siddhartha in the wilderness. It's easy to call him a fool, but listen to Wild Child and let Magers prove there are still things in this life more important than money.
"I definitely think of myself more as a songwriter than a piano player," he says. "I'm not especially practiced at the art of being anything other than the boss. It's been a learning experience for me in Wild Child, for sure. I wasn't so good at it, at first. It took a while to find, and maybe to accept, my role. But I think I'm better at it now.  Everything in Wild Child is as it should be. They've become my brothers and sisters. It's really exciting and gratifying to see, and more accurately to feel the audience grow. I have huge hopes for and belief in how far this band can go. I always have."
Between 17 and 30, it is perfectly acceptable to work dead end jobs for minimum wage while pursuing passion. If by the mid-20s one hasn't encountered even fledgling success, that 'devotion,' as it were, could be considered unbalanced. Say what you will about Van Gogh or Nick Drake, there's very little to suggest that equal immortality will be reached by the average late-20s struggling artist. Most realize the gambit has failed. They reel in their eccentricities, return to university or take up the trade they would have surely been doomed to perform anyway, had they not taken such a shot at a better, more fulfilling life. Some old men wonder what might have been; some can at least say they tried. Fewer still can say they staked everything on it. There are safe bets in this life, but Evan Magers, the Wild Child, prefers to go for broke.
Photo credit: Ralph Arvesen