Interview
Bhi Bhiman, Man of Rhythm and Reason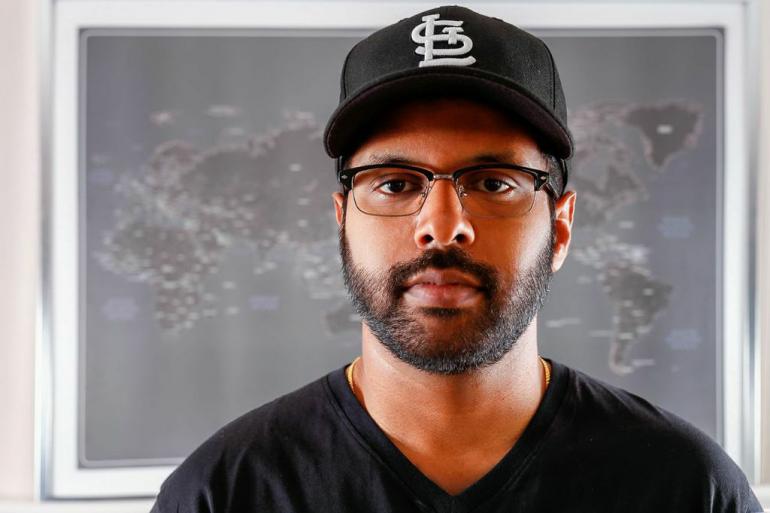 Bhi Bhiman has had a busy spring.  I saw him back in February in New York, when he opened Booker T. Jones's show at City WInery.  He'd been on the road since November 2014, and after the New York show he headed across the country solo and with other artists -- this week,  in Portland, Seattle, and Vancouver with Rhiannon Giddens.  Bhiman will go on to Paris, London, Glasgow, and Dublin before a summer tour of America in support of his new album, Rhythm & Reason, which was released on May 18, 2015.
Bhiman loved playing in the company of Booker T., and at City WInery -- "bringing a little northern California wine country to New York City," he laughed.  As he's toured this spring, he's regularly performed songs from his new record. Itt is, he acknowledges, "a departure, musically."
"It's leaning more to R&B, soul, and funk influences," he adds. Bhiman mentions James Brown, Harold Melvin, Sly Stone, and Wilson Pickett as performers whose sound he was hearing as he worked on the songs.  Lyrically, Bhiman says he was thinking about "social issues -- all kinds of integration, immigration, the intense feelings people have on both sides. Also, more recently, police brutality, race issues. I write songs where I feel I'm taking a bad situation and making it better."
These are all heavy, important social issues, to be sure.  Writing songs inspired by such emotions and events, one wonders, was he saddened as he put together his lyrics, finding a way to his messages on the record?  No.  "It can bring me down, sure, but coating words with honey instead of beating them over the head with a baseball bat" was how he created.
The honey and humor help to powerfully convey hurt and harshness.  A new video of one of the Rhythm & Reason tracks, "Moving to Brussels," features Bhiman at the putative mercy of Keegan-Michael Key, their performances inspired by Miles Teller and J.K. Simmons as the devout jazz student and brutal music teacher in Whiplash.
Departures shouldn't surprise anyone who has been listening to Bhiman awhile.  As a youngster, he says, "musically, I was left to my own devices."  
What Bhiman listened to during that time was what he, and we, struggle to define, but call Americana:  "All the roots music, country blues, electric blues, rock'n'roll -- it was all what made me want to play guitar, and be in a band," he says.
Bhiman's mode of expressing the distillate that constituted Americana for him was with an acoustic guitar, permitting him to combine, as the best Americana music always has, "social conscience and entertainment.  All music should have some sort of message," he says, adding: "I'm a harsh critic of myself, for songwriting."
Does Bhiman have an audience he felt he was composing and recording for, with Rhythm & Reason?  "Well, it's an immigrant story -- an album on which, if you haven't heard what I'm about, can let you dig in deeper and pay attention while you enjoy it."  
Many of the songs deal with immigration, "and the pushback against it. You do remain there, you stay there. It's not a smooth-sailing road, there's pushing and pulling and the trouble that causes."  
Bhiman chuckles as he names one of his new songs, "The Color Pink," about sexual orientation. "If Pops Staples and Jerry Falwell got together and sang a song, it would be kinda like this."  
Bhiman will be celebrating his album release in Portland and Seattle, on tour with Giddens. Will there be a party? "Oh, yes. I've got friends in Seattle, the Moondoggies, and Kim Thayil, a huge role model for me."
Happy release day to a beautiful, thought-provoking new record -- almost a concept record, as I hear it.  The party should be a good one.