Interview
Bill Abel, the Delta's Best Kept Secret...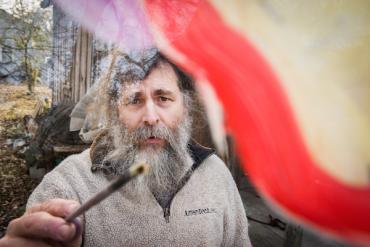 ssktda: How'd you find the Blues, or did the Blues find you? 
Bill Abel: A little of both I guess. As a teenager I saw several bluesmen performing on the streets in Belzoni (Mississippi) where I grew up. Went a handful of times to the jail house to listen to this old guy who played acoustic blues. Same jail that Charley Patton wrote "High Sheriff Blues" in. Playing with them got me hooked. also blues was on Mississippi public radio everyday in late 70's early 80's. 
ssktda: You spent a great deal of time with T-Model Ford and Paul "Wine" Jones, how was that experience, any stories you'd like to tell? 
Bill Abel: I also meet Paul "Wine" Jones during this time and started playing blues with him and his friends. Paul was the funniest person to hang out with and play music with. He cut-up non-stop, all of the time. During the 80's he took me to play with him at a handful of Juke's . Some of them were rough and Paul would have a bodyguard follow me around everywhere, but most of times there were no problems at all. Played with paul up until he died in 2005. I didn't start playing with T Model until 2002. Tee was also a fun person to be around. He tried to make people laugh all day. Every time i flew on airline with him we would board the plane and he would announce to all the passengers in a loud voice and say " hey I'm T Model Ford!". I always thought man no one on this plane knows who Tee is but to my surprise there was always someone who knew who he was. Riding in the golf cart thru the airports he always tried to hit people with his cane for fun. Seems like I remember the times when i laughed the hardest. 
ssktda: Your spiritual/gospel side shines bright on this record, what is your history with this music? 
Bill Abel: Grew up with the Baptist hymns as a child. Had a Holy Ghost encounter where the spirit of Christ entered my body when I was 21. Changed me from the inside out. Had a desire for Godly things after that, one which was old blues spiritual music. I didn;t get a big dose of it until year 2000 when i met and started performing blues and spirituals with "Cadillac" John Nolden John is 89 now and still knows over 200 old spirituals. 
ssktda: You're a true renaissance man with even a degree in French Impressionism and a genius with clay and kiln. What else fills your days? 
Bill Abel: Well thanks for the compliment. Sometimes it's just continuous work that doesnt seem to want to cooperate. Wish I could sell more work though. I need to join the older ladies garden club here so I can talk them in to buying more art work. Most days here in Duncan, Mississippi are spent breaking up fights between my 12 and 8 year old. 
ssktda: Explain the travails of being a white Blues musician in a predominantly black form of music? Is there ever an example of reverse racism, in other words other white folks dismissing you or pre-judging you based on color of skin? 
Bill Abel: All of the reverse racism towards me I have experienced has taken place here in the delta from the people who are involved in the blues tourism industry. They do not support some of the local Black musicians like they should either. They exploit them. 
(words: scott zuppardo and Bill Abel)
ssktda.com || sadsongskeepthedevilaway at gmail dot com || NJ//GA