Interview
Blackie Farrell, Gurf Morlix, and Bill Kirchen are on Sonora's Death Row
I'm pretty certain I'm not the only person who thought Robert Earl Keen wrote "Sonora's Death Row." He didn't. Blackie Farrell did, and although he'd never recorded it (until now) Tom Russell, Dave Alvin, Robert Earl Keen, Leo Kottke, and Michael Martin Murphy all have. Russell has stated, "Blackie Farrell's 'Sonora's Death Row' turned my head around and deeply influenced my writing." Kottke said of the song, "Mark Twain needed a whole book. Farrell does it with one song."
Blackie Farrell's finally getting ready to release his take on this classic cowboy saga on his debut album Cold Country Blues (anticipated release date January 2016).  He adds his version of his nearly-a-hit mother truckin' weeper "Mama Hated Diesels"  just 43 years after Commander Cody and His Lost Planet Airmen recorded it on their debut album Hot Licks, Cold Steel & Truckers Favorites.
Co-produced by the multi-talented team of Gurf Morlix and Bill Kirchen, Cold Country Blues shines the spotlight for the first time on one of Americana's most deserving unknown songwriter-storytellers. Farrell's weathered baritone evokes a time long past, as he finally takes a swing at recording some of his favorite songs from the Farrell songbook. On this disc, he and the boys deliver 11 tight tracks that range from Old West ballads to classic country, Cajun, rockabilly, and beyond.  It took some time but the wait was worth it.
Who knows. Maybe Blackie Farrell, at age 68, will win a Best New Artist award in 2016!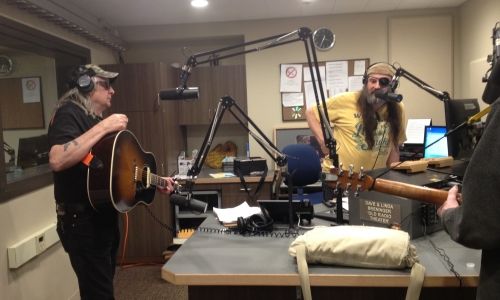 Hal Bogerd: You've been writing songs for a long time. What inspired you to record your versions of your songs?
Blackie Farrell: Mostly friends and fans who would ask me, "When you gonna cut your own CD?" And when I do solo shows I have to tell people who ask for a CD that I don't have one. I've just been procrastinating about doing it for several years now.
My old pal Bill Kirchen -- he is one of my biggest cheerleaders -- has always wanted to do this with me and I knew I couldn't make a record without him. He called me up one evening and said, "Blackie, if you want Gurf and I both to be involved with this session, this is the time. We'll both be in the same geographical location and now's the time to pull the trigger on it." So I did and we went in the studio.
Gurf said you didn't want to peak too early.
That's right. When I'm asked, "How come you waited so long? You've been doing this since you were 15!" My pat answer is I wanted to avoid having to make a comeback. It was a very prudent choice. [laughs]
Gurf Morlix and Bill Kirchen produced and played on Cold Country Blues. It doesn't get much better than that!
Right, both those guys! They are just atomic.
I met Gurf around 2007 when we both played at Threadgill's in Austin. I knew his reputation and he knew of me, and we became fast friends. [It was] one of those deals where you shake hands and feel like you've known someone your whole life. And Bill and I go back to 1968 or '69. Having a true old friend who knows me well and a new friend who is all bushy-tailed about my stuff, to both be involved with this project, was just a perfect storm.
Could you tell the story about how you met Bill?
Bill let that cat out of the bag a long time ago. [laughs]
There was a venue we both used to play in the Bay Area in California, and this waitress who worked there asked me if I'd like to go home with her one night. So I did. I was sitting there on her couch drinking a cup of coffee and she had this huge, incredible vinyl collection of classical music on shelves from floor to ceiling. I was sipping my coffee looking at them and then I looked down in the corner and there were these two old funky apple crates full of vinyl. I went over and looked at those and they were all old classic R&B, country, and blues albums. And I mean good stuff.
I said to her "Are these your records down here in these boxes? It doesn't match your taste in music that you have up here on the walls."
She said, "No, some guy left them here. Do you want them?"
I said, "Yeah!"
I had to take them out of the boxes so I could lift them and carry them down the stairs to my truck. I think I was on my third trip down the stairs with a load of vinyl and this goofy looking guy on an old BMW motorcycle comes flying up the driveway: "Hey, where are you going with my records, man?"
We did some circling and sniffing, and that was Bill Kirchen. I lost a good record collection, but I made a great old friend!
I've heard a lot of the songs on the album recorded by other artists. Are there any songs on the album have not been covered?
"Jim Donny's Gold" and "One of Those Kind" haven't been covered and are fresh. The rest have been covered by various people, especially Bill Kirchen. He puts one of my tunes or a co-write of ours on every one of his records. I'm so grateful for that but I tell people he's paying off an old poker debt. [laughs]
When will the album be released?
January is our goal. We've launched a campaign at Indigogo and hopefully we'll see that happen. We've got this wonderful album cut with great musicians and I think a pretty good lineup of songs. But, as you know, it is costly to get something like this out. Also, hopefully I can get myself out on the road and do some CD release shows. To make that happen is going to take some outside funding that I don't have. And if somebody can't afford anything, we just ask people to share the link and pass the word. Every little bit helps.
Do you have a favorite cut from the album?
"Jim Donny's Gold" is my current favorite.
Where did you grow up?
I was born in Oakland, California, in 1948, in a housing project. My mom was a receptionist at a steel foundry and my dad was a Merchant Marine. He had lived and worked in Harlem, New York, early in his life and knew a lot of musicians back there.
Music came into our house through my dad. He was a huge fan of Fats Waller and Kid Ory, and that music was constantly being blasted in our house. When he was home he would have musicians over, and our house was always full of music and musicians so it was a natural course for me to take. Either that or go to sea!
Music back then was just the best. You'd walk down the street and it was coming out of car radios and there were tons of little clubs all over town. Country, blues, and R&B. Great radio stations. And you couldn't get away from it!
I'd wander around the streets at night and I got attracted by the music blasting out of these clubs, so I'd hang around the door of these clubs to listen to the music. Nowadays you'd call me a latchkey kid. The door guys would get nervous and they'd chase away this skinny white kid who they thought was gonna draw the police.
One night this tall doorman in a long trenchcoat said, "Hey kid, come over here. I'm tired of shooing you away. Get under my coat and I'll walk you past the bar." He walked me into the backroom where the musicians hung out and I got to sit there. He said, "You can sit here if you're cool and you don't do anything stupid." I sat there like a fly on the wall and I got to meet people like Big Mama Thornton, K.C. Douglas, Lightnin' Hopkins, and John Lee Hooker.
How old were you then, Blackie?
Oh, I was 10 or 11 when I first started sneaking into those clubs.  Later, when I was 13 or 14,  I got invited to a big country music show. Marty Robbins came out with that little teeny Martin guitar and played "Big Iron" and "El Paso," and the hook was set. The songs were like movies. It just blew my mind. I was always attracted to those story songs that came out of people like Lightnin' Hopkins and Hank Williams and people like that. And that's what I mainly am. A storyteller. [But] I'm too lazy to write a book. [laughs]
"Sonora's Death Row" is a great story-song in the classic Western cowboy tradition and has been covered by so many great songwriters. Were you surprised at how well that song has been received and the number of times it has been covered?
To be perfectly honest, when I wrote that song I thought this will be the last song that will ever be covered. It doesn't have a chorus and it's too long. And I'd already been snakebit with "Mama Hated Diesels" and Commander Cody. That was a single and it was on the charts with a bullet.
Then the label called a meeting saying that the DJs were complaining that the song was too long, at 4:17 I believe. They wanted to shorten it and they had already done it, and they played it for us, and it was just atrocious. We said, "You can't release that."
We wound up getting the master flown into Nashville from New York and went into the studio with a tape editor and tried to do it ourselves: myself, Andy Stein, Bill Kirchen, and Commander Cody. We were just banging our heads trying to get this thing within the requested time parameter, without ruining the song. 
A voice in this dark studio asks, "Would I be out of school if I made a suggestion?" And it was Tommy Overstreet, and he was the guy that came up with the secret formula for shortening "Mama Hated Diesels." To make a long story short, they put out a new single for the DJs with the long version on one side and the short on the other. But by that time, it was knocked into the number two slot. And not too long after that, Don McClean came out with "American Pie" and they were playing both sides of that record on the radio.
I was kind of ticked about that. Not at Don McClean, but at the whole process. So I was snakebit.
I thought "Sonora's Death Row" was a great song and I accomplished what I wanted to do and that was to tell the story in the time length of a song. But I thought it was too long for the radio. As a songwriter, you are always conscious about "the radio." Back then, that's what I was trying to be: a songwriter.
When you have a song recorded by songwriters you admire, who can write their own songs, that has to be very flattering.
It is the greatest form of flattery. There is nothing better than that.
I know you've been writing songs for 50 years. What else have you been up to?
Off and on day jobs. I've worked as a pipefitter, house framer -- different jobs, just trying to make a living. Raising four wonderful kids, six grandkids, and a great-grandbaby.
I'm a happy guy and with this solo album coming out. It is a dream come true. What a great experience it was to be in the studio with Bill and Gurf, with Rick Richards on drums, and we brought in Nick Connolly for some piano and B3 work, and and Yvette Landry on button accordion.  I've got no complaints!
A brief addendum, courtesy of Cold Country Blues co-producer and player Gurf Morlix:
When did you meet Blackie and Bill?
Gurf Morlix: I saw Bill play in the early 1970s with Commander Cody but didn't get to meet him until the late '90s at a gig in Austin. He made me get up and sit in on guitar while he played trombone. Bill introduced me to Blackie during SXSW an unknown number of years ago. We have been good friends ever since. Both Blackie and Bill are among my very favorite people.
What instruments did you play on the album? What did Bill play?
I played bass and Bill played guitar, mostly. Except for when I played guitar and Bill played bass. I won't tell you which songs I played guitar on because I think it might be fun for people to try and figure it out. Both Bill and I tried to sound like each other, to further mystify things. 
Was Cold Country Blues recorded live with everyone in the studio?
Yeah. Most of it was. There were a few guitar overdubs, and the keyboards were done later, but most of it happened live. This band is so good it was dead easy. Andre Moran did the engineering.
It sounds like it must have been a fun project.
It was a riot. Bill and I hadn't really worked together. Well, we did do one day of recording that might show up on his next album. Kirchen makes everything fun. What a player and what an attitude. And then there's Blackie -- one of the best songwriters I've ever come across. A Master. Every word in his songs seems perfect.