Interview
Blooming In The Sunlight: The Cactus Blossoms Interview At Newport Folk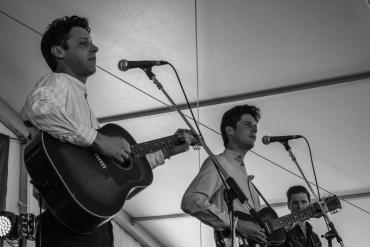 The Cactus Blossoms have a vibe to them. An almost timeless quality that incites the immediate need to grab a parter and dance. The harmonies, the feel and atmosphere all within their music, well its a wonderful thing.
We caught up with Jack Torrey and Page Burkum at Newport Folk Festival this weekend to talk a bit about the band, a big year for them and their first time gracing a Newport stage.
Check it out.
RLR: So you guys are brothers, there is a very obvious chemistry there with you guys. But when did you first figure out that "wow, when sing together it sounds really good"? Was there a young age as kids or did it develop over time?
Jack: The first time I made a million bucks singing a song, that's when it really hit home.
Page: (laughs) No, you know we didn't have some family band or something. We didn't sing together as kids. We had some musical people in our family, so we were exposed to some music and all that. But we really didn't start singing together until we just happened to learn a few songs when we were both starting to learn to sing and play guitar and we were living together at the time. We just decided to sing together a little bit, a friend asked us to open their show and pretty soon we started a band.
RLR: And how long ago was that?
Jack: 6 or 7 years ago.
RLR:What did you record, or CD collections look like growing up? Were there Louvin and Everly Brothers mixed in there?
Page: Didn't know about the Louvin Brothers, knew about The Everly Brothers. I remember my dad had "The Best Hits of the Everly Brothers" or whatever, "The Very Best of the Everly Brothers" album. So I heard that. We didn't really have big collections of our own.
Jack: Yeah, I mean, I guess the only country thing I even had was probably Johnny Cash Live at Folsom Prison and The Beatles, if they count as country.
RLR: So the whole aesthetic of your music now, did that just kind of seep its way out of you naturally and you just found "this is what we want to do", this is what we are good at?
Jack: I don't know, we didn't really think about it too hard, we just kind of fell into it. We started dragging home records from thrift stores and raiding the public library and listening to tons of stuff. Folk, Country, Blues, Jazz, whatever we could find really.
RLR: So whens the first time you heard about Newport Folk? Are you longtime fans, had you heard of it previously, have you ever been before?
Page: I think we first heard about it when we discovered certain blues artists and folk people of course. We are big fans of Bob Dylan. So of course if you are into those artists you start looking for film footage and things like that of them and Newport always comes up. So anyway, thats how we first heard about it.
Jack: And no just Dylan but there are these guys Koerner, Ray & Glover, they're from Minneapolis. I think they were here the same year that Dylan went electric, but the first time I ever played in a bar when I was 19, I played right before Spider John Koerner. You know, so its always been a mythical place.
RLR: A big part of Newport is this "folk family" and even if its your first time here you are treated like someone who has been playing the festival for years. Folks come back to just hang even if they aren't officially performing. Where you all are from and where you came up playing, was there a strong sense of community in the music landscape?
Jack: Yeah, I mean every kind of music is there in Minneapolis. From folk to hip hop, I mean everything really.
Page: I think there is a really cool thing that is maybe unique to Minneapolis in how much the bands in town know each other and sometimes even collaborate. More than I think that happens in other towns. Maybe because its kind of a small town?
RLR: So, even across genres?
Page: Yeah, yeah!
Jack: Dave Simonett from Trampled by Turtles is playing here today on the same stage that we played on and we know him from the scene in town. But there also people like Polica or Har Mar Superstar. There are so many bands coming out of Minneapolis and we all kind of know each other because its a small town.
RLR: Are there one or two acts in particular that you guys really dig? Ones you might like to turn folks onto that haven't quite hit "the spotlight" yet?
Jack: Our buddy Jack Klatt, he is really great. He's got a really unique style and he's a great finger picking guitar player. A great singer and songwriter.
Page: Yeah we all started. Guys like him were how we got started playing music. Meeting someone like him, he would tell us about some other musicians and…anyway, we were all playing songs for one another and opening up for each other's shows.
RLR: So to conclude, how did you guys feel about today? Leading up into the fest and after the set?
Jack: Did you say tonight? Oh I wished it was tonight. It was a lot of fun, we are just really happy that we could play music for people here. The place is so well run. We opened up the day at 11 AM but it was cool because everyone who walked in had to kind of walk by us while we were playing so. It was a lot of fun.
Page: It was great. It was really, really warm welcome. Its been a really incredible year for us.