Interview
Blue Cactus Give Us Insight On Upcoming Release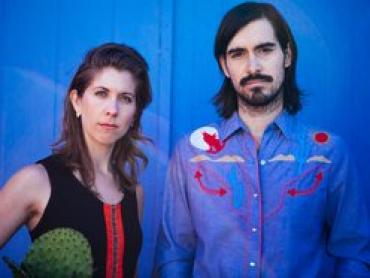 Blue Cactus is the incredible duo of Steph Stewart and Mario Arnez. On the heels of releasing their new record Blue Cactus, the group have been enticing audiences around the globe with their incredible and down-to-earth Country sound. Together the Arnez and Stewart are quite a pair that compliment each other musically and lyrically. Next week sees their upcoming record hitting stores, the self-titled masterpiece, Blue Cactus, which has myself and the Americana world on the edge of their seat. I had the chance to catch up with Stewart and Arnez recently for an intriguing interview below.
How long did it take you to record the upcoming record? What was the inspiration behind the songs?
Mario:
 We started cutting demos of tracks that would be on the record in the fall of 2015. From there, we fine-tuned the arrangements and made a few edits, wrote more songs and ended up recording the songs that would become the album over a period of about five months. With three writers on the record, the inspiration for songs varies from external and personal circumstances, though there is often a clever title that sets the whole thing into motion.   
Steph:
 We enjoy making lists of potential song titles, things that usually make us laugh initially, which then turn into sad country songs that we'd imagine someone like George Jones, Willie Nelson or Loretta Lynn singing. "From the Bottle to the Floor," "So Right (You Got Left)" and "I Can't Remember (to Forget You)" came about much in that way. Some of the songs like "Forever (Never Happened for Me)" come from a very personal place of ending a long-term relationship and reclaiming one's identity in the aftermath of that. Some songs you just can't write until you own them.  
Your new release will be self-titled, correct? What was the reasoning behind it?
Steph: 
Yes. As a relatively new band, having a self-titled release seems like the best way to introduce yourself to people who are hearing your music for the first time. We also happen to like the band name a lot; it evokes a pleasing image visually and sounds nice.   
Mario: 
We also put all of our energy into the titles of the songs on the record and may have run out of steam when it came to giving a name for the whole thing.  
How do you combine the elements of your influences of Americana, Bluegrass and Alt-Country to create the new album and hone a sound that is uniquely your own?
Mario:
 I think anyone who seriously pursues music will hone their own sound, and thankfully, Steph and I work well together. After a few years of playing and writing with each other, we arrived at Blue Cactus while refining our songwriting approaches. We have a lot of influences within those genres, but also have just as many in other kinds of music. In college, I studied instrumental and symphonic works from the past three centuries, and got into 20th century composers like Bártok, Debussy and Stravinsky. Their craft and imagination continue to affect the way I think about music and writing. However, getting punched in the gut by great lyrics and performances is another favorite pastime. I've spent a lot of time listening to Radiohead, Gram Parsons, Gillian Welch/Dave Rawlings, and Ray Charles. Their recordings can sound so complete. The vocals are wholly connected with the arrangements, every musical & lyrical piece of it is crucial, and everything feels right. Blake Mills has been a part of some great albums with that kind of experience. I think that plane informs a lot of what I listen for.  
Steph:
 Definitely. I think in terms of vocals, I am drawn to Patsy Cline-- her voice is powerful and subtle in the same breath, which is a perfect companion for the dynamics in her vocal range as well; there is absolutely no mistaking her sound. I'd say that Neko Case is another big influence for me both in terms of her voice as well as her songwriting. I love to read short stories, and Neko Cases's songs have all of the elements that I enjoy in my favorite short stories. They start out with a strong hook from the top (my favorite is probably the opening line in "Hold On") and take you through a tangle of beautiful imagery and metaphor, the grotesque and serene all in one scene, and then spit you out in an entirely different place, hungry for more but strangely satisfied at the same time. I admire Anais Mitchell and Gillian Welch in much the same way-- their ability to spin a familiar feeling or old saying in a way that it's never been put before or to come full circle in the length of a four minute song. Gillian Welch is especially aware of her old-time and bluegrass influences, and I love the way she hints to them in her songs while bringing new meaning to them.  
When in the studio creating the new album, did collaborations generally take place or did everyone bring in their own ideas?
Steph: 
I think it's a little bit of both. Some songs were more defined by the time we recorded them while others were more open to receiving extra creative input. Everyone who plays with us on the record is a stellar musician, and most of the parts they play were ones they came up with after sitting with the songs. Phil Sullivan's pedal steel on "Anymore Something" is definitely a prime example. I can't hear it enough.  
Mario:
 We knew Phil would bring a great sound, but didn't expect him to carve out his place in the songs so well! The backing vocals for the last chorus of "So Right (You Got Left)" came together the day Skylar Gudasz was overdubbing vocal parts. I had the idea for a bass part and Steph, Skylar, & Nick Vandenberg figured out parts to bring it all together.  
How did the members of Blue Cactus meet? What role do each of you play in your writing and recording process, as well as live?
Steph: 
Prior to Blue Cactus, Mario, Nick and I played music together as an Americana string band called Steph Stewart & the Boyfriends. Omar Ruiz-Lopez, our fiddler in that group, was a mutual friend, and convinced Mario to move from Florida to North Carolina about four years ago to play music with The Boyfriends, and then we met Nick not too long after at a Mandolin Orange show.   
Mario: 
Steph and I will often have most, if not all of a song done when it's first shared. At that point, they might just need a little something to make it pop. Sometimes, an idea, title or chorus floats around in a notebook for months before it's realized. This project has shown me the light in regards to starting songs from titles. From what I've seen, Nick usually starts with an idea and a title. I think Steph & I go back and forth between starting that way, or building up around a great line that needs a vehicle.   When he isn't dropping great titles and song ideas everywhere, Nick Vandenberg will often appear with a finished song that's been arranged and recorded in the time since we last saw him. As a producer, he has the invaluable sense of knowing when the right take is there, and when we need to try again. In addition to singing, he played drums, trumpet, accordion, a little guitar, and upright bass on this album. Oh, he also recorded, mixed, and mastered the album, and designed the album sleeve. He might be an alien sent to inspire mankind.   I tend to arrange with electric guitar so the songs can still feel complete when Steph & I perform live as a duo, which we frequently do. Generally, the full band is an outgrowth from what we do with our guitars and voices.  
Loving the new single and video, "I Never Knew Heartache (Then I Knew You)." What was the musical and lyrical inspiration for the piece?
Steph:
 There are so many examples of great women singing songs about being heartbroken. I wanted to have a go at this type of song, but rather than stopping with the pain of a failed relationship, I wanted to empower the narrator in the song to transcend that disappointment, notnecessarily to revenge or even anger, but rather to a state of acceptance, and even resolution. So, she fully owns her heartache in the song while also acknowledging that she has been duped, and she realizes that she's stronger than she thought. She's both heartbroken and smart. In terms of the musical inspiration, I just wanted a solid country tune with a key change, and I wanted Loretta Lynn to be the one singing it.  
The video itself certainly tells a story! What was the influence behind the storyline of the piece? Also how was it filmed?
Steph: 
All credit for the video is due to Roxanne Turpen, a friend of mine from college who currently lives in LA. I contacted her about shooting a video together in October, when we realized that we wanted "Heartache" to be the first single. I asked her if she thought she might be visiting her family in Asheville over the holidays, thinking we might get together sometime around then, but as it turned out, she was going to be there in two weeks working on some other projects. So that pretty much settled it. She listened to the song over and over, and having grown up in Asheville, she knew of all the perfect locations to shoot the different scenes and arranged it all. We showed up with a trunk full of random clothes and the platinum wig (which I borrowed from a friend on a whim), and she made it fit.  
Mario: 
It was filmed in one day across four locations. It felt like we hardly had time to read the storyboard, know what was going on, or change clothes but it was somehow just enough time to get the whole thing done. As far as her filming techniques go, my favorite would be when she filmed us from one half of the driver's seat, partially hanging out the driver's side window, while Steph tried to look like she was carrying on and reasonably driving an old pickup with manual transmission. This was essentially the first time Steph tried driving stick.  
Aside from the album release out in February, what can we expect from you in the new year?
Steph: 
We haven't toured much outside of NC and look forward to touring along the east coast. We're also excited about the new material we're writing and look forward to writing more and getting back into the studio.  
Mario:
 We're also looking forward to more western wear, maybe some full ensembles with complementary pants. We are now accepting benefactors.    
Find Blue Cactus here: 
  Instagram: 
https://www.instagram.com/blu.cactus/
Facebook: 
https://www.facebook.com/bluecactusband/
Twitter: 
https://twitter.com/bluecactusband
Website: 
www.bluecactusmusic.com