Interview
Blues jam band artist Chris Daniels talks about releasing 15th album, surviving cancer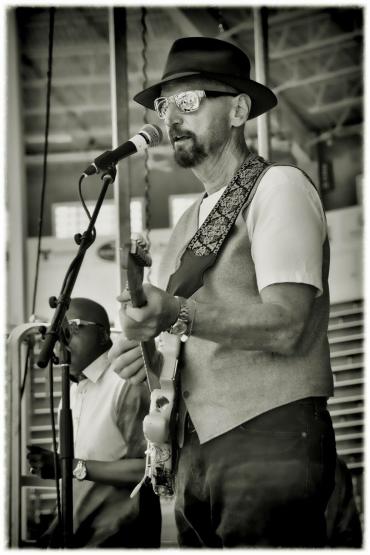 I am always in awe of lifelong musicians whose music careers have survived the test of time...even life-threatening diseases. Chris Daniels is a veteran artist from Denver, CO whose decades of music experience has brought him touring around the world over 20 times and releasing an impressive 15 albums, including is new album, Blues With Horns, released 9-15-17. Now having just celebrated his 65th year of life, Daniels graciously took time to sit down with me to share his insights on continuously creating new music, his plans for touring and album #16 along with some life lessons he's picked up along the way. 
Congratulations on releasing your new album, Blues with Horns! Being that this is your 15th album, would you say this is your best work yet?
CD:  Thanks so much. Honestly - yes. And the reason I think that is because the songwriting is some of our best and the choice of the covers that celebrated this style of music are not the everyday "Soul Man" type of songs --  but really fun gems that have not been covered in a long time - if ever.
Having been in the music business for three decades plus, how do you keep your songwriting fresh with each new album?
CD:  It's about finding new and personal ways to describe the things we all experience, love, fear, joy - all of that - but by writing about how you experience it individually. Your hope is that it strikes a universal chord.
I see you've toured in Europe extensively -- 21 times in fact! What's been your favorite city to play in?
CD:  Amsterdam, Bern, Paris and Rome. I wish I could pick one. But these are all incredible places to play.
Having had decades of experience, what is one thing you wished you had known when you were first starting out in your music career?
CD:  Well, I am an Assistant Professor at the College of Arts & Media at Colorado University in Denver teaching music business. I wish I had the focus and clarity that my young students have. They are not distracted by drugs (yes, even in Colorado) or confused by record deals that are less than honest... They are totally energized and they understand that they have direct access to the market...and that it is up to them to make the most of their careers - they are entrepreneurial - not waiting for a manager or label to discover them.
And I hear it's your 65th birthday as well...Happy Birthday! What do you plan to do having reached another milestone in your life?
CD:  Like all the great blues songs - it starts with "I woke up this morning" and for me that is a total gift. I almost died in 2010 when I was diagnosed with Acute Myeloid Leukemia - thanks to a bone marrow transplant from my sister - I'm in extra innings - so every day is a gift - reaching 65 is a celebration. What I'm doing now is starting to think about and work on next summer's tours and thinking about the next album. But I am blessed. Only 25% of the people who get what I have survive 5 years. I don't to a lot of complaining. There is a song about it on the album called Rain Check -- "I'll take a rain check on whining - don't want nobody crying." Or as Al Franken said, "no whining on the yacht!" 
Now with the album out, are there plans for another tour ahead? Any plans for the next album?
CD:  Yes, I'm working on Europe for next Spring and summer tours outside Colorado with a new booking agent. The Blues With Horns subtitle is "Volume I", so already planning Volume II. There is so much incredible music in this style and it's been set on the back burner...partly because a band with a horn section is an expensive thing to tour and partly because there are some great traditional blues guitar players, like Gary Clark Jr, who have approached things with a raw sound and passion. My passion is more intricate  -- a call and response style that is centered in the blues ... the singer sings a line and the horns pop in for a response -- I just love that. And I am also working on a web-forum site for folks that love this kind of music. So somebody in Cincinnati can write about their favorite blues with horns act and share it with fans around the world.
Plus, I'm also going to the Napa Valley Film Festival where a film by Lee Aronsohn (Two And A Half Men and the Big Bang Theory) will be debuting a film about the first Colorado Jam Band I was in back in the 1970s. That and the full time professor thing -- I'm lovin' every day I get to be here.
For a taste of Chris Daniels and The Kings' new album, Blues with Horns, here's the first track, "Sweet Memphis":
For more info:  chrisdaniels.com