Interview
Brandon Jenkins Takes Red Dirt Digital with Blue Bandana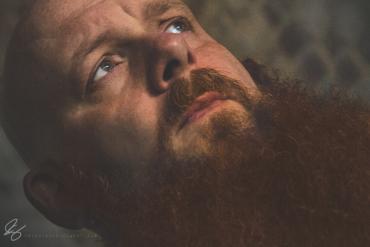 Tulsa singer songwriter Brandon Jenkins packed up and headed to Austin 12 years ago, crossing that state line with plenty of Red Dirt still on his boots. As an Okie expat, Jenkins has contributed numerous tunes to the Texas music scene, including songs like "Feet Don't Touch the Ground," a popular staple in the repertoire of Jenkins' musical buddy Stoney LaRue, another Oklahoma rooted Red Dirt musician. In addition to penning hits for several of his Sooner State brothers, Jenkins has managed to land quite a few on his own at the top of the Texas Music Radio Charts.
Jenkins recently released his 13th album, Blue Bandana, on his new Red Dirt Legend imprint. The songs were recorded over a two–day period and, outside of a small CD run after the fact, Blue Bandana was an entirely digital release. With minimal production, the final product has the flavor of a live performance, powerful and unfiltered. It was a new approach for this music business veteran, and it has proven to be very successful.
"We've noticed a real paradigm shift in music, obviously. People are streaming their music or buying it on iTunes. Not that many people are actually going to a store and purchasing a physical CD that they take home with them. The percentage is shrinking all the time," Jenkins explained.
According to Jenkins, for an independent artist, the cost of producing a traditional record can be prohibitive, requiring a large investment upfront. "It's tens of thousands of dollars that you're in the red before the project event starts," he commented.
Jenkins decided to try something new. "We were like, 'what if we just put out an album, except we never even make a record, just put it out digitally with no promotion, no anything other than social media. Just throw it out there and see what happens,'" he recalled.
The album was recorded in a single day. "In the middle of all of the over processed, auto-tuned music, what people really like in this new internet generation is something real. Anyone can make a perfect sounding CD. Everyone knows it. So we decided we're not going to try to. If you hear me breathing or my pick hitting the guitar, it's just those little things that make you know this is real. This is just a mic in a room with some guys that are actually playing instruments and singing songs," Jenkins said.
Blue Bandana was available for purchase online within a week of recording, and sales have been strong. "It's definitely making me see that there's a whole new paradigm in music. I haven't figure it out yet, but I know it's not the old way," Jenkins commented.
Growing up in Tulsa, Jenkins was interested in music at a young age. "I was always intrigued with music and always wanted to be around it. I knew from an nearly age that's what I wanted to do," he remembered.
Jenkins' uncle was Grammy-award winning recording engineer, Gordon Shryock. "He was part of that old Tulsa guard. He worked with JJ Cale and Leon Russell and went out to California with them. He became one of the big head studio engineers out in California," Jenkins noted.
Inevitably, Jenkins was influenced by the "Tulsa Sound". "Everybody always asks me about the Red Dirt, but to me, what really influenced me was the Tulsa Sound. Those were the people that were the superstars in my mind. Steve Pryor, Jimmy Markham, Bill Davis, Mark Bruner, Brad Absher - all those guys. When I got out of college, I just immersed myself in the Tulsa scene, and that was more of a blues influence. Even though it was different than what I was doing over the years, that really has seeped in, and I think you can hear it in my music."
There's no denying that, however you choose to define it, there's still a lot of Red Dirt in Jenkins, as well. "My definition has changed over the years," Jenkins explained. "I used to say if you haven't lived in Stillwater, Oklahoma or spent a significant amount of time there, you can't really call yourself Red Dirt…I've also always said that the Red Dirt title is really not so much about the music. It was more of a brotherhood of guys because my music and Jason Boland's music are different, yet they are both Red Dirt because we were both forged in the same place, which was Stillwater, and that's where it all came out of."
After more than a decade of living in Texas, Jenkins has broadened that definition. "There are bands down here that have never been to Oklahoma who are Red Dirt, and I think that's just a natural progression, and it's fine because I think the same thing was true with bluegrass back in the day. If you didn't live in Kentucky, you couldn't be a bluegrass band. Of course, now we know there are bluegrass bands everywhere in the world, and that's just a testament to the music itself."
You can check out Jenkins' latest release, Blue Bandana, here.
- With permission from Red Dirt Nation.