Interview
Bruce Hornsby on His New Record, Mavis Staples, and the Grateful Dead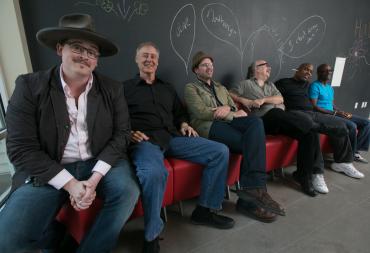 A voice — and, better yet, a definitive piano-fueled sonic stamp — that from the time I was a child I've assuredly been able to pick out like a red tailed hawk call on a windless day. Bruce Hornsby has been a mainstay in the speakers of record connoisseurs and 'lite fm' listeners for close to 30 years. After coming down from playing as a helmsman in the instantly legendary "Fare Thee Well" concerts — the quasi-official going-away party for the heroes of psychedelic hippie rock (and eternal light guiders) the Grateful Dead — Hornsby jumped into the studio with his longtime collective of crack musicians for his latest tongue-in-cheek offering, Rehab Reunion. 
Shedding his familiar seat behind the 88 keys, Hornsby instead played the dulcimer on this record. The piano-free ten-song recording features the aforementioned Noisemakers — J.T. Thomas (organ), J.V. Collier (bass), Sonny Emory (washboard, cajon, drums), Gibb Droll (electric and acoustic guitar), and Ross Holmes (fiddle, mandolin), with guest spots by Bon Iver's Justin Vernon and the angelic/anthemic legend Mavis Staples.
An upbeat gospel number, "Celestial Railroad," closes the spotless record with an uplift to God above as only a 'Staple Singer' can. The shared choral harmonies are nothing short of Easter Sunday in the Delta — wholesome and sweet, cleansing and succulent.
Rehab Reunion is playful and addictive. Its simple yet spunky melodies are loaded with double entendres and cloaked in simple-yet-spacious bluegrass, gospel, country, and pop. There's even a muddy barnyard arrangement of "Valley Road," which is every bit as beautiful as it sounds.
It was a great honor to be able to catch up with Hornsby and talk about the new record, the most fun he's had in the studio, why he wasn't an 'official' member of the Grateful Dead between the virtuosic and sadly missed, Brent Mydland and Vince Welnick, his 'oh shit' moment when he realized he'd finally arrived back in the late '80s, Bob Dylan, Don Henley, Spike Lee, Eric Clapton, Vernon Reid, and much more.
Scott Zuppardo: Your music has spanned many a gulf, stylistically. Is it an organic unfolding or do you aim for a certain sound, or, dare I say, genre?
Bruce Hornsby: I'm a lifelong student, always in search of new inspiration and new musical areas to explore — and new literary areas to explore as a reader — to broaden my knowledge and aesthetic as a writer and a curious person in the world. So I guess I would say that my stylistic journey over the years has been a natural and organic one, based on what moves and interests me.
Is exploring the dulcimer in a band format as fun as the piano or keys? Are the limitations ever a frustration? Have you taken the dulcimer to places on this record that you didn't initially even think possible?
As an instrumentalist, I'm not taking the dulcimer to any place special, although the way I play it is fairly idiosyncratic. I'm terrible at it, but that doesn't stop me. I actually embrace its limitations because they lead me to write simple music; never a bad thing.
Your duets are sheer legend and stay the course with the beautiful and ever-inspirational Mavis Staples on this record. What was the ultimate "Oh shit, I've really made it" moment for you, in your career?
I think I felt it was possible that I had "made it" in 1986, while "in makeup" before the British chat show "Terry Wogan." All of a sudden Elton John, who was also on the show, roared into the room wearing a Tina Turner wig and threw his arms around me while giving me a beautiful compliment! Eighteen years later, Elton and I also did a duet, which was such a wonderful moment.
The record you made with Ricky Skaggs seemed like you were having a lot of fun. What's been the most memorable and/or life altering experience in the studio for you?
The Skaggs-Hornsby studio record was great fun to make, but the 2013 live album Cluck Ol' Hen was really the one that sounds like a bunch of guys having a fantastic time playing music.
I've had lots of memorable studio experiences; recording with Vernon Reid and a string quartet for my score for Spike Lee's Sweet Blood of Jesus film; recording with Justin Vernon and his old high school pals last year; recording with an orchestra two years ago for the Disney film Planes: Fire and Rescue; playing on a Bob Dylan record, with Bob, in 1990; Garcia recording on our third record; playing on Bonnie Raitt's "I Can't Make You Love Me" record; having Pat Metheny play on two mid-'90s records for me; recording with Jack DeJohnette and Christian McBride; bluegrass with the Dirt Band on their second "Circle Be Unbroken" record; having Wayne Shorter play sax on Henley's and my "End of the Innocence" song; Clapton playing on my "Halcyon Days" album; and so many more. I'll stop here.
You're playing with the Grateful Dead was always remarkable. I was a young Deadhead coming up in the '90s (and still am), and to this day the only Dick's Picks on my ipod is Volume 9: 9/19/1990 at Madison Square Garden, NYC, with you on piano and Welnick on keys. You, Jerry, and Bobby — and really the whole band, for that matter — took on a jazzier, blusier, and more country edge most of the time and it was just magical. I love every second of that show. Surely the offer to be a full-time member, between the great Brent Mydland and the tragic genius of Vince Welnick, had been considered. Why did that never happen?
Yes, Jerry and Phil came to my concert at Concord Pavilion and asked me to join the band. If I hadn't had my own career going very solidly at that time I would definitely have joined them. As it turned out, I told them I would help them through any transition period that would occur between Brent's death and the time when Vince became really comfortable in the band, which is what happened. I wouldn't trade my time with the Dead for anything. It was a truly singular and often transcendent experience for me.