Interview
Bruce Robison Talks New Album, The Next Waltz and More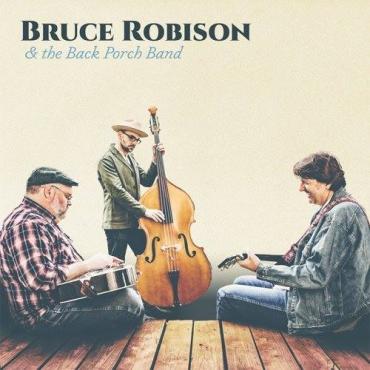 A respected and beloved musical voice in Texas and beyond, Bruce Robison returns on April 28th with his first solo album in almost a decade, Bruce Robison and The Back Porch Band. The all-analog project blends originals, covers, and co-writes into a solid collection that captures country music at its finest. Robison, whose love for all things music extends well beyond songwriting and recording has also poured his passion into his newest project, The Next Waltz, a new web series and "musical saloon" where artists and friends gather to re-imagine songs, reinvigorate covers, tell stories and craft new works. Taking some time from a busy schedule, Robison graciously called to speak about his new project, The Next Waltz, and, more.

Over the past few years, you've been incredibly busy making records with your wife Kelly Willis and working on your series The Next Waltz, but it has been quite some time since you released a solo record. What made now the right time?
I definitely had a great time making those records with Kelly, it was a great way to reenergize, reinvigorate, refocus, and be part of a band for a little while, but we both knew that we weren't going to do that forever. I love collaborations, no matter who they may be with, but the plan was always to figure what solo project I wanted to do.

The new album, Bruce Robison and The Back Porch Band, releases on April 28th. I read that you wanted to keep things simple with this record; what does simple mean to you in terms of making an album?
Well, there are a few different versions of what simple can be, all of which add to how a recording ends up sounding. I try and write songs that are my idea of the way a country song should sound like, like "Help Me Make It Through The Night" or Blue Eyes Crying in The Rain" which are songs where you don't need a whole lot of words to paint the picture that you're trying to tell. So, in that way, songs can be simple and then, on the other hand, there's the simplicity of making a record. In modern day, you can make 150 tracks of digital recording and then try and piece it all back together at the end to make it sound like a performance – and that, to me, is not keeping it simple. Keeping it close to the sound of a real, live performance and have that be what the listener hears is what I'm looking for. 
​
I have been working in music for many years, but this record was made in a completely different way than I have ever recorded. It was recorded in a space I call the Bunker, which is a big time capsule of a recording studio where we're all in the same room, playing music together, and letting the songs show the way. In the process of recording, I did twenty-five or thirty songs to come up with the nine that feel like they are a part of the same vibe and hold the album together in the right way.
Being that the lead-track from an album typically sets a tone, why did you choose to begin with "Rock and Roll Honky Tonk Ramblin' Man?"
The process of making an album is work, but then, when you start to think about how it all fits together for you and how to present it to the outside world well, those are really fun things to do. "Rock and Roll Honky Tonk Ramblin' Man" is a great song by my friend Conrad that I have been playing for years. There's this thing that happens in the studio - and it's been happening to me forever and ever - the musicians, they'll fall into this groove of a new song or a song we all know and there will be this terrible feeling like, 'Damn, I wish we were recording that song today instead of the one I was planning on recording.' (laughing) Conrad fell into this thing, which is that groove on that song, and one that was totally different than the way I had been playing it for years. So, I said to them, 'Let's play the song, but in the way that you guys were playing it.' That's the way we did it and it felt so good. It worked out like a happy accident.

I get obsessed with older music and to me, that song feels like some of the grooves I'd hear in the country music of the 60's-70's, which were so creative. No matter what my history is, I'm the last guy who wants to play sad ballads, that's been my life, so this song was my attempt to have some fun and by putting it front and center I'm saying to the listener that this is a record you're going to enjoy listening to.

It is such a fun song. You return to the honky-tonk in a way, in the closer, "Still Doin' Time (In A Honky Tonk Prison), which is much more somber.
My background is sad songs and slightly faster sad songs (laughing). That's what I like to listen to, what I play, and where my voice sounds good. I always have lots of those songs for every project I do, so for me, it's more like I'm spacing them out with other songs because I don't want to bum everyone out all the time (laughing).

I think that by the time you're thirty, the die is cast with who you are and as a songwriter, you come from one of those places where you're more affected by Dylan and those poets or others, like Hank, Willie, Emmylou, and Merle. And for me, I think that my music feels like it comes from one of those places [the latter]. They are the type of writers whose songs had a lot less between the lines. Their songs, beautiful and simple, just slayed me and they've always been what I aspire to write.

In addition to the original songs on the album, there's a fabulous, kind of "who knew that could work," cover of The Who's "Squeezebox." How did that come about? Was that song always a favorite?
I'm a song guy and I love cover songs. We do this fun little series, the Country Cover Song Challenge where we pick a song and work out a cover in one day. We had recorded a different song that day, but we were having so much fun that we decided to do another, and "Squeezebox", with Warren Hood's Cajun fiddle setting the groove of the track, was it. By recording "Squeezebox", I wanted to show not only how great a song it is, but also how wide an influence country music has that these guys from England would have a brilliant song like that.

It's really fun for me to have a song take on a whole new life and tell those stories; and those are the same types of stories I'm trying to tell with The Next Waltz - how songs hold together in different cultures and then how they fit into the middle of the debate of what is country music and what is not.  I'm enjoying it. It feels like a blank slate where I can tell any story I  want to tell. 

One story on the record which has become a favorite track of mine is "Long Shore", which to me, has this religious serenity about it. Would you mind telling the story behind the song?
The idea of that song is very vague, but what it means to me is an important destination that you strive for. I love Gospel music and the faith that goes along with it. That wasn't my background, but when I hear the conviction and beauty in that music, it just kind of makes me jealous (laughing). Even if I am not going to church every Sunday or part of a religion, faith is a huge part of life and that style of music makes me want to be part of something bigger and that's the vibe I think is present here.

I'm a Louvin Brothers, Everly Brothers, and Beatles guy – I love harmonies and always saw myself as a harmony singer more than a lead. And that's another thing I love about this song. Kelli helped me with the harmonies, and even though I don't understand it well enough to explain why it works so well with harmonies all the way through, I think it's the greatest thing.

Finally, what's ahead for you after the release? Will you be out supporting the record?
We'll be playing all over Texas and in June we'll have some trips out of state. It's a wonderful thing to have new music to play and see how it bounces off people. I'm excited to get out there.

Then in May, we'll have a lot of Next Waltz stuff happening with a new song coming out every two weeks. I'm really looking forward to being in the studio, being engaged in making new music, and just continuing to be a part of things.
 
For more information visit the official website
Find  Bruce Robison on Facebook, Twitter,  and  Instagram
Pre-Order  the album HERE

For more information on The Next Waltz visit HERE
Originally appeared on The Daily Country