Interview
Call Out the Cavalry: Chadwick Stokes Speaks on his Latest Solo, 'Horse Comanche'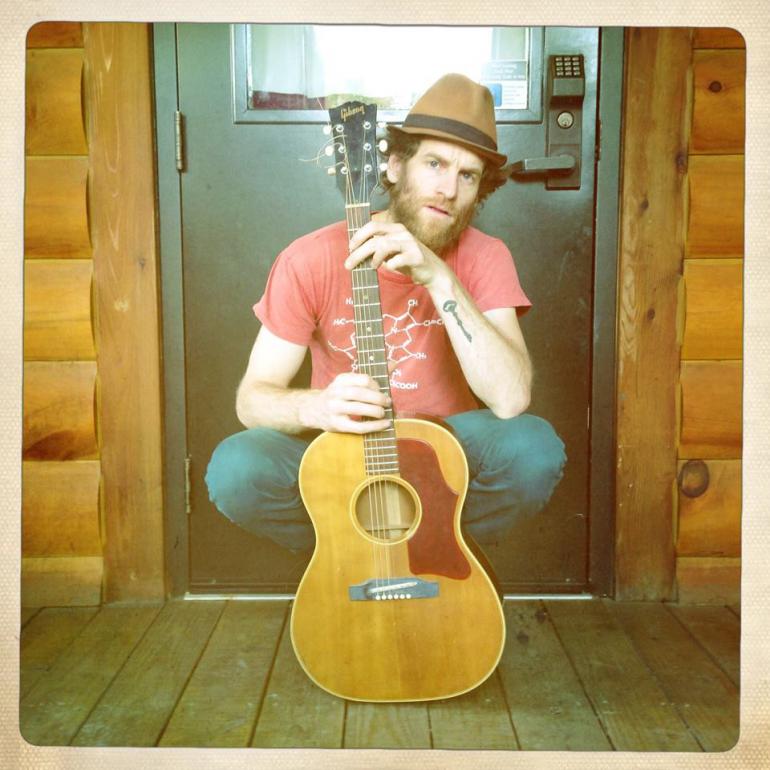 Chadwick Stokes is decidedly not a household name. Not yet anyway. However, his first project with a little group called Dispatch left an indelible fingerprint on the youth culture bookending the millennium. Original fans are a bit older now, and some even sheepishly admit to an unfounded fondness for the band during their youth. The hesitance for endorsement is understandable. Looking back, it's easy to equate the group to a Thinking Frat's Sublime. Tongue in cheek observations aside, there's very little to be ashamed about for liking Dispatch, and though their mixture of rock, reggae, and folk was by a stretch comparable to the aforementioned group, the correlation has more to do with the fans themselves rather than audial similarities. That being said, there's nothing too wrong with Sublime, either.
Still this isn't an interview with Chadwick Stokes of Dispatch, or the leader of popular Boston area group State Radio. This is an interview with the solo artist Chadwick Stokes about his excellent recent release The Horse Comanche. His second full-length album is a thing of glory. Featuring a varied topography, exquisite highs and lows so deep they'd give you the bends, The Horse Comanche is comparable in scope and depth to any mid-career Paul Simon release. What has come before in Stokes' career may be more celebrated, but what is presented on this latest album is shaping up to create a solo career to outshine past group efforts. But no great work is accomplished alone, and Stokes had some help.
"I had made some acoustic demos and sent them out. We got a pretty quick response from Sam Beam of Iron and Wine and Brian Deck [producer of Modest Mouse]. So I basically moved the whole family out to Chicago for a brutal month when it was about negative nineteen [degrees]. I was lucky enough to be in a nice warm recording studio with the musicians from Chicago. A lot of the studio time I spent singing and playing guitar with the band at the same time. It was only a matter of finding the right parts for the musicians. Basically, I was teaching the Iron and Wine band and they were teaching me. But Sam Beam wasn't like all those Chicago cats we were playing with on the record. He's got a real southern feel to him."
The on-again-off-again history of Dispatch is well-known. But what's not so well-remembered is the route by which Stokes' group became one of the most anticipated acts on the college circuit. Without label assistance, Dispatch rode a wave of popularity propelled by peer-to-peer sharing and good ol' fashioned word of mouth. It's not well accepted amongst hipper-than-thou circles, but Dispatch was essentially an indie group. These days where the term 'indie' denominates genre or style more than ethos, one might encounter resistance about the concept from their poorly-tattooed, craft brew peers, but the fact remains: Chadwick Stokes has never been beholden to the whims or edicts of a record company or popular opinion.
"I've never had to reconcile with a label of any sort. Working with Sam was different though. He was more concerned with the songs, and trying to carry them through. With Dispatch I felt a little sedentary. I really wanted to voice strong political beliefs. State Radio was the vehicle for that and one of the reasons it felt so good to say what I felt I needed to say. Since then with my solo outlet it's been a healthier spirit all the way around. Recording, Beam kinda got into it lyrically with me a few times. That hasn't happened since the early Dispatch days. With State Radio and my first solo record I was pretty much steering the ship so it was interesting because he would sit me down and question: 'What are you trying to say here?' So it was great to get back to working on the craft."  
The complete recording session took little longer than a month with two minor exceptions. "A couple of the songs, 'I Want You Like a Seatbelt,' and 'Our Lives, Our Time,' I took out to California a couple months later. Funny how they're a few of the more sunny songs."
"Sunny" isn't the right word, though, especially for the latter song. In addition to the dreamscape of love, longing, and connection recorded across the 10 tracks of Horse Comanche, there is a certain stark reflection on the modern condition. One of the album's achievements is Stokes' ability to add a dark cloud to the numerous silver linings.
The title of "Our Lives, Our Time," would suggest the empowerment of a youth culture more aware and more open to the world around them, one capable of initiating some badly needed changes. The dark days of war and poverty are over, right? Isn't that what the President said in his State of the Union? Well, yes those days are done but we are now greeted with a plethora of new, more domestic issues. 
"There's a lot going on in the world today. Especially to think about Ferguson [and Staten] Island. And then last week there were two thousand people killed. So it's a fucked world we're living in. There's so much violence and it's hard to make sense of it."
It is this sentiment at the heart "Our Lives, Our Times."  The track begins in acousto-pop bliss but quickly dissolves into an articulate antagonistic litany. "If you're going to play you got to play the party lines." Stokes sings, relating the sad, systemic trap of poverty where disadvantaged students move en tandem from school yards to prison yards. Referencing greed and corporations more powerful than the government, Stokes quips with no small amount of vitriol, "Give a teacher a banker's salary and see how that goes." It's a powerful message, and a story well told, where the narrator questions all the motivations and manipulations of institutions we're taught to believe in from the very cradle. It's a song about a lack of control over exterior forces that are far more powerful than Orwell could have ever imagined. "But at least we have our bodies," the chorus echoes. But one questions the validity of such a statement… and if it be true, then for how much longer?
This isn't the only instance of a fire burning within Chadwick Stokes. Take the titular track: "The Horse Comanche." On the surface of things it seems rather inconsequential. The lyric "We are all on the horse Comanche," seems a pretty image, but the historians amongst us will take immediate note. The horse Comanche was sole survivor to the Battle of Little Big Horn. Now reconsider that line. "We are all on the Horse Comanche." How very cryptic! But it wasn't the original design.
"[The lyric] has less to do with it than you'd think. Whether it was subconscious or not, I had that lyric in the song before I'd realized there actually was a horse named Comanche. It's kind of hard to believe even listening to myself saying it. I've just always had this fascination with Native Americans. So when I actually looked up the horse Comanche and realized it's still around today and stuffed at the University of Kansas, it was really wild, and I guess led to me naming the album after it. When I wrote the lyric though, 'We are all on the horse Comanche,' I was really just trying to think of the spirit of a horse and the journey of life. I love riding horses and nothing makes me feel more alive. So in a way it was just kind of a bit random, but became less so when I dived into it. Some people think it's about the Little Bighorn and the sole survivor. I didn't look into it that deeply. Historically I'm always on the side of the Native Americans because it's still a huge problem to this day. The subjugation and systematic killing of the indigenous people here is one of the worst aspects of our history. I'm into learning more about what this land was like before Europeans came here and it worked its way into the song in a rather naïve way in regards to the significance the lyric or name might hold."
It isn't my intention to paint so bleak a picture of this album. In fact, the entirety of the listen comes off more triumphant than anything else. There is despair to the record, sure. But to be fair there's a larger measure of joy on Horse Comanche. The comically titled "Dead Badger,"is the best example and brings to mind the old Loudain Wainwright III tune, "Dead Skunk in the Middle of the Road."
"There was a dead raccoon that my brothers and I found when we were kids. We grew up on a farm so we'd seen a lot of birth and death of animals, but this was the first time we'd experienced it without our parents around. So we found this raccoon and were trying to figure out this death thing. Like, should we should bury it, honor it, or just leave a little space so it could breathe if it did wake up? And then there's this other story wound in about a girl we found on the side of the road while touring. She was 16. So we picked her up and were happy to give her a ride. I'd ridden some freight trains when I was younger so I could sympathize. She was an according player from Alaska and had been on the road since she was 13. The idea was a little loose, but in the same way we hoped that raccoon got another chance, we hoped that after we dropped her off that night she'd do more than just wonder out into the wilderness. So it's a loose interpretation of something a little more recent with something from my childhood."
There's a definite joy to Stokes' voice, an alert element of open-endedness when we spoke from his base of operations in Boston. As opposed to other subjects who slog through an interview for the sake of publicity alone, speaking with Stokes came off as just that: a conversation. And it's easy to pick out the same conviviality on Horse Comanche. Tracks like "Prison Blue Eyes" or "New Haven" (with a cameo from Lucius) contain an easy, peaceful gait that pinch the lips of the listener unwillingly into a smile.
So it should come as no surprise Stokes strives to spread that self-same goodwill along more physical avenues. His charity Calling All Crows has been committed to recruiting fans and activists to contribute time to do hands on work and grass roots fundraising in order to bring a variety of social issues into greater perspective.  
"On tour we met up with different refugee communities in different cities and listened to amazing stories from refugees from places like Bhutan, Afghanistan. They were really incredible stories to listen to. We also do a big benefit at the end of the year to donate to refugees in and around Syria. At shows were collecting donations for these winterization packets for camps on the Syrian border. We're especially focused on Women and Children from the civil war in Syria."
It all seems a bit too much, doesn't it? On my best days I struggle to utter a kind a word in regards to the unimaginable wealth and ease of my daily existence. Yet here's an outsider success, a man who can write both dark and light expertly. Stokes has created intelligent, interesting music that also holds popular appeal despite redefining himself with every new project -- whether it be Dispatch, State Radio, or his recent solo material. Add the fact he's found the courage to address aspects most musicians would rather ignore though those inequities slap us in the face with every new headline.
It's made all the stranger by the fact when you look back at the history of pop music you'll find an element of social consciousness coinciding with issues like war, nefarious political activity, environmental disasters or poor economy. Since the millennium we've experienced all those issues and more, yet pop music, especially the big three -- rock, pop, and country -- haven't acknowledged the realities in the least.
Stokes gives a long sigh. "I think there's a lot of smaller bands doing that. I think it's been… It reminds me of the economic disparity in this country. There's one percent of bands or less that's popular. Everybody else is just trying to make it through the night. Of those bands that are successful, they've been put through the corporate machine so big time music has weeded out some of the singers/bands that have the gumption to stand up and say 'Things aren't right.'"
And then it hits me all at once and I figure out what's really going on. "Are you a subversive?" I ask him.
He laughs. "I'd like to be considered that. I think there's a place for it in our world."
Originally appeared on StereoSubversion.com