Interview
Canadian Singer Songwriter Ed Roman Talks NYC, Jamaica, and What's For Dinner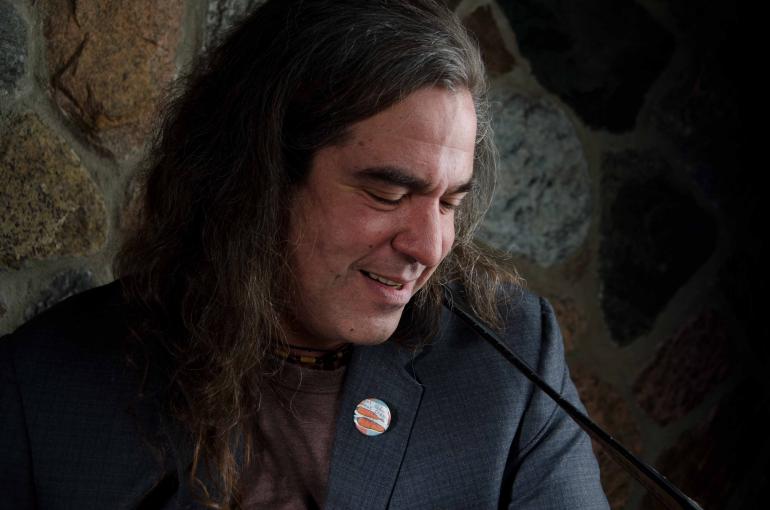 Ed Roman is an award-winning singer-songwriter from Ontario, Canada.  He recently performed a series of concert dates in New York City, including a performance at the world-famous The Bitter End.  
Roman and I recently sat down for a lengthy interview, during which he talked about his tour dates, his upcoming album, Jamaica, and what he would cook his guests for dinner.
MTS: Tell me about your recent New York City tour.  How was it, where did you play, and what were the highlights?
Ed Roman: "New York City is the place where." Lou Reed. New York City is like a huge historical experiment and pathway to the future. Whenever I travel anywhere I always try to take in as much of the city as I can. That doesn't necessarily mean just the typical landmarks and expected sites of destination, but for me it's more about a pilgrimage through the streets and alleyways that make up the arteries, veins and capillaries of a great city. New York is steeped in history and you can feel it permeating through the ground into your feet. There's so much incredible architecture and with every step I took, I felt more and more compelled to stay. I don't often get this kind of feeling from a big city as I am a country person but New York City is definitely one of those places that has the souls, blood and tears of so many that have made it what it is today. It's not just the big buildings and corporations that fluidly run through the city but it is the people on the street giving it its energy and source of life everyday. I played at some of the most classic places that New York City has to offer. In Greenwich Village my shadow adorned the stage to a wonderful crowd of people at the classic The Bitter End. Incredible artists such as Bob Dylan, Joni Mitchell, Billy Joel, comics such as George Carlin and so many more have graced this incredible building. It was an honour to play there. Other great locations and hidden gems were places like Otto's Shrunken Head, The Parkside Lounge and Piano's... all steeped in their own groovy street energy and I have nothing but wonderful things to say about all the people that came out and work there. I have to say definitely one of the highlights was my evening at The Bitter End. The club is so well-equipped for sound and there isn't a bad seat in the house. That evening I was playing through a bass amplifier that came from the Ed Sullivan theater from the former David Letterman show. A wonderful crowd of people and highly responsive. How much better could that be?
What's the craziest thing that has happened while on the road, and where did it happen?
The craziest thing that happened is I was accosted by a bunch of New York Gypsies who threw me onto a barge on the East River and forced me to play music or threatened a mass tickling, but seriously folks. There are always crazy things that happen when you're on the road; most of the time they can be looked at later with a great deal of humor but while they are happening it can be a bit crazy. I had the pleasure of having lunch in a classic New York diner just a little off Broadway at a place called Neil's Coffee Shop with Brian from New York City's Factory Fast Records. It was one of those classic diners that you read about in novels, bustling and hustling with business suits and neo-hippies playing their daily games and planning their adventures. I felt more like I was in a movie than I was actually living life and the meeting that we had went incredibly well. When we were leaving we decided to take a walk toward Central Park. On the next block Brian had stopped us and said, "this is Woody Allen's house." I had to pause for a moment and take in the statement as I was not expecting to run into a location which was the abode of a well-known director and movie star. Just the fact that you can walk out of a little coffee shop and turn a corner and possibly run into an iconic figure such as Woody is a really heavy trip. We didn't want to wait around to stop the poor guy but nonetheless felt that strange energy once again standing there in the moment. Crazy stuff man.
You've received some wonderful awards and nominations over the past year or so.  Which one is your favorite and why?
I'm so happy to receive any award or acclamation for what I do but at the same time I'm just trying to make the best art that I can. Between some of the awards out of Hollywood California through The Independent Music Awards and in the southern US The International Music And Entertainment Association have been a great pleasure to be a part of. These organizations do not base their judging strictly on merchandise sales but they are guilds that work together to recognize an artists' contribution to American culture. This for me has far more moxie and sand as far as winning an award is concerned. There have always been things in culture that have been greatly popular because the amount of attention that has been paid to it. In that same statement I can say there is a great amount of popular culture that is paid for by companies in order for it to become popular. What's important to recognize is the artists' endeavors and their contribution to the day and age that we live in and its validity in this moment.
Critical praise, record sales, or industry awards...which one is most important to you and why?
I guess in terms of everybody's career all three of those have a great amount of importance. For me though as I mentioned before, it is important for me to continually keep making good art. Long before I thought about this as an occupation, music was a way for me to break out of my shell and express my true inner feelings and emotions. Music for me at a very young age was like therapy. As time went on I started to realize and understand more and more that it is like a religion to me. It has carved so many subtle pathways in my life and into the things that I do everyday. It translates more like a nervous system into a multitude of things that I love to do. It not only has trained me physically but it has trained my soul and my mind and body to work in a way that most people know not how to do. Don't get me wrong I like paying my bills and getting pats on the back for what I do but the most important thing that I keep doing is writing music. Don Henley once said "the only thing different between me and you is my pile of shit is bigger than your pile of shit". All I want to do in this industry is function in a practical and methodical way. If I create a record I'm looking for minor material compensations in order for me to be able to exist as a human on this planet. I don't need a golden airplane with a toilet made of licorice and fully integrated massage therapy chairs. To me it should function more like a garden. The ideas for the songs are like seeds. I tend them, weed out the problems and nurture them until they are bearing fruit. It is then that I take my wares to market and display them for all to enjoy their colours and aromas. I'm a gardner of music and a gardener's work is never done.
Tell me about your current album, Letters From High Latitudes.  How did the title come about, and what was the recording process like?
Letters From High Latitudes is another doorway into the mental landscape and sociopolitical environments that we live in. I'm constantly writing music as a direct result of the emotional impact of so many things that I feel. At the end of a year's time I can reflect and look back at this journal of information and start to see the envelope of what it belongs to. There were a number of synchronistic moments that came into play from finding a book written by Lord Dufferin entitled  Letters From High Latitudes. I happen to live in Dufferin County in a town which is the second highest elevation in Ontario Canada. The songs themselves are a description of the day and age that we live in and were summated nicely by the title of the book. I'm often working on the synchronistic moments as they show themselves to me. As time goes on I get older and I reflect on these times of intrigue and I realize there's something far greater at hand when the disconnected points actually start to create a picture. There's always a message in the madness.
You've released some acoustic video demos, highlighting some of the upcoming songs on your next album.  Tell me about the new project, and when can we expect a release?
Yes, I've been putting up little clips of different tunes that I've been working on for the new album. Red Omen will be the title for hopefully a spring release in 2016. This of course is an anagram of my own name, Ed Roman. I'm continually surprised and intrigued by the amount of these kinds of words that exist all through our language. Most of the time it can be found in subtle bits of advertising and iconography that is more like pagonized symbolism. It's not like the entire album is going to be filled with ciphers and metaphors but at the same time I've been cleverly crafting and wordsmithing things into a grouping of new material that is sitting with more gravity than most. I think a lot of artists today aside from trying to make a living out of what they do are recognizing all of these subtle changes that are occurring everywhere around us. Not only in our own countries, but around the world. This is one of my concerns as an artist when it comes to understanding subtle energy and how it affects us in a negative and in a positive way. Music has always been deeply connected to human biorhythms. Even in a chaotic situation, organized beauty like a forest, humans will gravitate to these areas for peace and solace. The force will provide the sounds of its nature from a songbird or the gentle babbling creek and whispering wind that moves the canopies' leaves in the trees above your head. This is nature's Symphony. Music has this attachment to this living emotional environment which is then recorded in the human condition and retransmitted to the listeners. Technology is not one of the things that promotes these subtle energy systems nor does it keep it in a state of balance. It's important to remember that technology is nothing but a tool and not a part of our body electric.
Up to this point, what is the highlight of your music career?
I've had some incredible experiences as a musician. Traveling all over the world and meeting incredible people. Playing in wonderful venues and classic historical locations. I have played for thousands of people at a time in giant auditoriums and have played for people that had nothing in ditches and streets in places people would never want to go. The highlight for me is being able to do this every day of my life. It's what I've always wanted since I was a child. Ever since the moment that I had cognitive thought the idea to be able to do this was more like breathing than just being something that I did to make money or put a trophy on the shelf. As I mentioned for me music is life. I can't imagine life without it nor can I imagine me not engaging with it in some way. To me everything is music and will always be.
You recently visited Jamaica to shoot your latest video and to deliver humanitarian aid.  How did you decide on Jamaica for a location to help out, and tell us more about the trip.
Jamaica has always been a mental place and spiritual place of destination for me. Long before I even met my partner and wife Kim, I have always been drawn to the Caribbean and equatorial heat. It's not just a destination of relaxation and playtime, but it is a hub of earthlike electromagnetic activity. Some of my earliest influences were artists like Bob Marley. Marley's music has so many connotations and stigmatas that are attached to it from it being embraced by the drug culture as well as a rebellious attitude towards the system. If you look at Bob's lyrics there is a message that is far deeper than just the superficial meaning in the title or even the commodified version of what Bob Marley has become. What I mean by this is that Bob's message was of a spiritual one. It was trying to empower you to get up and stand up for the things that you know in your heart are right. To stand up and fight against the things that you know are wrong. To never hold a face of treachery or iniquity that could destroy your fellow man or brother even if they were your enemy. I'm not sure if the island has promoted this environment as so many other artists that come from this beautiful place but for me, it is a place of re-grounding and re-understanding who I am as a person. Most people visit Jamaica and spend time on resorts never leaving the gated walls unless accompanied by staff. To really understand what's happening anywhere you must leave these places and see what's really going on around you. Despite you feel like you're standing in paradise there is so much poverty everywhere. Most Jamaicans will have a high quality cellular phone but in most cases they probably won't have running water or enough food to eat everyday. That doesn't mean that they don't work hard or that they're lazy. What it does mean is that most of their industry comes from tourism and they don't get paid what they should for the time, energy and what they truly offer to the people that come and visit this place. Most people don't go shopping for groceries while there; and when you understand that food commodity prices are very similar to what we have here in North America, it becomes very difficult to make a living or feed your family on only about $135 every 2 weeks. It's not hard to want to give when you see people in need especially if you still have some sense of empathy as a human being. My wife and I gather materials from dollar stores, places that have things on sale, and any neighbor or family member that would like to contribute to our packing shipping barrels by a small company here in Ontario and sent by boat to the island where they are picked up on the other end by people that we know. All of the material in these barrels gets handed out to a multitude of people,  they need things that we take for granted everyday. I do it because I can... that's the only reason.
What is one career goal that you hope to accomplish in the next year?
Stay alive.
Outside of music, what does Ed Roman enjoy?  And if I was to come to your house, what would you serve for dinner?
While I don't think you know this but your question must've activated your third eye. One of my greatest passions is food. How is it grown, where does it come from, who grew it, is it genetically modified, has it been sprayed with pesticides, how many thousands of miles away did it come from, and so on and so on and so on. I love having people to dinner as I come from a multi-generation of farmers of food and what we consume is paramount. As I mentioned before in my metaphors about gardening in music gardening to me is like a symphony. I'm very passionate about food that I grow and I see my vegetables sometimes more like my own children. Nurturing and tending to them as they grow through their lifespan. In time my vegetable children come to sustain me. This once again re-amplify's my existence as a human being, and helps me stay connected to the earth and my living environment. So often I spend time encouraging people to grow their own food and to become more active in the food movement. There's an old adage that says you are what you eat. I've always taken this statement true to form as for me growing things is just as much a part of my life as music is. It's not just a Hobby is an art. Come for dinner anytime, I've always got an open place on my table. Thanks so much for having me today and it's been a pleasure to speak with you. All hail the musical carrot.