Interview
Carla Olson and the Years of The Textones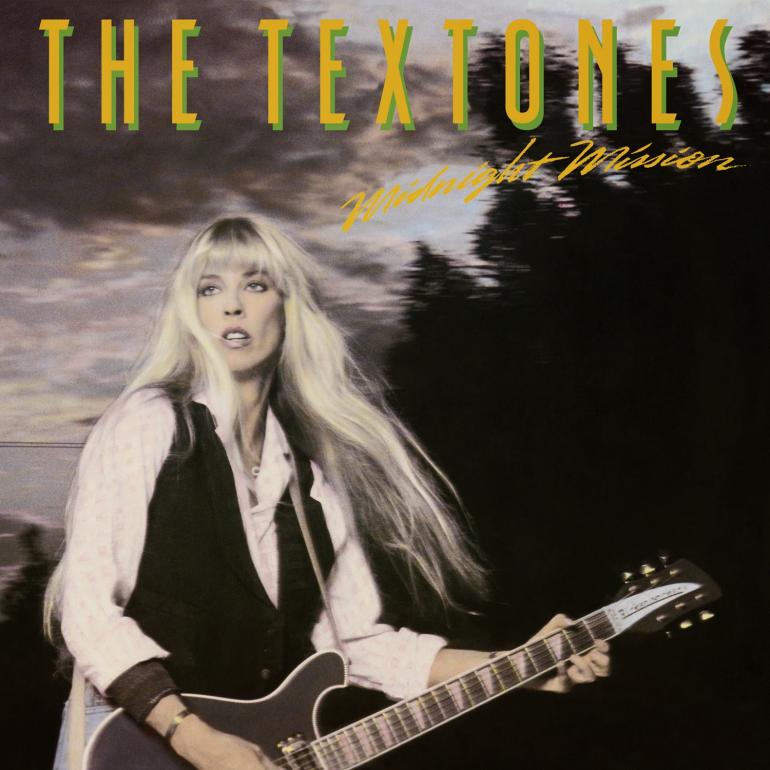 Carla Olson has a story to tell. It is about a landmark band gone unnoticed in the world of Americana and roots music.
The story she tells of The Textones is a tale that captures, within the band's all too brief life span (1978-1987), raw anthems of rock-and-roll passion, a rise from bars to concert halls to international tours, colorful legends who found their way to the band, the personal touch of Bob Dylan, and a soundtrack that boasts their own powerful music of the day- thankfully captured in the studio. Thirty years ago The Textones blazed a trail many others have followed since they arrived on a music scene that was like a crazy wilderness of jesters in three-piece suits and stodgy, soullessly- vamped pop kings and queens. The Textones stood in stark contrast to the mainstream. They were truly pioneers. Today's young artists can listen to the band's two studio albums for inspiration on how to rock with abandon and write and record with intelligence, imagination, innovation, and originality.
Both albums by The Textones, Midnight Mission and Cedar Creek, have recently been re-mastered and re-released by Omnivore Records with the direct involvement of Carla Olson and her husband, producer Saul Davis.
It all began in a single moment on a warm Texas night in 1978. A simple twist of fate, as the poet once wrote.
Rock-and-roll legends sometimes happen with the luck of the draw. A momentary game of chance can send great artists into the fray of something entirely new in popular music. So it was when The Textones were born on that night in the late 1970s in Austin, Texas. Two performers, singer-songwriters and passionate fans of rock music decided to cast their fortune to the winds of chance in order to decide whether to move to Los Angeles or New York City to launch their careers; it was based on the toss of a coin. When the dime landed on the Texas earth that night, it pointed Carla Olson and Kathy Valentine to the City of Angels of Southern California. Los Angeles called.  
They left behind a cult following and their popular punk band, The Violators. They landed in the middle of L.A.'s
growing new wave music scene-a strange conglomeration of punk, post punk, and power pop artists-all filled with the realistic hope for success. It was a scene that spawned The Bangles, The Knack, and The Plimsouls among many others. For Olson and Valentine, the new wave label was not a comfortable fit. So, they kept to their roots. As Carla Olson recalled in a recent phone interview:  
"Back then, in 1978, Kathy and I didn't consider ourselves any kind of genre. We began as an L.A. new wave band. We wanted to come to L.A. because of the punk and rock and roll. But, as we evolved, we grew into a straight forward rock and roll band."
Of course, it hardly takes a rock and roll genius to figure out their name is a mix of Texas and The Stones-both Olson and Valentine are huge Rolling Stones fans. In their earliest days, they paid their dues playing the underside of L.A.'s bar scene. The band that was founded in those early days by Olson and Valentine became, for a while, the quintessential L.A. bar band, but that label hung too tight to their skin. They soon broke out of that mold as they mastered and tailored their own style. Yes, they were ballsy, like any bar band worth their salt, but The Textones had something more. They also had vision. This was partially due to the personnel that formed and informed the band.
They recruited music veterans David Provost and Markus Cuff.  It was a good start for a new band. Cuff played drums for Emmylou Harris. Provost once played bass for Ike & Tina Turner.
"First we had to struggle to find places to play.  Especially with original material. We started opening for other bands in small clubs." Olson said.
In 1980 Valentine, after leaving The Textones, successfully auditioned for The Go Go's, who were one of the L.A. bands being groomed for national pop success. Olson was left to front essentially a three-piece band-until she enlisted a fourth member of the band that would expand their sound.
"We added a sax player, Tom Junior Morgan." Olson recalls. "That gave us a really Stones-like sound. I began to lean more in the direction of the music I'd been raised with. When we covered other music it was The Yardbirds and The Kinks."
As the band moved from playing L.A. dives to many of the better clubs in the city, personnel changed significantly. With only Tom Junior Morgan remaining for horn and sax duties, George Callins came on board from Texas to help refine the rock & blues lead guitar work and Joe Read took over on bass.
However, most significantly, the already successful drummer, songwriter and vocalist Phil Seymour The Dwight Twilley Band) joined the band in 1983. It was fortuitous since it was in time for the production of their debut album, Midnight Mission.
"Phil was a wonderful drummer. It was a joy to have him in the band. His sense of time, his vocal ability were so right for what we were doing. But, I never believed he was going to stay. I knew he was on a kind of transition," Carla remembers.
Produced by blues keyboard great, Barry Goldberg (The Electric Flag) and Brad Gilderman(Eric Clapton, Tom Jones, Michael Jackson), the album today demonstrates how effective and timeless art can be when it eschews contemporary trends in favor of following the passion presented by originality, inspiration and the pure unadulterated joy of making great music. The context of the album is the often forgotten side of the politics of the Reagan era when the disadvantaged, disenfranchised and everyday working class were virtually ignored in favor of the supply side of things-in other words, the wealthy. Without taking her cues from anywhere other than her own heart, Olson thematically brought us to the land of the Midnight Mission where the everyman (and woman) are lined up in search of lost dreams.
"We were writing about what was going on around us. The economy and social issues were fresh on our minds. We wanted to bring to light the mess Ronald Reagan left us in. I was laid off in 1983. Jobs were so scarce," Olson recalls.
 Even one of the three unoriginal songs on the album, "Clean Cut Kid," a song rejected from Bob Dylan's Infidels sessions-it would later appear on Dylan's Empire Burlesque-speaks to the mindless love of military build-up and its personal impact on the lives of soldiers.
According to The Textones on Midnight Mission, America during the Reagan years was not the 'Shining City on the Hill' that so many conservatives remember of this era. Rather it was the time of 'acid rain,' as 'we lose while others gain,' as Carla Olson recalls on the album's opening track, "Standing in Line." On "Hands of the Working Man, she sings how, "the wheels of progress are grinding to a halt" while "the hands of the working man are searching for something to hold on to." 
Parenthetically, it was Olson's friendship and collaboration with ex-Rolling Stone guitarist, Mick Taylor-they later recorded four albums together- that resulted in her appearance playing lead guitar on Dylan's video of "Sweetheart Like You," which involved her playfully finger-syncing lead guitar to Taylor's studio performance of the song.
Midnight Mission caught the attention of many in the music industry. It also became a favorite of national critics. It landed the band an international tour. However, even thought it stands today as a landmark album, it had no charting hit.
"We had these great gigs after that album. We toured Europe. We were there in the middle of Drive Aid. But, when we came back to L.A. our label, A&M, had moved on. In those days, if you didn't have a hit, you didn't get radio action. But, we didn't let that stop us. We kept at it." Olson explains.
However, between the release of Midnight Mission and their sophomore effort, Cedar Creek, the direction of music and their personal lives began to shift. Phil Seymour was diagnosed with cancer during a tour with The Textones. He left the band for his hometown of Oklahoma City in 1985.  His life was cut tragically short in 1993. He was replaced on drums by Rick Hemmert.
Cedar Creek, was a companion rocker to Midnight Mission, with songs that strike a more personal chord.  On the title track, Olson returns to her childhood with a song for her parents.
"We named the second album after my mother's ranch property in Texas. The song, "Cedar Creek,' is about her and my father. My dad was one of the few successful ranchers during the Stock Market Crash of 1929. He helped the bank stay open. The back cover of the album is a photograph of his plow," Olson said.
The song along with "Austin," an homage to the now-internationally famous city, are two rare Textone ballads. They provide a foreshadow of Olson's future duet acoustic work with original Byrd, Gene Clark.
The rockers that dominate Cedar Creek reach the same rowdy and anthem-soaring levels as Midnight Mission.  Bass man, Joe Read's opening track, "Not Afraid," gives the album a hard-core Stones-like kick in the ass while "Every Angel in Heaven" calls up the best in Muscle Shoals soul. "You Can Run," gives the band the chance to flex their best Chuck Berry muscles with The Faces' Ian McLagan on piano. It's the final track "We Can Laugh About It," that leaves even the casual listener with a feeling of bittersweet and abrupt closure.  A song co-written with Textones' co-founder, Kathy Valentine, it lends itself to the high-flying rock 'n' roll majesty this band carried and leaves us today with the emotional weight of the final recording of a band who, while never found by the public-at-large, never lost their way or their vision.
Today, Carla Olson carries on building her legacy begun with her legendary band. She is currently working on four newly recorded Textones tracks and a potential reunion. In 2009 she produced Manfred Mann vocalist, Paul Jones solo album,  Starting All Over Again, with Eric Clapton featured on two tracks. The follow-up album, Suddenly I Like It, was just released which features Joe Bonamassa, Little Willie G and Textones' sax player, Tom Junior Morgan. She has also recently produced a song recorded by B.J. Thomas.  If that is not enough, sh has an upcoming production project; an album for The Mighty Echoes, an L.A. based acapella group.
In 2013, Olson released her solo album, Have Harmony Will Travel," a series of duets with friends who have inspired her over the years including, Richie Furay, Peter Case, Juice Newton, James Intveld, Richie Furay and John York.
When asked about the legacy of The Textones have left on rock music history she said without hesitation:
"We were ahead of our time. I don't believe the radio was ready for us yet. We created a musical fabric that is something I will be proud of after I'm gone."
But, today, with increased interest in the music of the 80's, Olson believes there may be reason for a revival of what her legendary band once experienced.
"We have a whole new possible legion of fans. It's gratifying to see fans still coming to our music. It means we weren't dated."
Indeed, Carla Olson continues to consider new projects, the top of her list includes a new album of Stones inspired rock 'n' roll.  As she begins to imagine such a return, one has to wonder, what is Kathy Valentine up to these days? Could both artists be in the mood for another coin toss?