Interview
Cha Wa Blends Mardi Gras Tradition and Modern Pop Magic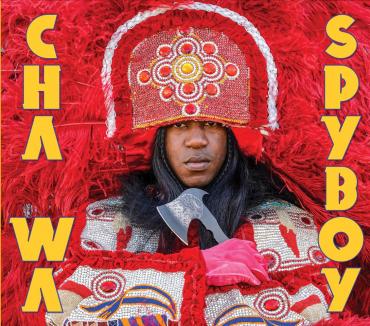 Mardi Gras Indians enjoy a special place in the history and pageantry of New Orleans. J'Wan Boudreaux, Spyboy for the Golden Eagles tribe and lead singer of Cha Wa, and Joe Gelini, Cha Wa's founding member and longtime drummer for Big Chief Monk Boudreaux, was nice enough to answer some of my questions about their new album, Spyboy, and the history of Mardi Gras Indians. Spyboy is produced by Galactic's Ben Ellman, and today's foremost Mardi Gras Indian Big Chief Monk Boudreaux (The Wild Magnolias, HBO's Treme) performs on two tracks. Special guests on Spyboy also include Nigel Hall (Lettuce, Nth Power) and Danica Hart. 
Could you tell us more about the historical background of some of the songs?

Joe: "Cha Wa" -- This song was inspired by the traditional Mardi Gras Indian song "Indians Here They Come". It is written by our Trombonist, Joe Maize who personifies the music and spirit of playing trombone in Second Line parades. The eponymous title is a phrase meaning "We're coming for you"! It is used by the Mardi Gras Indians in the streets of New Orleans on Mardi Gras Day as the tribes pass each other throughout their respective neighborhoods. The song embodies the infectious power of Brass Band Melody and Mardi Gras Indian Chanting.
"Visible Means Of Support" -- I would often ask Monk Boudreaux about what his experience was like growing up in Uptown New Orleans. He told me about his experience as a young man being at the mercy of the racist cops. The police would enforce a technicality of a Jim Crow era vagrancy law called "No Visible Means Of Support". The law was originally made to enforce vagrancy by requiring people to carry a pay stub or proof of employment at all times. The police took advantage of the law to target and arrest black men "just because of the color of their skin" as Monk used to say. It was basically a modern day stop and frisk technique, and "if you could not pay the fine, you must do the time" as monk sings about it in the song. It was a story that needed to be told because if you don't study history it is bound to repeat itself.
J'Wan: "Chapters" -- The song Chapters is a reminder that people have different things they go through in their lives, "chapters" of their lives, and experiences that you wouldn't know just by looking at them. It's important to never judge someone without knowing what they've been through
Why did you choose some of the more modern covers that you included on Spyboy?

Joe: "Hey Baby" is a song that is widely played amongst the top Brass Bands for Sunday second Line Parades in New Orleans. It always is a favorite to keep you dancing in the hot sun during the parade! We wanted to impart the same infectious spirit on our album.

"Soul Rebel" is a protest song that resonates with the rebellious spirit of the band. We believe we can resist the racial and political injustices of our time by making music that will inspire folks to defend each others human rights. Our goal is to bring people together with the love of music.

Growing up, did you know you would follow your grandfather and join the Golden Eagle tribe?

J'Wan: No, but I was pretty much born into it. I started performing at 2 years old!

For people who aren't familiar with Mardi Gras Indians, could you describe the structures of these groups? (For example, I know you're currently a Spyboy in the Golden Eagles. What does that mean and what does it entail?) Are they different from crews?

J'Wan: We call them tribes and each tribe consists of the same positions, such as the Spy Boy, who leads the tribe on the walk to meet other indians. There is the Flag Boy, who has a flag for the tribe and uses it to signal any message given from another tribe back to the chief of his tribe. The Wildman is the protector of the chief, and the wild man always lives up to the name of his title. The Big Queen is the Big Chief's wife/girlfriend (or whatever title in that vein), and finally, the Big Chief is the head of the tribe and makes all of the decisions for the tribe. This is the position withthe most responsibility and power.

How do younger people in the community view Mardi Gras Indians?

Joe: The younger generation of New Orleanians have more awareness of Mardi Gras Indians & Brass Band Culture than any generation before it. Mardi Gras Indians are featured prominently in Popular Culture now more than ever. Beyonce featured Mardi Gras Indians in her music video for "Formation", the HBO series "Treme" had its plot based around the story of a Mardi Gras Indian Chief and his tribe, Vogue wrote an article on the "extraordinary style of the Mardi Gras Indians." This article dives deeper into the background of the beautiful suits that Mardi Gras Indians spend all year making by hand.

J'Wan: When it comes to very young people, we find that some are scared, while others really like it. It depends on whether or not the kids are brought around the Indians.

Often with traditions like this, there's a tension between archiving the past and branching out beyond traditional boundaries. Where do you put yourself on that spectrum? Obviously, your cover of "Hey Baby" shows that there's plenty of room for big band style music today.

Joe: We would literally not exist without the ground breaking music of the Wild Magnolias. They are our biggest influence musically and spiritually. Monk Boudreaux (J'Wans Grandfather and Joe's Mentor) encouraged us to let our musical influences inspire our repertoire. This is why we have songs that incorporate not just Mardi Gras Indian folk music, but include brass band music, reggae, afro-beat, spirituals, funk, hip hop, and dub. The large brass instrumentation on "Hey Baby" is the natural extension of our love and inclusion of New Orleans Brass Band Music and Culture. We wanted it to sound like a parade was marching through the overpass of Orleans and Claiborne Avenue in the Treme during a Second Line Parade!
J'Wan: I put myself on both sides of the spectrum. We can't forget about where and how the music and the culture started, but we also have to keep pushing the music in new directions. Besides the band's desire to stay current, we find people want to hear more than just the songs they've heard for years and years, performed the same way again and again. They really respond to something new, as well as new takes on classics like "Hey Baby."
Learn more about Cha Wa here.