Interview
Up Close and Personal with the Legendary Billy Crain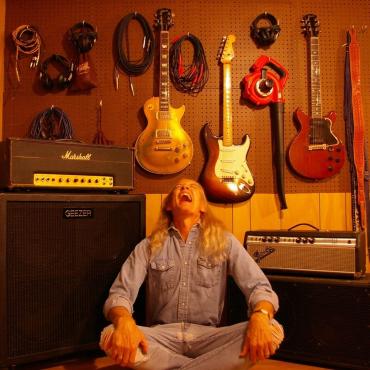 Billy Crain has been a music legend since the 1970s. Playing alongside artists such as The Allman Brothers,  ZZ Top, The Rolling Stones and more, he has become a prominent musical force over the past few decades. Currently gearing up to release a solo record of his own later this month, Crain has been taking over the music charts with a string of singles over the past few weeks. His glorious guitar playing and stellar songwriting goes above and beyond; keeping him ahead of the rest. We had the honor of speaking with the living legend here at No Depression. Let's dive in, shall we?
What is the inspiration behind your upcoming record, and what can we expect from the new release you have been working on?

As always it is God inspired. He gives me a subject and I run with it. The cool thing I get to do is use the music to make life better for other people. Each CD, I pick a certain place to contribute money to, and 100% of the proceeds of that CD go to charity. My last CD went to the Papillion Center for FASD and the new CD will go to an orphanage that I support in Honduras. I'm all about the kids. My wife and I have been foster parents and ended up adopting two of them. They call them children from Hard Places and that they are. Our two came from the saddest of situations but there is a happy ending because God chose us to take care of them! The name of the new CD is 'Broken Things.' We are all broken in some shape or form but the good news is God loves us despite our brokenness.
You are already a great part of musical history, playing in some of the biggest acts in music. How does playing in the bands differ from playing and writing your solo material?

There is ease and comfort in playing with a band. With the Outlaws, I always felt safe and secure because all the details were taken care of. When I went solo, it was me, myself, and I, and no one else. It leaves you feeling very vulnerable sometimes. On the good side, I don't have to go through the process of arguing over which songs should and shouldn't be on the CD. The only bickering that goes on is inside my head. With bands you usually have to stick to the formula or brand that the band is known for. On my own, I can really branch out and try to move forward with each CD. There is no this is what worked last time so let's stick with that formula again. Besides, I give all the money away so what me worry?
What places in your mind do you channel to craft your songs?

Deep thinking places. Henry Paul (of the Outlaws) always called me the rock and roll social commentator. I like to step back and look at things and mull them over and see if there is an odd way to look at it. Sometimes it's a peaceful place up there and sometimes its pure anarchy!! My mind is a dangerous place to end up in. Actually, I've really changed over the years. I spent so many years as a staff songwriter trying to write what other people would want to hear on the radio. As an artist, I can actually record what I would LIKE to hear on the radio. It makes writing a lot more personal and fun.
 
What are your favorite venues to perform at? and if you had to choose, do you feel more comfortable in the studio or onstage, and why?

I love the smaller theaters AND the indoor arenas. Something about the enthusiasm of those venues really fire me up. It just depended on the situation. I am most comfortable in my studio by myself working on writing and recording. I spent so many years producing and playing with these top session players and producers and it was very intimidating to me. That was hard because your great performing musicians don't always make good studio musicians and your great studio musicians can make lousy performing musicians. For years I was so damn competitive onstage AND very self critical. I would beat myself up after every show. Finally, we were opening a show in the old Aladdin Theatre in Las Vegas for The Allman Brothers Band and Dicky Betts grabbed me after the show and said 'Man, you sounded great tonight! Of course I mumbled back something stupid like I didn't have a very good night. He sat me down and looked me in the eye and said "Billy, 99% of those people out there wouldn;t notice if you hit  a bad note or not. COMPLETELY changed the way I look at things. The hardest thing is I am a feel performer. It's all about the right sound and mood. If it's not right then I'm not right. I probably feel more comfortable onstage because that's why I became a musician in the first place.

How do you write your songs? What is the process like? Does it take you days, weeks, even longer? How does the perfect Billy Crain piece come together?

I use to have a set formula. I had to have a title, music, and melody and then write the lyrics. There is nothing more frustrating than writing a song with somebody and you have all the parts EXCEPT the title. I've changed it up over the years. I don't co-write much anymore (except for my wife.) The final straw was on Jan 13, 2011. I was down on music row writing with an L.A. lyricist on a song called "Snow Globe" I got a call from my wife and he had to tell me my brother (Tommy Crain of the famed Charlie Daniels Band) had died early that morning. I walked away from there thinking I'm done writing meaningless songs. Now I keep a list of titles on my phone or on a lyric pad. Sometimes I'll have some music in my head and I will pull out one of those titles. I write a lot of poetry and use them for lyrics. I always have bits and pieces of words or music. Sometimes I write to certain grooves. Lots of times I write while driving in my car and record it on my iPhone. I'm pretty mush writing all the time. Sometimes the songs come very rapid fire but usually I will sit on them for a bit and then pull them out and think I can do this better, this line doesn't work.) Sometimes I'm finishing them up as I'm singing them. When I was a staff songwriter, there were times when we would spend 3 to 4 days on a lyric. Not anymore!! The perfect piece comes together after the song is written and recorded. That's when the magic happens. I love working by myself because I get to change and try different ideas. You can't do that with a live band. You are stuck with what you have on tape (old school).Sometimes the song turns out completely different from what I originally heard in my head.

How did you create a sound throughout time that is so uniquely your own? In your opinion, what defines your sound?

I really only had a guitar style for years and years. A good southern rock fan could instantly know it was me by the guitar tone and style. When I started making solo records, I had to find myself as a singer and a writer. I can sing a Billy Crain song because I know what my limitations are. I can write a Billy Crain song cause I know what's in my head. The defining thing about me that most people notice is the tone of both my vocals and guitars. I love to write about controversial things. I love to speak out for the children and I really don't care if my lyrics offend you or not and I WILL talk about Jesus but I'm NOT a christian artist. I like taking my messages to the secular world.
 
This year has already been a huge year for you. What do you hope to accomplish by the end of the year?

I hope to have "Broken Things" finished and on the market. Last October I came out with "Hard Places" and had no idea of the impact of that record. It spawned to hit singles. The first single "Cold Feet" made it to #38 on the Top 200 AC Charts. It slowly fell down the charts to #108 and then made a huge comeback. The last time I checked it was at #59 and 3 weeks away from charting for a year solid. My present single is "Hard Places"
sitting at #13 right now. If you had told me a year ago that I would accomplish this I would have told you you were crazy!!! When I left the Outlaws in 2013, I thought my career was over but God had a totally different idea.  Look out 2018, here I come!!!!
Find more Billy Crain via: https://www.facebook.com/slidebilly/