Interview
Composer/percussionist Luis Garay finds rhythm of life in drumming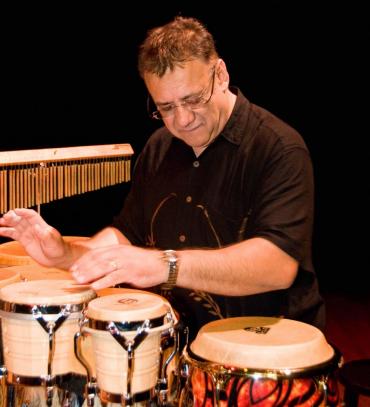 For Luis Garay, music is a large part of his life. He is a classical, jazz and Afro-Latin multi-percussionist, composer, recording artist, and educator. In other words, he lives and breathes rhythm and melody. His latest album, Humanity, beats with the melodies of his soul.
Q: What was your introduction to music? How old were you, and how did it affect you?
A: I was 13-years-old living in a modest neighborhood in Cordoba, Argentina. My close friend played the guitar, his brother the bass, and another friend was a singer. And my friend told me, "Luis, you have to play the drums!" Without thinking about it, I just followed his invitation with confidence. It was an acoustic set-up but there was no drum set so my first drums were a shoe box and my sticks were a knife and fork. My friend was impressed with my natural rhythm. I loved playing, and it made me feel good! This opportunity impacted me greatly because I didn't know what I was going to do with my life. The exhilaration I felt while playing with the band caused me to envision myself performing, recording, and traveling. It would be fun! That night I chose what my life's profession was going to be.
Q: Did you grow up in a musical environment?
A: There were no musicians in my house, but my grandfather was a gaucho who played guitar. In my neighborhood, you could always hear loud music coming from the houses.
Q: What styles of music had the greatest impact on you creatively?
A: Popular music (rock, jazz, and Brazilian music) classical music, and contemporary music
Q: How did you learn how to play percussion?
A: After my shoe box drum set, I immediately started to take solfège lessons to prepare for the conservatory admissions exam, and I started private drum set lessons. I attended the conservatory of music for 10 years where I focused on classical music, education, and performance and earned the degree of Professor of Percussion. In 1992, I applied and was accepted for a full scholarship to Catholic University of America in Washington D.C., where I earned my master's degree in music performance, concentrating on Latin American music.
Q: What attracted you to playing drums?
A: In the beginning, I didn't like the drum set because it was always in the back of the band. But after playing my shoe box with the band (VillGarVill), I began to enjoy the powerful feeling of rhythm and my concept changed because I was making music with the drums.
Q: What is the most personal special track on Humanity and why?
A: That is a very difficult question to answer because I composed all the tracks on Humanity, and each one is like my own child. Each one was born during a different part of my life. I spent more time with some than others, but I cannot choose just one. I can tell you this: my special track would be the whole album because it represents the music of my soul.
Q: What artists influenced you the most growing up?
A: In the beginning, it was the Beatles, and later I was greatly influenced by Gene Krupa, Louis Bellson, Buddy Rich, and Billy Cobham. Also, Carlos Santana had a strong influence on my music.
Q: How have you evolved creatively?
A: At first my music consisted of percussive sounds only but now I have begun to incorporate more melodic material into my compositions and after experimenting with digital sounds, I have gone back to 100% acoustic. I have developed as a composer and artist through listening more to the dimension of different sounds. I listen to everything, from the sounds of the birds to the sounds of people talking.
Website: