Interview
A Conversation About Country in The Big City With Sean McConnell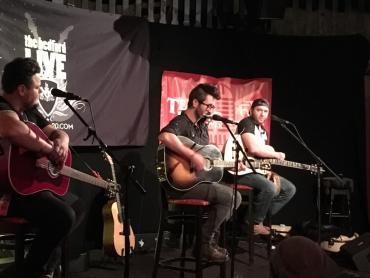 Balham in south London is home to many nationalities but last Wednesday in one of its most renowned hostelries, The Bedford, heads did turn on the arrival of some big men wearing stetsons. This was the Texas Music Takeover, as described on its website, '7 days - 11 Artists - 1 Amazing Adventure', a group of performers and their friends and family from around the Fort Worth area who had come to play various venues in London. What a nice bunch of people, and we locals heard some great music. Among the line-up was Sean McConnell, who was one of the few not wearing a big hat. I was very fortunate to have the opportunity for a chat after his set with Joey Green and Aaron Sandoval.  
Sean McConnell released his eponymous and eighth album recently, since when it has attracted deserved praise resulting in many new followers including me. Apart from his own recordings of thought provoking songs, many of deep reflection, Sean has written for several big names such as Brad Paisley, Tim McGraw, Buddy Miller and Martina McBride, among others. And he doesn't look like a country singer either so there was much to cover.
It soon became very clear that McConnell doesn't bracket himself as just 'country' and throughout our conversation he made his mark as a musician whose depth of communication extends across label boundaries starting with his response to my first question, a completely random one about his set's third song, 'Save Our Soul', which even with only acoustic accompaniment came over with such great force and passion. Wasn't that blues?
"That came from my album, 'Midland', and yes, it has far more of a blues/soul than country feel but I don't work within labels. It's the song that counts. I follow the muse". While on blues, didn't you once open for Gregg Allman? "In Atlanta, I first met him as I was going to do my soundcheck, he was finishing his with 'One Way Out'. What a great experience, so lucky to get the gig".
Now turning to your career; how does someone born in Boston come to be living and writing music in Nashville? "I was born 50 miles from Boston, both of my parents were musicians but we moved to Georgia when I was 10. My dad got a job there so off we went. Nashville came later when I was establishing my musical career".
Tell me more about your early musical life. Was it easier to pursue a life in music with musical parents? "Probably, music was everywhere. Lots of musicians came to the house and played so it was part of my life for as long as I can remember but I didn't feel any pressure to do same, it just was there and became the natural path for me". When did you know this really was for you? "Well, I started writing aged 11 and I made my first record at 15". What does an 11 year old write about? "The serious stuff to an 11 year old but that was just the start; I've always been serious and reflective. That's what I write about".
Picking up on the contemplative theme, a lot of your songs look back, not necessarily with regret but certainly several of those on the new record have a distinctly philosophical feel. Was that something you set out to do? You seem quite young to be doing such a stock-take on life? "I've always been reflective and interested in the past. Without any formula or specific subject or genre to follow I have complete freedom. That comes out in the songs. They are all that matter, as I said, I follow the muse wherever it takes me". Religion pops up in two new songs; 'Queen of Saint Mary's Choir' and indirectly in 'Babylon'. "I wouldn't say I'm religious but I do like to explore mystery'.
Does that complete self-honesty apply when writing for others? Do you feel under any pressure to write in any particular way? "Absolutely not, I always follow the song and don't feel constrained by what any of these artists do themselves. How else could I feel true to myself?" Do you feel torn between writing for yourself and making your own records and writing for big names? "Not really, I got into writing for others via Alicia Pruitt at Warner/Chappell who introduced me to the names. My approach is no different and I don't feel under any pressure to prioritise one over the other. Always follow the song".
Having stressed his freedom from musical labels I asked what he felt about the labels themselves. Has country become too commercial? Are we at the top of a country music cycle that needs another layer of breakaway alt-country artists? "I'd say there has been a polarisation between huge acts and the rest but hey, don't moan. If you don't like it then listen to another radio station. These people have worked hard too so let them perform their stuff without being labelled". In other words there is plenty of room for all these days.
Again we return to this theme of not being categorised. "I'm a singer/songwriter, a folk singer. I follow the muse". A good test that McConnell passed with flying colours is his early influences. Who did you listen to when growing up? "Springsteen, Dylan, Joni Mitchell, CSNY, Harry Chapin" We might have expected that but pop too? "Sure, I loved pop, I was a big Michael Jackson fan".
Thinking that was probably enough about Nashville and its influences I asked what he thought about the UK. " Loving it, this is only day two of my second visit but London is a great city, so much to see but just look out for the traffic". Have you any plans to return for your own shows? "Definitely, probably next time opening, perhaps for a UK artist, then headlining". Referring back to that big full sound he and his band created on the latest record which is in obvious contrast to your acoustic performances on this tour, would you come back with a band? "I tend to keep the two separate but I'd be open to ideas". Our slight digression about where to perform concluded that he'd go down well anywhere as country (sorry) has such a big and growing following here that has extended to all kinds of roots influences.
What brought this interesting conversation to a close wasn't other commitments, McConnell couldn't have been more generous with his time, it was an uncharacteristically cold night that still hadn't persuaded The Bedford to turn on the heating. That was in sharp contrast to the warmth of an artist who has done so much and looks to have a great future. We must hope that includes a return visit, this time with a full show of his own.