Interview
Crossing still and stormy waters with Anna Coogan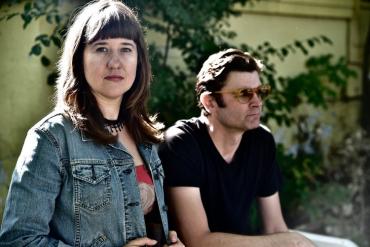 Just about every interview contains the question, 'what or who are your influences?' After all, isn't that what roots music is all about? One of the reasons I was so keen to talk to Anna Coogan was to talk about her influences, some of which go far beyond what many might describe as being more typical for roots musicians, extending to her classical music training and time as a scientist. These strands have come together particularly emphatically in her new record, The Lonely Cry of Space and Time.
Lyndon Bolton: The new record is very different but before talking about that, how has your music changed over the years?
Anna Coogan: What I've just completed is very different to anything I've done previously. Life seems a series of strange diversions; I was born in Boston, trained as an opera singer in Salzburg then returned to the US taking a job as a fisheries biologist in Seattle. There I got into country, bluegrass mainly, and formed the band North 19 with Tarvis Beard and Kevin Burkett. I loved Alison Krauss and Ralph Stanley; I really did my homework studying the history of bluegrass in the Seattle public library. After that I moved towards folk where storytelling was very important to me as you would hear on my 2012 record, The Wasted Ocean. I'm from the north-east and much of the inspiration for that album came from the region's maritime history and my own childhood memories. That was all deeply personal; I wasn't what you might describe as 'super hip'.
I moved east and worked with my long-time friend and producer, JD Foster. Together we toured and released Birth of the Stars in 2014. But that was still essentially country music. JD was busy and then I started working with Willie B (Brian Wilson). That's when the big change came because with his synthesiser and drums we created a completely new sound. We left behind the 1-4-5 chord progressions and from there the new idea was born.
So what's different?
We started with the sort of songs I was used to writing for guitar and drums but dropped that for a much broader soundscape, more of a cinematic film score theme. That's when we stopped and said to each other, "ok, this is it, this is what we're going to do". I was shy about bringing in my more operatic vocals, it can almost be embarrassing but everyone liked it. The engineer took me aside and said, "that's your voice". It is fun and freeing to be able to sing with that much power. It's a blender of all that I've done and for now certainly, it's how I sound.
Has this been brewing up for a long time?
It probably has been brewing. While you always think your latest record is your best, my previous styles didn't allow the freedom that I had when recording this one. The electric guitar gives such diversity of sound and style. I'm sceptical about genres, and certainly didn't have a list of things for the record. I agonised over what to include but these songs and what they are about and their styles all seemed to fit whether chorally or thematically. We did a lot of cross-fading where one track begins before the previous one ends but to me it did all come together as a cohesive concept.
Is it a concept record?
I think every record is kind of a concept record. This certainly became one in terms of what I was writing about politically and the joys (and tragedies) of science. Ocean was much more of a concept record but with this we had enough time, three years, to weed out what didn't fit so it ties together much better.
How would you describe the impact of your collaborations?
It was more than just Willie and me. The big third party was engineer and my Ithaca neighbour, Matthew Saccuccimorano, who created the sonic soundscape through his mixing. He and Willie are both drummers so they had that simpatico idea of how drums should sound. I also have deep, deep influences from Johnny Dowd who's been my mentor for the last few years. He really pushed me to push myself. And there's JD (Foster) who co-wrote one of the songs and played bass. But in the trenches it's me, Willie and Matt.
Is this a protest record?
It was a protest record when I wrote it and it sure as hell is now.
Where do the science and politics come in?
There is a very deep connection between the political environment and the atmosphere, there's no escaping it. This new administration's immediate crackdown on scientists seems so unnecessary. But the title song, 'The Lonely Cry of Space and Time' was intended as being joyful, written to celebrate scientific discovery above everything else and the beautiful concept of listening to the universe singing. The next song, 'Burn for You', is about the Middle East which is environment and politics wrapped up in one. 'Wishing Well' is one I wrote having spent time in Europe where the refugee crisis was most acute for example, Calais and all over Germany. I realised then that like it or not, we are all in this together.
Is there anything else from your scientific career that you've drawn on?
I've always been deeply involved in water, I've been a white water kayaker, and then working as a limnologist (study of lakes) I spent many, many, hours on the water taking samples. This was work that brought a great sense of calm that I have drawn on constantly since. Physical labour is a great antidote to anxiety.
And political views?
It's hard to split the scientific from the political. My anxiety intensified throughout the presidential election campaign but in the end politicians come and go and the sea is still rising, whatever you write on your website Mr President. I hate to say it but we have a glorious creation that we don't seem to deserve. Most of all I feel part of a resistance movement. Writing songs and connecting with people when performing is resistance.
Do you feel optimistic?
I've been struggling to find hope and have gone into a pretty deep depression about all that's happening politically. I feel very anxious and just hope that we are measured, and that the checks and balances in our system work, which I think they do to some extent. There are signs that the influence of the extreme right might be waning slightly, this cannot be what mainstream Republicans wanted. I'm rather baffled really. I've always been a news junkie but no longer, and I've all but given up social media.
What do you do instead?!
That leaves much more time for reading, which is such a pleasure. I get much of my inspiration from literature.  I have been reading a lot of Sylvia Plath over the last few years, and she seems to sum up so many of the things I was feeling. So much so that my working title of the new album was a line from her poem 'Mushrooms'. The Plath estate, however, does not allow for people to use lines from her poetry for titles, so I came up with my own. And I'm glad about that in the end.  Much of the song I wrote with JD Foster, 'Birth of the Stars' was about the Bible. I'm a pretty hungry reader, but one of the things that I found with social media was that I read a lot less. Now that I'm on a social media ban, I find myself reading a lot more which is great. See, find the positives in things!
Now, back to music. What are your touring plans?
We have dates here in the US and later in the year we shall be coming over to Europe.
And more specifically, where in Europe?
We've already got some UK dates in October but we'd love to do more.
We've discussed the 'concept' nature of the new record, how will you get that across live?
That's a great question, we took a lot of time over the order of the record so will follow that in its entirety adding some favourite songs afterwards such as 'Birth of the Stars' which could have been on the new album anyway.. Also, we've got a shorter set. For too long we've had to play these two hour shows but now I say what I want to say, then go!
Do you think the change of direction in the new record will result in other changes to your live show?
Yes, a lot of the venues I play have been more orientated towards an acoustic set so with much more electric now I have to find different places to perform. Also, I accept I'm still finding my audience for the new stuff. I was asked recently if I'd play a set of my old material, I could only do as far as a "well, yes, maybe". The new music is what I do now.
You do your own bookings?
I do but I've just signed up an agent in the US. I didn't do my own bookings because I wanted to. Still, it's great to have found an agent who understands my music because this isn't a money making endeavour for anyone involved, singing heavily political songs is not a way to make money.
Where do you stand on musical genres?
I find they tend to be restricting. I've played country and have deep roots in folk but as I've said, I'm not doing this for the money. My satisfaction is the creativity so if I cross genres then fine.
Is the new album Americana?
Yes, in a way it is. Perhaps not into the strict definition of some but it's made in America and it does evoke the western noir song patterns but without a country edge any more.
Who would you say were your musical influences?
I really love Brill Frissell and I'm lucky to live in the same town as Hank Roberts who I see often. I love the way their avant garde jazz has no creative boundaries, they play what they want. I'm drawn to instrumental music and I'm listening to a lot of classical music recently, it's so soothing, particularly from the Renaissance and Gregorian chant. That puts me at ease. I also enjoy more modern classical such as Mussorgsky's 'Pictures at an Exhibition'.
What haven't you done that you'd like to do?
That's an interesting question. I'd like to work more regularly as a performer. I am a voice teacher and coach but my dream has always been to be on the road. It has to make some sense financially but that's hard. Touring solo is tough so I really enjoy touring with Willie. There's less time to sink into the recesses of your mind.
I'm not sure about the next step which is unusual for me. I'd like to do more classical but not be bound by strict musical definitions. I had a wonderful teacher and mentor here in Ithaca who passed away four years ago. She was so fascinated by the combination I did of classical and pop, that she was the first to encourage me to mix them. I had this concept of playing arias on the guitar, which is really hard so I might come back to that. But I don't feel adrift. I'm committed to touring the new album then we'll see what happens next. My energies have felt depleted with my great sense of anxiety and, not Trump's fault here, making all the preparations for the new album. I have a film to score this Fall so I hope that will bring some peace of mind.
As I thought, that conversation did cover a lot. The Lonely Cry of Space and Time is released today, April 28.