Column
Dallas All-Star Morning Guy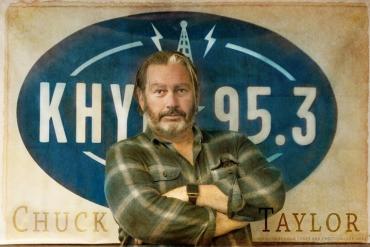 For week number two of my column about Americana and roots music radio personalities, I'm taking you on a trip to Texas to visit with Chuck Taylor from Dallas/Fort Worth's KHYI.
Bill Frater: Where and when did you start in radio and what other stations have you worked at?
Chuck Taylor: I started doing radio as a freshman at Southern Arkansas University in Magnolia, Arkansas, in January of 1985. KSAU was a carrier current station operating at 570 AM — unlike a true AM station, carrier current operated via the powerlines and was not able to be heard off campus. Over the next 30 years, I worked at stations in Texarkana (Arkansas and Texas); Monroe, Louisiana; Alexandria, Louisiana; El Dorado, Arkansas; Austin, Texas; Corpus Christi, Texas; and breaking in to Dallas-Fort Worth in July of 2005. Most of the stations I worked at were country music stations, [but] a few were classic rock and oldies. In Austin, I was part of Star System and voiced 14 shows a day on stations all across the US, including my very first syndicated New Year's Eve show, Chuckie T's Jammin' New Year, in 2000.
Where do you work now and what hours are you on?
Currently I work for KHYI in [Dallas, Texas]. I host the All-Star Morning Show, but I am also the program director, music director, and production director for the station. I get to the station at 4:30 a.m. and leave about 1 p.m.
How would you describe your show and how do you define what you play?
All-Star Mornings is a music-intensive morning show. I like to describe it as a show about a guy who plays really good music and offers up an entertaining look at current events, and chats and hangs out with his musician friends and a few celebrities. We play a mixture of Americana and Texas/Red Dirt music ... our style definitely leans country. Someone once asked me to define KHYI with one artist. That artist for me is Radney Foster, and he has become my litmus test for what we play.
How do you define what Americana music is? Or, what does it mean to you?
I think it's hard to define Americana, because it really is an all-encompassing format. I know some stations that lean toward the blues and jazzy stuff that the format welcomes. We tend to lean toward the country or folksy side of Americana, but it really has to sound like a fit for Texas as well, and that's something I can't tell you about. It's just something you have to experience.
How many new releases do you play? Do you play much old stuff?  Do you play many independent artists?
Drive-time radio in a major market is about being as familiar as possible, so on my show, we don't break the new music. I leave that for other dayparts. Morning and Afternoon Drive play hot and medium rotation mixed with currents and some oldies. Once a new song has been out for a few weeks, it'll be more familiar, and then it can move into medium rotation and get on the drive times. 
Texas music is all about independent artists, so yes, we play them.
What was the first artist or album that turned you on to roots music? 
If you want [me] to be honest, before it was called roots music, back in the late '80s I was a big fan of Foster & Lloyd, the Wagoneers, and the Mavericks ... I was working in radio when each of these groups first came out and I quickly became a fan.  
What five artist define Americana music for you? 
Five artists to define the undefineable? Well, one has to be Radney Foster. I love Ray Wylie Hubbard, Sturgill Simpson, Chris Stapleton, Jason Isbell. Damn, that's five already? We need a woman in there ... Emmylou Harris.
Where do you see Americana radio going in the future?
I think, to grow as a format, a couple things need to happen in Americana. This won't be popular, but I think  we need to include a singles chart. While Americana DJs pride themselves on picking songs and being champions of the music, this doesn't help the artists in the long run. The mainstream radio format of having singles helps the artists' music become more familiar because everyone across the country is playing the same song. ... We all know that repetition is how we learn things.
Plus, as a music director, it makes it much easier to get on an album sooner when you don't have to listen to a stack of 30 albums all the way through. You also increase the life of an album for an artist when you do singles as opposed to everyone picking their own song. I think we need to decide once and for all what Americana is and stick to it ... by welcoming all into the format, we limit the growth of the format because no one knows what is considered Americana — is it country? Rock? Blues? Folk? Zydeco?
What recent albums or artists are you excited about? 
I really like the Black Lillies' latest album, as well as Glen Hansard.
Do you have any other interesting hobbies or interests?  
I do a little magic and I like to fly drones with my daughter.