Interview
Dana Fuchs on Life, Death and Singing Her Heart Out 10 Years After 'Across the Universe'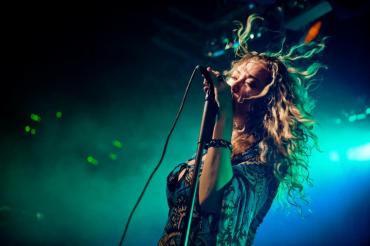 Whatever happened to Sexy Sadie? Embodied by Dana Fuchs, she's alive and well and ready to knock your socks off -- if you let her. 
"I would love people to know that I'm first and foremost a songwriter, a singer, and it's very much like that Sadie character," Fuchs said from her Harlem apartment near the end of an hourlong phone conversation in late January while expecting some terrible weather to hit New York City. 
"But of course, it's my own music," she added, a bad cold making her deep voice sound even lower and sexier. "It's that kind of raw, rocking, soulful music, and I would love people to know that Sadie is Dana Fuchs, who is living as a musician." 
It's been 10 years since Fuchs (pronounced Fyooks) made her motion picture mark as Sadie, a powerful blues singer, very hip chick and Earth Mother in Across the Universe. 
Julie Taymor's wonderfully innovative and inexcusably ignored movie set in the 1960s was filled with teen romance, wild imagery and incredibly inventive versions of more than 30 Beatles songs performed by a diverse but mostly unknown cast. 
Fuchs, who was 31 when the movie was released, starred alongside promising young talents Evan Rachel Wood and Jim Sturgess in the lead roles of all-American Lucy and Liverpudlian Jude, who fell for each other despite their varying cultural, political and geographical backgrounds. The protest movement nearly ruined their relationship, but love and song kept them together. And, boy, could they sing.  
Yet Fuchs, with another character's name inspired by a popular Beatles tune that's not in the movie, held her own in the acting department in front of a New York City backdrop. She belted out some of the film's showcase numbers such as "Helter Skelter," "Oh! Darling" and, from a rooftop just like the Beatles in Let It Be, "Don't Let Me Down." 
Unlike the others in the film, Fuchs was basically playing a cinematic side of herself. Sadie's loft, though, was big enough to take in a couple of tenants, included rambling poetry on the walls and her pet cat with raccoon eyes that was appropriately named Rocky. Only in the movies, right? 
A lot has happened in Fuchs' life since then, some of it heartbreaking and tragic, enriching and joyful, but she's still singing her heart out while preparing to release her next album, her first studio full length since 2013's Bliss Avenue. 
In the midst of a PledgeMusic crowdfunding campaign that ends Feb. 12, Fuchs is about halfway through writing many of the songs that will land on Ready to Rise, including the title track. Hoping to return to "my soul roots musically" with a Stax/Volt vibe, she plans to begin recording in April. 
For others like myself who lost track of Fuchs while continuing to watch, enjoy and appreciate Across the Universe — a personal favorite — on DVD (it's also currently streaming on Amazon), that's extremely good news. But in keeping with the Beatles theme, she's asking for a little help from her friends.   
A performer working mostly independently these days isn't an uncommon sight. And though Fuchs, choosing to record in Memphis over New York because of financial and creative reasons, has raised enough to make the album, she'll still need funds to cover post-production and distributing costs, not to mention paying a touring band and a publicist to promote her work. 
"You can only do so much with Facebook," she said frankly. 
Angels of mercy
On the phone, Fuchs is as remarkably candid about her life as she is on her website blog, where she discusses the balance of nature with the death of her mother in April preceding the birth of her son in September. 
"The diehard fans that have been with me from the get-go know that over the last few years, every album I've made has been a dedication to one lost family member after another," said Fuchs, the youngest child of six in a family whose father (Don), sister (Donna) and two brothers (Don and Dan) also have died.
Writing has been a cathartic experience for Fuchs, and some of her recent material will be among the 10 or 12 songs that make the cut on Ready to Rise, including "Callin' Angels."
Written with longtime songwriting partner, guitarist and band member Jon Diamond, it all began when she witnessed him at his Spanish Harlem studio "singing this chorus about angels, which is funny because he's like an atheist Jew," Fuchs said with a laugh. "I thought about how everyone has been saying to me, all the notes I get on Facebook with each passing family member and the tours that I've had to cancel, the common response has always been, 'Now you have another angel watching over you.' So I have that image in my mind." 
The song includes a verse written about each of her late loved ones starting with her sister, who committed suicide in 1994. 
"It's been a very, very heavy -- that's an understatement -- trip and experience to where each time I think it can't get any worse and I'll never be able to perform again," she added. "And the last one was my mom, so I really ... I took quite a hit with that one. I was with her -- fortunately she passed away peacefully -- but it was very unexpected. She went in with a cold and didn't survive it." 
Before she left this world, though, Fuchs' mother Sandy, a longtime smoker who suffered from chronic obstructive pulmonary disease, gave Dana a gift — the name for her daughter's son. 
"I'm gonna get emotional, so forgive me," Fuchs said when asked about her "dedication to a new life" blog reference for the new album. "It was quite a mixed bag of emotions. She named him, though, which was very sweet. I gave her a choice of what names I was looking at and she chose the name Aidan. But, yeah, so it's new life. It's both the birth of this boy and, you know, putting behind me this grief, hopefully. I have two brothers left (David and Doug). And I'm sort of banking on no more tragedies, getting a little break from that." 
Fuchs spent 11 days at the side of her mother, laying next to her as the breath meter counted down to zero. "God, she was so peaceful," Fuchs said. "That's one blessing."
Sandy Fuchs died in Wildwood, Fla., a town where the children were raised two years after Dana was born in New Jersey. 
"I never really felt I fit in there," Fuchs said of being a member of "this giant Irish-Catholic family of eight" down South, where at age 12 she started singing in the First Baptist Gospel Choir. "You were either like the white Southern Baptists or you were the black people living in literally almost a segregated town on the other side of the tracks. We sort of felt much more connected to the black community and it didn't necessarily bode well in a small, white, almost racist town. I think it's gotten better now."
With a father who was from the Bronx and a mother from New Jersey, Fuchs said, "When I was little girl, I knew I always wanted to go to New York." 
New York City singer-songwriter Dana Fuchs is conducting a PledgeMusic campaign to crowdfund her next album.
Singing the blues
At age 19, she made that move happen in 1996. But there was an ignominious start to her singing career. 
"A well-known manager, who I won't name, for a well-known artist was interested in working with me," Fuchs recalled. "And I was a bit of a rebel then. It was probably a dumb mistake but the first song he pitched to me, I remember the lyric. Something about 'Intentions, ooh, baby, I like your dimensions.' And I was like, 'I can't do this.' "
Fuchs eventually met Diamond at a local blues jam, and they formed the Dana Fuchs Band, wooing crowds at clubs on the Lower East Side, then establishing a residency at the Red Lion in the Village. 
"Every Tuesday night, we'd play all night and that's where we wrote our first handful of tunes and we would try them out on the crowd," said Fuchs, whose first band release was Lonely for a Lifetime in 2003. "And musicians in the area really know everybody." 
Some of them were band members for the play Love, Janis, an off-Broadway musical tribute to blues legend Janis Joplin, and urged her to audition because producers always seemed to be searching for artists to fill one of the multiple roles as Janis. During its run of more than 700 shows from 2001 to 2003, Love, Janis hired a number of singing/acting performers including Laura Branigan and Felicity's Amy Jo Johnson, both of whom left after only two performances.
"I just sang a little bit of 'Piece of My Heart' and they said, 'Can you start next week?' " said Fuchs, who played "Singing Janis" in the production that closed at downtown's Village Theater on Jan. 5, 2003. 
By making the Janis connection, though, Fuchs' world was about to get a whole lot bigger. 
In Across the Universe, Dana Fuchs (top right), between Martin Luther (top) and T.V. Carpio, was in a cast with stars Evan Rachel Wood (bottom right) and Jim Sturgess (bottom). Photo by Columbia Pictures
From Dana to Janis to Sadie
Before Across the Universe was cast, Taymor, an Academy Award-nominated director who won two Tonys for The Lion King, was seeking a Joplinesque voice for another project, and was given Fuchs' name by a Love, Janis producer. 
Fuchs was hired to sing a demo for "The Goddess of Death and Destruction, "a crazy song" she said was written by Taymor's partner, Academy Award-winning composer Elliot Goldenthal, who later was involved with Across the Universe's original score and soundtrack. 
Afterward, Taymor asked Fuchs: "How is your acting? I know you played Janis but can you act?" 
"Of course I lied, and said, 'Oh, yeah,' " Fuchs recalled with a laugh, later mentioning it wasn't a complete fib because some school plays were her entry into acting. "And she said, 'I have something in mind for you but it may never pan out. It probably won't even be a year, but don't hold your breath.' It was literally about a year later that I got the call to come in and read for Sadie and to sing. They wanted the Joe Cocker version of 'With a Little Help from My Friends' and 'Oh! Darling.' " 
Fuchs eventually got the part, and when asked about the experience said, "Oh my God, it was a dream. ... We would just say everyday, 'We can't believe we're getting paid for this.' The first couple months were just rehearsals. ... We would do live reads and sing a cappella to the whole show every day. 
"Julie just wanted it so inside us, the music and everything. She's a remarkable director that way where it's like nothing can be phoned in. So we spent just weeks every day going to these rehearsals. That was almost the most fun. That and making the soundtrack." 
Across the Universe, which was nominated for a Golden Globe best picture award, made Roger Ebert's top 10 list of the year and delivered a hefty 31-song soundtrack, should have been the wildly creative Moulin Rouge or critically acclaimed La La Land of 2007. 
Instead, as Fuchs was sadly reminded by Diamond's Aunt Eileen after reading the first paragraph of an article in The New York Times earlier this month, it's been lumped with unsuccessful musicals for other reasons. Brooks Barnes wrote:
Dead. Embalmed. Buried. A year ago, that is what most movie studios would have said about live-action musicals, pointing to a long line of box office calamities: "Rock of Ages," "Burlesque," "Jersey Boys," "Across the Universe," "Nine." 
Fuchs recalled the battles Taymor faced with the studio, which she said wanted to remove entire scenes and slice 30 minutes from the 128-minute groundbreaking film that depicted the '60s exactly how many of us saw it -- chaotic, colorful, thrilling, psychedelic, beautiful, revolutionary, strange ... and unforgettable. 
"It was shocking," Fuchs said about seeing an email from a freelance producer detailing cuts Revolution Studios wanted to make after Taymor took about a year to edit the film following the completion of shooting  in 2005. "The movie would've been just some watered down ... and they wanted to call it 'Hey Jude.' "  
According to Fuchs, Paul McCartney endorsed Taymor's version after he was contacted by U2's Bono, who as Dr. Robert was among A-list performers such as Cocker and Salma Hayek to make cameo appearances. 
"So she won director's cut and the studio kind of gave her a 'Fuck You' back," Fuchs said. "Like, 'OK, we're just gonna promote Spider-Man 3 and not promote this movie.' I think it just didn't get its fair chance of exposure but it's had a good afterlife, which has been helpful in getting more people exposed. But, you know, I think we all hoped it would just sort of catapult us into our respective careers, mine being a touring musician." 
The film, reportedly with a budget of $45 million, grossed only $29 million worldwide, and quickly disappeared from screens across the country. 
While it wasn't exactly a springboard to success for some of the film's performers, Fuchs made lasting friendships with several of her costars: Wood, the standout of HBO's Westworld who recently started her own band, Rebel and a Basketcase, shares her Sept. 7 birthday with Dana's son; the London-born Sturgess, nominated for a Teen Choice award (Breakout Male) for the film and 21 in 2008, is still working steadily in movies and television; Martin Luther (dropping his last name McCoy as a musician) has collaborated with the Roots and is still performing (currently recording in Brooklyn) but doesn't have a film credit since his role as Jo-Jo, the Hendrix-like gunslinger of a guitarist who plays a soulful "While My Guitar Gently Weeps" and Sadie's love interest whose relationship is jeopardized when  she considers going solo; and T.V. Carpio, who played Prudence, sang "I Want to Hold Your Hand" and roller skated as Henry the Horse during  "Being for the Benefit of Mr. Kite," appeared in the Bradley Cooper film Limitless and has shown up in a number of TV series, most recently Rizzoli & Isles and the upcoming season of Netflix's Bloodline. 
Living close to each other in New York, Fuchs formed her strongest bond with Carpio, who later moved to Los Angeles. "She just had a baby months before I did, so she was my go-to girl to get some advice on all this," said Fuchs, who also relies on her business manager Kevin Mackall, a former MTV executive she married in 2013. 
During filming, Fuchs cherished meeting a couple of British rockers. Elvis Costello wasn't in the film but Cocker was, performing "Come Together," and through Across the Universe music producer T Bone Burnett, he complimented Fuchs on the scratch vocal she laid down for his version of the song. 
Then there were the moments she spent with Bono, who clutched her hand during the "I Am the Walrus" scene on the trippy Magic Bus ride to "The Headquarters of the League of Spiritual Deliverance." 
"I am such a U2 fan and they knew it, so they scheduled me every day in makeup with Bono," Fuchs said. "So I'd sit next to him. And the first few days, I literally, it was embarrassing because I could not form a sentence. I just completely could not speak and I was trying to look cool and be cool and trying to relate and not act like the crazed fan. And it was really hard. I think he knew that and took pity on me. By the fifth or sixth day, I loosened up and we started talking."
They discussed the merits of No Direction Home, Martin Scorsese's 2005 documentary on Bob Dylan, and when musicians back in the day had something to say. 
"Bono was really fixated on that point and was like, 'That's the problem with a lot of pop music today. There's not a message.' And, of course, he's the message man, as we all know," Fuchs said. "So that was a really critical thing to him. And it really stuck with me because that also in the documentary stuck with me, too. Like I do believe that music should be important." 
Signing with talent agency ICM gave Fuchs a chance to choose between moving to L.A. and auditioning for film roles over the next year or staying based in New York, hitting the road as a solo performer and making albums again. She picked music over movies. 
"I don't regret that," said Fuchs, who did study in the Meisner program and gained much respect for the acting profession. "I spent my whole life trying to be a singer and cultivating that craft and wanting to perform live. I think actors ... I am such a fan of film and I know what a great actor is. And no, I'm not a great actor. I think it's such a skill. ... 
"But would I completely stop music and go on auditions? I can't do that. If the right role came along, I would work my ass off. ... Because I do love acting, especially on the stage." 
Dana Fuchs performs at the Telluride Blues and Brews Festival in 2010.
Why don't we do it on the road?
Fuchs will return to the stage in the near future, but it will be as the front woman at club shows in the U.S. and music festivals in Europe, including Blues Festival Basel in Switzerland in April. She might even go on another live music cruise after connecting with guitarist Scott Sharrard, Gregg Allman's music director, on Rock Legends IV last year, then enlisting her neighbor ("literally I can throw a rock and hit his building," she said) to write and perform on the new album.
Life on the road can be a struggle but Fuchs likes to remember the good stuff. Previous festival appearances at Bospop in Holland in 2008 (her first overseas show) and the Telluride Blues and Brews Festival in 2010 top her list of memorable musical moments that just can't be duplicated on the silver screen. 
She even wrote a blog post titled "Died and Gone to Telluride" about her experience at 8,750 feet in the San Juan Mountains of southwest Colorado. 
"It was so beautiful and what was so interesting is thousands of people showed up by the stage and a lot of them didn't know who I was," Fuchs said. "And the response was so overwhelming; they picked up the lyrics to some of my original music and were singing it back to me. But what was so interesting is I was a little nervous and I was super-excited and ran out onstage barefoot. I get very active onstage. I didn't realize how crazy that altitude was gonna be. The first song, oh my God, I was like, 'Oh, shit! I better slow it down. I can't breathe.' "  
A day in the life
Another breathtaking experience came on Sept. 7, 2016, when Fuchs, nine months pregnant, entered Columbia Presbyterian Hospital for a routine examination. 
"I had the easiest pregnancy," Fuchs said. "I never had morning sickness. I was never tired. I had all my energy." 
She was diagnosed with sudden onset preeclampsia, and in hours was having seizures and vomiting. "My head felt like it was gonna explode off of my shoulders," said Fuchs, who delivered a healthy Aidan at 11:59 p.m. after an emergency C-section. "It was pretty gruesome." 
Mother and child bonded immediately while she recovered in and out of the hospital. "He still sleeps with me," Fuchs said. "I'm a bit attached. I know at some point for both of our sakes I'm gonna have to let go a little." 
Blessed with a "happy, happy baby," Fuchs feels like she hit the jackpot, and looks forward to the next chapter in her life, transforming from an Earth Mother singing the blues on film to a multitasking mom singing lullabies. 
"I feel like I'm getting more done," said Fuchs, who previously lost a few pregnancies. "It's such an interesting thing. It really forces you to utilize your time so much more efficiently. Between that and this new level of love that I did not think could compare with the love I have for my cats has just been ... it's been unreal." 
Planning to include a couple of not too overdone covers by Al Green and Otis Redding on Ready to Rise, Fuchs ought to consider adding a Beatles number as a bonus cut. After taking on "Helter Skelter," her Fab Four fave to sing, in Across the Universe, then making it a staple on her set list for years at live shows, there are still a lot of secret Sadie admirers out there waiting to hear more. 
"Sexy Sadie," originally titled "Maharishi" and written by John Lennon to express his disenchantment with Maharishi Mahesh Yogi, could be a possibility, especially since the song and the scene with Fuchs "driving a Porsche seeing billboards of my newly famous self after the breakup with Jo-Jo" didn't make the film's final cut either.  
At this point, though, whether the relationship is between mother and son or musician and fan, there's just one fitting encore for Fuchs: 
 "All You Need is Love." 
This article first appeared in The Huffington Post. Photos courtesy of the artist. To participate in Dana Fuchs' PledgeMusic campaign or pre-order her new album, go to: http://www.pledgemusic.com/projects/danafuchs
See the movie trailer for Across the Universe that includes a snippet of Dana Fuchs singing "Helter Skelter":