Interview
Darrell Scott on the Importance of Simplicity and Ben Bullington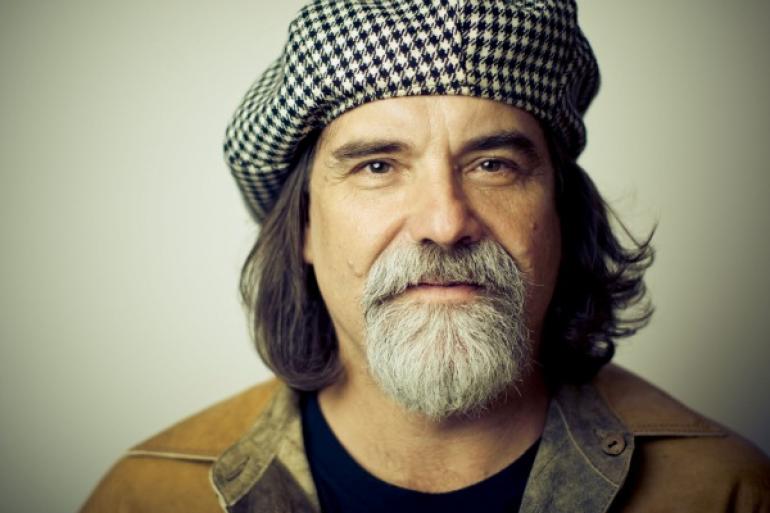 Back before all the music was online and everyone's cousin's neighbor was in an indie band with a record out, there was an unwritten rule that the best songwriters in the world were the ones you'd never hear. Now that independent music seems to be pouring out of every click and sidebar, even I have come to believe that's no longer true. But a new album from one of the finest songwriters in the business has changed my mind.
Darrell Scott met Ben Bullington during a trip to Yellowstone National Park with his children. Bullington was a doctor who happened to write songs in his spare time and a mutual friend thought they might enjoy each other's company – two single dads on vacation in the wilderness with their offspring. In fact, they wound up good friends with more in common than they probably thought at first.
Bullington, it turned out, was fighting a cancer diagnosis that wound up taking his life. But, before he passed, he wanted to play a songwriters-in-the-round show in Nashville, and the date was set at the Station Inn. According to the liner notes on Scott's new album, 10: Songs of Ben Bullington, that was the first time that he'd heard Bullington's songs. And, as we can hear on the disc, Bullington was a remarkable songwriter. His lyrics have a natural musicality, and the nuance of his stories is bowl-you-over good in places. Scott's treatment of the songs is pure and arresting. Here's one of the most versatile artists in the Americana/roots world, whose instrumental prowess is well documented, giving one strum per measure in some cases, leaving room for the songs to create their own life. Banjo notes are plucked and left to resonate or not. Every element of the songs is presented to just be what it is, without embellishment. Not a lot of songs could stand up when stripped to such simplicity. But whether it's Bullington's composition or Scott's performance, these songs have as much heart as they've got guts.
On the one hand, it's a shame that a songwriter the caliber of Ben Bullington lived most of his whole life without his songs getting much further than his own guitar. On the other hand, it's a blessing that his friend Darrell Scott picked up that very guitar (along with some other instruments) and immortalized them.  
I had the chance to talk with Scott last week about his friend Ben and how this record came together. As we talked, Scott was in Livingston, MT, getting ready to perform his third and final show of the year – a tribute to his late friend and the music he left behind.
Kim Ruehl: Listening to this record, I got thinking about how much of folk and roots music is people singing songs that were written by other people who are no longer with us. How was this different for you, from that?
Darrell Scott: Yeah because I know this one. This one was a friend. The last time I saw him, which was in Livingston Montana – actually I'm here right now in the same town because we're doing our Montana version of the same show we did in Nasheville, which was grabbing Nashville folks; this one's grabbing Montana folks. I'm in the same town as I last saw him … he was doing a show at the Elks Club here in Livingston. We all knew this was going to be the last show. It felt important, I felt I had to be there. So we hung out for a good couple of days, and it was [during] that trip that I realized what it was I was going to do. Really, where it started was me sending him iPhone songs. I put the iPhone on the piano and played a song of his and sent it to him, and I was able to get two songs out to him before he passed away. … It's a really important perspective as a songwriter to hear your song coming from a different place. It's a different way to edit and hear your song almost as if it wasn't yours. That can mean, "Geez the song's not very good," or it can mean, "Oh my god this stuff is really great." And the really great [part] was what I was trying to get across to him, just so he could know that body of work, which most of us didn't know, was superb. I somehow wanted him to know that in a simple iPhone recording. So that's where it started, so he could hear them. He didn't hear this album of course, but he heard the last song on the album because it's the first iPhone recording I sent him, which was "I've Got to Leave You Now."
A lot of these songs, the recording is so stark – just you and one single instrument. What made you decide to keep it so singular?
Well, because I just wanted a very pure, unencumbered approach. We could call the songs anything we want. Let's call them folk songs for a moment. Folk songs are very simplistic and [there's] this idea that a lot of people could play these songs, but of course it's a far greater art expression than that, and I know that. I would be honored to be called a folksinger myself. I think it's a grand place to be. That's where Ben came from, if you ask me, in terms of songs and approach and being who you are, and [wanting to] put aside this running-up-the-flagpole commercial shit type of idea, and make it more like Woody Guthrie and Pete Seeger. So when it came down to making the recording, I wanted to bring it right to the very core, which is the song, and not hide behind production value. I love production stuff too but [for] Ben's songs, I wanted as pure and simple of a reading as I could get my hands on. The way to do that was to get into a very simple studio. So I went into my friend Dirk Powell's studio with a few days off on the last run of the year, and just went in and did them very simply. "When you get the song, go on to the next song," that kind of deal. The other thing I wanted as a part of that, was to not learn the songs until I got in there. What we're hearing on the recording is as fresh as I can give. I don't have anything fresher than that. That's me learning the songs and in some ways getting through them for the first time. Unless I screwed something up or jumbled lines or timing, or something, that's the way they lived. I was looking for a purity and a simplicity.
Most of the people I talk to write songs intending to perform them. But it's interesting the level of honesty you get from a song that, maybe there wasn't ever the idea that it would be recorded or performed. Like "Country Music I'm Talking to You." It's hard to imagine that anyone who's working inside the Nashville music machine would write a song like that.
Yeah, and that's where I live. I've lived in Nashville 23 years now and I never met anyone who's more angry about the shape of country music over the last few decades than myself, and I'm not afraid to write about any of that kind of stuff, and I have. But I never met anyone in town, myself included, that was holding country music to task, for example, for the Dixie Chicks crap. We all saw it and we all felt it and we were all mad as hell, but not a single one of us to my knowledge, myself included, sat down and wrote about the Dixie Chicks situation. But this guy did it.
When I last saw him in Livingston, he was kind of vulnerable about that song. He asked me very specifically, he said, "Darrell are you upset with me for 'Country Music I'm Talking to You?'" And I said, "Goddamn man, come on. You're telling the truth. You're saying the shit the rest of us haven't. Here you are raring up and doing it." Telling the truth is never anything that needs to have a problem associated with it. Here's the example. I'm sitting in that town and don't mind blasting things that I see that are shit. But I myself never wrote that, it just never occurred to me. The first time I heard that line and that general idea … I've written about similar subjects but nobody ever went right for the Dixie Chicks thing. Evidently a whole town of Nashville songwriters couldn't come up with that, but a doctor in White Sulphur Springs could.
How important was it to you to play his guitar on this record?
Oh, it was wonderful. I chose it for two songs, not the whole record.  But those two songs that I chose were absolutely perfect for it, as a guitar but also because it's Ben's guitar. Very important. That whole listing on the record, I usually don't mention the instruments I play – the specific years and models and crap like that. I think it's great, I've just never done that before. But this was a record [on which] I wanted to highlight and mention that I'm playing Christine Balfa's Southern Jumbo and Dirk Powell's banjo and Guy Clark's gut-string guitar. For some reason that was important information for this recording. I've never done that before but this recording was asking for that kind of intimacy and that kind of information, for me.
Will you be touring this year?
No, the Nashville show and tonight's Montana show is it. It's also it for my year of gigs and travel. These are the only things I'm doing. I played the Hippie Jacks Festival in between. Those are the three gigs of the year. That was part of it for me, too. I'm just in a period where I want to be home. I'm tired of the usual travel kind of thing and gigs and busy-ness and all that, so really this is it.