Interview
Delaney Davidson Talks about New Limited Edition Vinyl Release, 'Devil in the Parlour'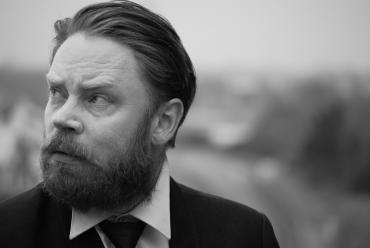 While New Zealand-based troubadour Delaney Davidson's music possesses elements of blues, country, folk, and rock 'n' roll, he is practically a genre unto himself. That is to say, Davidson, as an eccentric and original artist, naturally creates a sound which stands on its own and dares to be different. And this continues to be the case with his latest record, Devil in the Parlour, on Rough Diamond Records.
To be sure, it has been a long, mad road that Davidson has traveled, from his humble beginnings as a player in bands like The Dead Brothers and as an early singer-songwriter to his more recent collaborative projects and solo work. He just keeps on going, moving determinedly from destination to destination, song to song, with something interesting always waiting on the horizon. This has led him, finally, to the current chapter of his life and music: Devil in the Parlour.
Devil in the Parlour is a limited edition, six-song, vinyl-only release. All of the tracks were recorded live in one take, with no overdubbing, in Los Angeles with Neil Baldock. 
Recently I had both the opportunity and pleasure of catching up with Delaney Davidson, and was able to ask him a handful of questions regarding the new record and what's going on in his world these days.
James G. Carlson: To begin, how about a brief introduction to Delaney Davidson, as well as a description of what you do as an artist?
Delaney Davidson: Good evening folks, I am Delaney Davidson. I come from New Zealand down at the bottom of the world. I have toured for the last 13 years with a small suitcase that contains my Ghost Orchestra and I play a mix of Old European Folk mixed with Roots Americana. I see myself as someone who drags old songs into the present and new songs into the past. My influences are all over the place, but to give you an idea of the sound I make I would give the following sign posts: Suicide, Howling Wolf, Jimmie Rogers, Lou Reed.
What is behind the title of your latest record, Devil in the Parlour?
Devil In The Parlour is about the idea of inviting someone you don't know into your close surround, letting the outside world come up close and look you in the eye, or shake your hand. I have played a lot of intimate style shows in small venues, sometimes house concerts and always had this impression of people being a bit haunted or hypnotized. A few times I have seen this as people opening up to the spirits that flow through music, and not always being sure what they are exposing themselves to. Musicians were traditionally the wanderers who brought news from afar, so you invite them in and see what they bring.
What are the differences between Devil in the Parlour and other Delaney Davidson album like Self Decapitation and Bad Luck Man?
Devil is -- finally -- a recording of the live show I have played for the past 13 plus years. I have been asked for this album for years by people who came to see me play, and it was a meeting at SXSW that brought it into being. Neil Baldock, an engineer who had left NZ and settled in L.A., and me spoke about recording this style of performance and the technical problems involved.  So this is finally the album I can offer people when they ask what I just played. I spend a lot of time developing my own ways to play things, and a lot of these songs have changed over time drastically. DEVIL doesn't have all the songs I have worked up my own versions of and I even have toyed with the idea of doing a series of them.
Devil in the Parlour has a fine selection of songs on it, including your rendition of "In the Pines" -- your second reworking of the Leadbelly title to date, if I'm not mistaken -- Leon Payne's' "Lost Highway," and Jimmie Rogers' "So Long." What was the process by which you chose the six songs for this particular endeavor?
These are what I saw as the highlights of the live set, the definitive songs from that live show. "So Long"  is a goodbye song of mine, and first appeared on Bad Luck Man [Voodoo Rhythm],"Windy City" started off as a Bo Diddly Song and morphed into its own preach on good and bad love, "Lost Highway" is a pretty faithful version, misogynistic, righteous and wallowing in its own self pity, "In The Pines" was originally inspired by a mix of Ledbelly and Bill Monroe, the torment of a man stuck at home with jealousy tearing him apart. "I'm Comin' Home" is the outer space wolf whistle from immortal Johnny Horton, and "Way Down South" was originally a random spark from the hammer of Possessed By Paul James that turned into a love song for a destroyed cathedral thanks to our catastrophic Earthquake in 2011.
There are some rather interesting notes on the back of Devil in the Parlour's record sleeve. This material seems to be focused largely on the history of Delaney Davidson, both fact and myth alike, and the content of this record. How would you sum up the this appendage to your overall body of work?
The liner notes are written by Dr Bruce Russell [from NZ's own noise legends Dead C] with the help of the ghost of Brian O'Nolan. 500 words of main trunk notes and 1000 words foot notes. I have to say I am so impressed with what he wrote that I like his liner notes more than I like the music on the album. They really helped me see this release coming into its own shape. That and the screen-printing of the cover.
What have been the main differences between independently releasing albums on your Rough Diamond label to that of working with other labels in the past, like Squoodge, Stink Magnetic, Voodoo Rhythm, etc?
Not having to wait for a place in the label release schedule is the main bonus. I feel like these last few years have been really productive for me and I just couldn't have waited for the expected time between releases. There are a lot of down sides to self-releasing. It's a lot of work and the promo and publicity is tricky to do when you are expected to blow your own trumpet all the time.  This was intended as a record store day release so the pressure was pretty relaxed. Once I got all the design work, mixing and mastering done, I just had to wait to see if the vinyl would arrive on time. We screen-printed the covers in Wellington and had them waiting in Auckland.
I think there are bonuses to either, doing your own release if you have the patience and will power will give you 100% of the returns, but letting someone else put it out really takes the pressure off you to give it the release it deserves. I don't think I made an especially good job of it, but I am in for the long game so I reckon it will even out. I am not worried I will sell them all. Its just a matter of time. Ha Ha.
You've been at it as a solo singer-songwriter and performer for some time now. If each album represents a chapter in the life of Delaney Davidson, what would be the heading for each be?
Rough Diamond - Gathering the Demos: an exploration in Compiliation. 
Ghost Songs - Intensive focus on Solo album construction
Self Decapitation - First look at Trash production
Bad Luck Man - Development of solo Album Construction
Swim Down Low - Co Writing Exploration
Sad But True volume 1 and 3 Co writing and recording exploration with Marlon Williams and guests.
Diamond Dozen - Gathering the Demos again, rougher than before
Lucky Guy - Intensive focus on Album with band. 
Devil In The Parlour - Stripped back to recording of live show.