Interview
'Did I Forget To Mention Memphis?' Faith Evans Ruch & The Soul of a City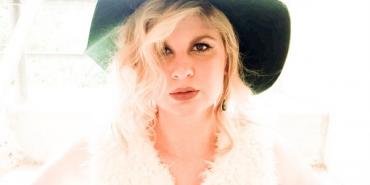 She knew what it was and the history of where some of her favorite artists recorded. She knew where it was and had driven past it. But she'd never been inside Royal Studios until she saved up enough money from an extra shift from her day job as a labor nurse delivery nurse. It brought her 10 hours of studio time.
"It's that magical moment you dream of until you can afford to do it," Faith Evans Ruch says about living and working in Memphis and the ability to cut three sides she made at Royal Studios with producer and engineer Kevin Houston. It included two  songs "Sugar" and "Thank You" with rich classic horn arrangements and a third single, "Bang Bang," a gripping and intriguing cover of Nancy Sinatra's classic song.  "Getting to record inside a studio with such a rich history shaped by some of your most influential artists and engineers…it's expensive, but I'm a young, unsigned musician who believes that if you put your mind to it and work hard enough to save up the money--which, for me, means picking up extra shifts at my day job as a nurse--it's totally attainable and worth every penny. It just doesn't happen overnight—it takes patience and a lot of budgeting."
It wasn't the first time she's self-released her music. Ruch has already made one album 1835 Madison and an EP After It's Said and Done which was made possible through a Pledge Music campaign. The three songs will appear on an album she's currently planning for release early next year.
"You know when you go somewhere that has a past that's important to you, that feeling you get almost like you're being haunted in the very best way?" she asks in response to my question about the experience. "Yeah, that was what it was like. I had no idea what to expect when I walked in the door other than an accurately anticipated tingly sensation and empowering sense of soul and history that would wash over me." 
Ruch assembled a cast of local musicians including trombonist Victor Sawyer who previously joined her on 1835 Madison and can be found playing around town with all of Memphis' favorite bands. She was able to catch saxophonist Art Edmaiston and trumpet player Marc Franklin before they left to go on tour with Gregg Allman. Ruch's sultry and expansive voice powered the songs that were inspired by and had lineage to some of her favorite records.
When Ruch first came on the Memphis music scene, she friended John Miller of the Memphis Music Foundation. A Memphis music history aficionado, Miller helped mentor her and further opened her world to the many sides of Stax and Hi Records. She credits him with greatly influencing her most recent recordings.
Miller gave her a few names of local engineers in town that he thought she'd work well with. She clicked most with Houston wo was an understudy to legendary producer and engineer Jim Dickinson and has worked with the North Mississippi Allstars, Buddy Guy, Patty Griffin, Lucero, Jim Lauderdale and more.
"All Kevin has to do is bring his ears," Ruch says glowingly in her thick homespun Southern accent. "Those bad boys should be insured. They're pure gold. He can hear a song and tell me exactly what we need for a feel I'm trying to capture, even when I'm struggling to put it into words or explain myself."
It was Houston who imagined a swinging horn treatment for Ruch's hilarious "PBR Song" based on a doomed relationship she was struggling to end in college. "I could never seem to find the right time or way to get out of it," she remembers.  "It can be hard to leave someone you've been with for a while and I could never seem to find the right time or way to get out of it. My friends and I would drink PBR and cheap whiskey--because we were broke college students and it was good-- until I thought I had enough liquid courage to go home and end it."
Houston grew up and became great friends with Dickinson's son Luther. When Luther Dickinson first came into the studio to record mandolin on 1835 Madison, he'd heard some of Ruch's recordings but had yet to meet her. Later that day he told her he was confused because he thought she was a 'sister doing the folk thing.' Ruch was so nervous that she awkwardly went, "Oh my gosh, how did you know I have a sister?"
"No," Dickinson responded. "I thought you were a sister."
It was the best complement she could have received but Ruch was embarrassed by what she called her air-headed misunderstanding and response.
"I was just star stuck, that's all."
Nature, Nurture and Memphis
For the singer Memphis is all about music and when she's not playing around town, you're likely to find her at her favorite record shop, Shangri La Records. This year Ruch says attended her first International Blues Challenge where her boyfriend and guitarist Ori Naftaly competed with his band Southern Avenue. Ruch revels in the experience of seeing thousands of people from all over the world coming together and spilling out of the bars on Beale to hear blues music from around the globe.
"I think it's all about the nature and nurture," she responds when I ask if she thinks living in a place affects what you write about or play. "If you're raised in Florida, you're more likely to tan. If you're raised in Memphis, you're more likely to be influenced by great music."
Living in Memphis she says is like living in a heat wave of music, food, and culture. "I heard a great quote once that "we feed your heart, body, and soul". I think that's true. There is always more than one great band to see any given night of the week and it's not just your typical cover band. The music here is unique; it's 'Memphis music'. I say that with confidence because I feel like we have something really special here historically that carries into the present and is a result of that influence."
Twenty years ago her mother and father packed up their car in Chattanooga and put the then third-grader and her sister in the back seat and headed for Memphis. On her car rides down Lookout Mountain to daycare each morning, Ruch became exposed to her mother's love for songwriters and "lady greats" like Linda Ronstadt, Mary Chapin Carpenter, and Emmylou Harris. She describes her dad as being more of the music junkie, always looking for new artists to discover and loving everything from classic rock, bluegrass, folk, blues, to outlaw country.  
"I use to tease her and tell her that Daddy's music was "cooler" than hers, but then I got older and realized that what she exposed me to has ultimately had the greatest influence on my writing." By the time she moved out on her own, Ruch fell in love with the city's live music scene and cool dive bars.
"That's when you're actually old enough to enjoy the history, since it so strongly revolves around the arts and entertainment. It's both a literal and figurative delta, where a fusion is created at the forefront of roots music that you can't quite find anywhere else. Oh, and obviously the food. I mean, have you had our BBQ? Don't even get me started on the food. Staying a healthy weight here is a daily challenge and I'm not even gonna lie."
At some point Ruch had a realization that listening to music wasn't enough. She loved music too much to not start making her own. It was at a bar called Neil's that she met people who influenced her to pick up her guitar. Ruch started attending the weekly songwriters in the round session called Monday Night Folk Ups. While encouraged to start writing her own music, she also fell in love with a man who would break her heart and influence many of the songs 1835 Madison, the address of Neil's bar and music room.
Her ruminations on loving and loss, longing and heartache seemed like they had a direct lineage to country's storied past. The musicality that called on rhythm and blues, Memphis soul and folk influences– and used horns, strings and emotive guitar and pedal steel lines to accentuate the heartache–helped find its rightful and lasting place on the musical continuum.
The collection of sparse acoustic songs also showcased Ruch's immense vocal power. In a tribute to Patsy Cline called "Sad Ole Country Songs," Ruch imagined Cline as the queen of sad country songs, pleading with her broken heart and unrequited feelings of love for lost lovers.
"I was going through it and I said to myself, 'Okay what would've Patsy said about this?" When I talk about the jukebox playing the same lonesome tune, I was thinking about "Crazy," "I Fall to Pieces," and "She's Got You."
"I know the real fear is still loving someone who's moved on" Faith sings in "Sad Ole Country Love Songs,' the climatic moment of 1835 Madison. You literally feel like you're in the bar putting the next coin in the jukebox in some other worldly experience that transports you back in country time. Is that Patsy Cline playing on the jukebox or has her soul been transported for Faith to tell the saga?
Closer to home, Ruch drew inspiration for writing observing others in the hospital who were dealing with their own personal battles of divorce and looking away from their own happiness. "Too Stupid To Cry" became a ballad of a woman trapped in a loveless marriage, and her decision to take control and break free to live a life true to herself.
For Ruch, some of the greatest heartbreak came a few years after she graduated college and the day she got a call that Neil's had been burned to the ground. She references it in the song "Heart of Blue." On the album, there is a brick that says "Keepin' the faith—Thank you forever, Richard." It's an original brick from the music room and was given to her as a gift from Richard Butler whom she says is honestly is the best sound man in Memphis.
"It's Good To Have a Few People Who Know Your Songs"
Inside Royal studios, the walls around Ruch felt like they were saturated with greatness. In the room where Ann Peebles and Al Green and so many others in her record collection had stood and poured their hearts out, Ruch could feel the powerful spirit of soul music consume her.
Ruch was experiencing a new challenge. It would be the first time Houston would have her cut everything live involved in a "floor take," a new term as she would come to learn. Ruch was nervous that the band would get a great take but what if she missed hitting a note and was unable to fix it? What if they lost a perfect take?
By the end, having the band behind her created an atmosphere where she could really "feel it" and empowered her to give what she felt was her strongest vocal performance. Perhaps there was also some karmic transference of energy singing into the Royal booth. Ruch wrote "Sugar" and "Thank You" with the sound of classic Memphis soul in mind and wanted to accommodate the horns in the best way possible. On "Sugar" she heard the sound of an incredible uplifting build-up while writing "Thank You," she imagined something more of what she describes as "the forlorn horns."
"Thank You" is unique in its narrative as Ruch found herself thanking an ex-lover for breaking her heart.  The inspiration for the song came unsuspectingly in an offhand comment. While at her first Folk Alliance seminar in 2015, she started giving the background to the audience about the first song she ever wrote called "Your Soul."
"I explained to the audience that I picked up the guitar, taught myself to play, and wrote the song because I'd been so hurt by my former lover that I needed to get those feelings out through music," she remembered. "I started laughing and said, "Well, here I am, several years later, at Folk Alliance and about to head to tour the UK, all because this guy broke my heart in 2011. I guess I should thank him for that." That's when I got the idea for the song."
The song was also liberating in that Ruch was able to frame regret in a new way. "I think it's important to understand that there is the potential for personal growth through each relationship," she surmises. "Whether it works out or not, the path there helps you learn more about yourself. I've learned that it's important to not let pain, resentment, or troubled memories take away from the ability to still think back on the good memories and experiences and be able to enjoy them. It's easy to become jaded, but it's better to remember that it's ok to still smile and be glad for the times that were good even after they are gone."
Unfortunately there wasn't a lot of time for storytelling at Royal since she and Houston were trying to crank out three songs in one ten hour session. She'll have to ask studio owner Boo Mitchell to share some when she goes back later this year to finish her next album.  
For Ruch, the music scene in Memphis is incredibly vast and that's what makes it such a mecca for roots music. "The sounds coming from this part of the country have had such a strong impact on so many genres and artists across the world. That's something that is unique to Memphis and defies time—it's how it's always been and always will be. You can find blues, rock, rockabilly, soul, folk, funk, hip hop, and country any night of the week somewhere around town, and it's good. When someone says 'Memphis music,' you immediately understand—it's like a genre in itself."
Ruch shares that she and her musician friends joke about the super incestuousness of the city. In Memphis, everybody plays with each other.
"It's good to have a few people who know your songs so if the usual drummer is playing with another band the night you have a gig, you can ask the next guy if he isn't busy," she relates. Ruch used the drummer as an example, but concedes it's rare that she has a different drummer than friend Jesse Dakota who has only been filled in once or twice over the last three years.  
Lately Ruch has worked with guitarists Ori Naftaly and Travis Roman, and had played with bassists Daniel McKee, Jamie Davis, or Khari Wynn.  Wynn is the guitarist for Public Enemy and Ruch says is the most chill, down to earth, guy she knows.
It was McKee who introduced her to Naftaly at one of Ruch's favorite dive bars, the Bucaneer Lounge. Natafly had moved to the U.S. three years ago to represent Israel at the International Blues Challenge. From there, he found success in the blues circuit and formed a new band Southern Avenue this past year with McKee and vocalist Tierinii Jackson and drummer Tikyra Jackson, two sisters raised in the gospel church. This year they made it to the Challenge finals. They have announced they will release their debut (to be produced by Kevin Houston) on Stax Records in Spring 2017. Ruch considers them the epitome of Memphis music.
From 1835 Madison Ruch brought back longtime friends and rhythm section Poyee Yancy on bass and Jesse Dakota on drums. Organist Rick Steff is the keys player for Lucero. She says his talent is spoken for and calls him one of the nicest people she's ever met. Ruch goes on about Paul Taylor as a musical genius who will "blow your mind on guitar, then again on drums, and then again on bass. At that point you're just sitting there wondering where you went wrong in life that you can't be the multi-instrumentalist beast that PT is. It's ridiculous in a good way."
For the singles, Houston wanted Ruch to purely focus on her vocals. Naftaly and Taylor alternated guitar parts on "Sugar" and "Thank You." Natafly plays the signature solo on "Sugar" and Taylor lays on slide on "Thank You." For "Bang, Bang," Ruch revived an idea that songwriter and drummer Ryan Peel had come up with Alex Kramer. She describes the concept of "Bang Bang" as a "mash-up of sorts" in which the duo mixed "Bang Bang" with a Fugees' "Killing Me Softly"-esque drum beat. Ruch's harrowing voice and the updated arrangement adds to the song's dark and disturbing canon while being faithful to the original. 
"When I started work on this new record and felt things shifting toward soul, I knew exactly the song I wanted in the mix," she says of the track in which Peel played drums in Royal. "It sounds like it's looped but it's all Ryan playing live." 
Ruch has her feet in two worlds—music and the hospital. When she went to school, she had no idea that when she got her nursing degree that it would help her become a musician one day. Ruch tried working in the cardiology unit but realized her heart was in labor and delivery. She elected to go part time two days a week so she could pursue her career or "my dream" as she calls it.
A self-described nurturer by nature, Ruch finds fulfillment in helping others. Nursing has also been vital to provide the flexibility and funding to tour, record and make music videos. The learning continues for this emerging artist who attended her second Folk Alliance International conference and is planning another trip in early 2017. She finds the conference provides an opportunity to showcase her music and meet and network with other artists during the various panels related to touring recording social media outreach. But she also likes being a fan and getting to discover other artists. She can't help but think of the scene in her favorite movie Almost Famous where William is on the road with the band for the first time and he keeps walking by open doors with cool singers and songwriters carrying on together. "That's what it's like," she says, "it's like something out of a movie."   
Ruch also continues to learn from others around her including Houston who is apt to draw from the advice he gained from his own mentor Jim Dickinson. "There's nothing cooler than when I'm working with Kevin and he starts quoting Jim about why and how he does things in the studio. One of my personal favorite bits of in-studio Jim Dickinson advice passed down to me by Kevin is that when it comes to vocals, you should always start first thing in the morning with the songs that require your lower range, because bright and early, without any talking beforehand, is when you catch your deepest voice best." 
"I'm tired of writing love songs, already wrote a few…" Ruch sings in "Home Is Where The Heart Is," one of her more memorable lines. It's like she's dashing off a note on a to do list. I'm not sure that the irony is lost on the singer and Ruch is able to laugh when called on it. Were she true to her words, we might never hear from her again.
In addition to planning her next record, she recently moved into a new house with guitarist Naftaly after a trip to his native Israel.
"I can't promise that I will always live in Memphis, but I think I will always come back and it will always be "home"," she says when I asked her about the difference between her hometown and another famed city across the state. "As for Nashville, I don't want to step on any toes, but while it's also a great city with a lot of rich musical history, there is something about our grit, rawness, and soul here in Memphis that can't be outshone by any amount of Nashville glitter, as far as I'm concerned. Don't get me wrong either, though. I really like Nashville a lot, and it's a really beautiful, fun, and energetic town—I enjoy taking the short trip 'down the road.'
"But it will never be my Memphis. Of course, you're also talking to the girl who has a Memphis tattoo on her ribs over her heart."