Interview
The Differently Tuned Ruth Theodore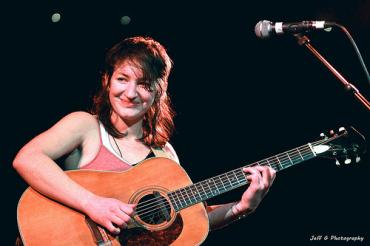 The shrewd carved words Ruth Theodore pens in her songs are intonated in a light and smoothly versatile voice. It is English-accented to the bone; it is poems to music.
Her September '16 release 'Cactacus' finely illustrates this, along with her own very unique guitar technique and specific tuning – born from the school of self-taught and perfected on streets and pubs while busking and gigging regularly as a teenager.
Hers is a story of kicking against the odds. Of being told as a child that the guitar was something she would never be able to play; of an accident that left her unable to speak, never mind sing. These just seem to have helped make her stubborn, more determined. There was "definitely an element of proving people wrong" she told me … "There's nothing like being told you can't."
Later, one of the calmest, happiest times of her life was while rough sleeping in a shop doorway. "You know when people make those clever photographs where one person is still and other people are moving blurred around them? That's how it felt," she explained. "I felt calm. I had time. Becoming transparent is almost a position of privilege to me. I still walk the streets late at night trying to find a place where nobody will notice me slowly digesting and learning and writing and observing. Fuck I'm creepy."
For the past decade though she has been based on a small narrow boat in London, and has converted a second boat into a recording studio through which she has managed to create an important music hub for musicians of different hues to meet, play and create. "We rehearse there, I develop my ideas there, we do live shows there and we have hosted some impressive international acts. It's a relatively small space and initially people laughed at my idea of using it for all these things, but again, there's nothing like being told you can't!"
When Theodore was opening for folk-feminist-icon Ani DiFranco she became aware of "Cactacus' producer-to-be Todd Sickafoose. "I spent a while listening to other records he'd produced and absolutely loved his style, she explained. "We were mutually excited by each other which was the perfect balance. A month or so later I was living in his home. Amazing really!"
The truth of the matter is that it isn't all that amazing. Looking back over the years one can see a build-up of events and characteristics that have brought Theodore to this point. Right from the wordy, thoughtful child that she was, to the truly unique talent that she grew into. "I was always in some kind of trouble and always having accidents" Theodore told me. "I was a deep thinker and I loved words and would write poetry all over the walls."
Despite the trouble though she came from a household where her uniqueness was appreciated. "I was lucky enough to be encouraged to be myself and express myself so long as I wasn't hurting anyone else." By the time she was 14 she was writing her own material and performing. "The first song I wrote was 'Over-expanding' which I wrote whilst busking. I was 14 I think and had minimal guitar skills. I released it years later, to my own surprise."
That bespoke tuning and technique has been key to her style ever since. I asked her how it began. "I figured out quickly that I could play almost any hit song on a guitar with one finger if I de-tuned it, and so this was how I began busking. I was earning money for myself before I knew how to play, which is definitely a blessing. It also allows me to experiment with more variables and step out of the mould."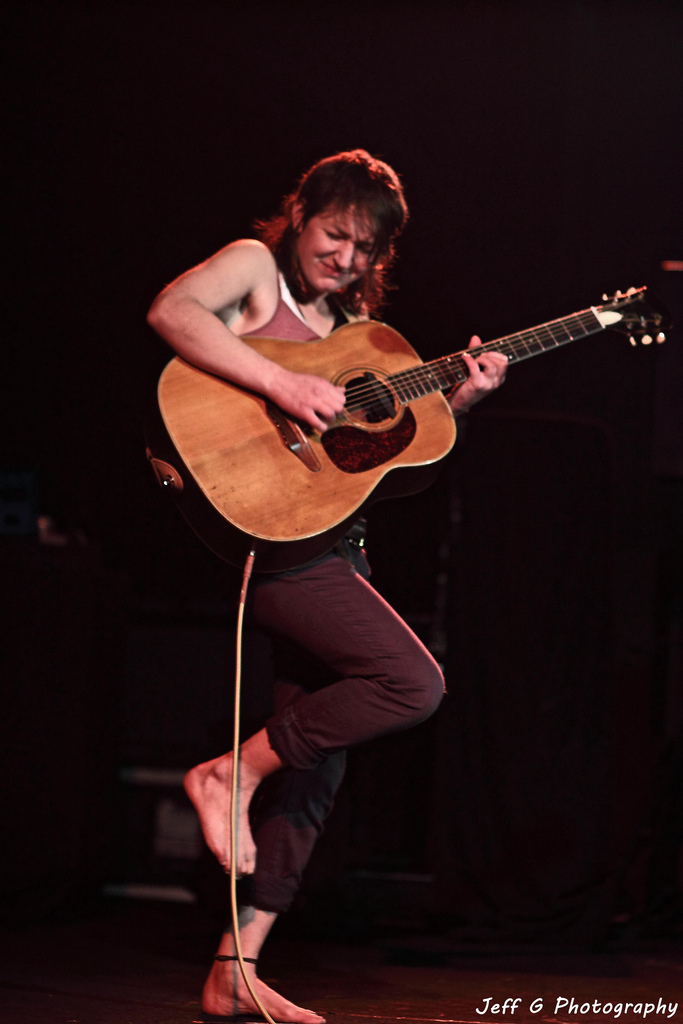 And this is the point. Anyone acquainted with Theodore's music will know that being outside the mould is fundamental to her writing. With her own guitar tuning, the basis of her initial compositions is an alternative to the norm. "These days I use around 9-10 different tunings or more and I won't deny that it can make the stage performance a rubix cube sometimes but proportionally that's fairly insignificant." When she works with other musicians they work by ear. "I'll sing their parts and they'll find it and play it and so it doesn't really matter what tuning I'm in. But sometimes a musician will ask me to give them an A so they can tune, and I look down at my frets and go "errrrmm…"
Her September 2016 release 'Cactacus,' produced by Todd Sickafoose (Ani DiFranco, Anais Mitchell) and released on the shiny new label Aveline Records, is her fourth album. It is a collection of nine folk-based tracks, shaded with Americana, woven with pop textures, throwing blues, jazz and other flourishes into the mix, helping the album to swing boldly from big landscapes, to love, to bone-deep feeling; from social vultures to whimsy.
The name came from a session "Sitting up late with producer Todd and his partner discussing album titles" Theodore explained. "It's kind of a mix between Cactus and Spartacus and also mixed with wine and the inability to be able to pronounce our words properly! We all just fell in love with the word and that was that."
Presented through her voice, her guitar, piano and backing vocals, there is a thread running through the album – of nature, of bare to the bone primeval call and response to our animal surroundings. The imagery of the songs – cinema screen scenery of buffalo, scavengers, carcasses, bones. Of temporary, ever changing settings, shifting with seasons. "My writing tends to always be quite brutal even if it's gentle in delivery. My life at the time was yearning for something which I describe using these thirsty arid landscapes."
Yearning in its most romantic form is offered in the album's "Kissing in Traffic" and "Wishbone." But when it comes to yearning, one cannot imagine a stronger example than the gorgeous "You Can't Help Who You Love," which took four years to write. It is a story of dealing with cancer, written from the perspective of the carer. "Oh I just managed to finish the damn thing!" Theodore responded when tentatively asked why it was a four-year piece of work. "It was a hard song to write because I would upset myself and have to stop, or I would feel like I wasn't doing the subject justice. I feel a big sense of responsibility with such delicate subjects like cancer. You have to remember delicate people will listen and so when I felt I had done my very best with it. I let it out."
Her cutting, shrewd commentary on the growing threat that the wealthy are to local communities in "Scavengers" brings us back to that arid landscape. There's a yearning for fairness, shifting landscapes, the deep dark hue that change is not always for good. Theodore explained. "When I moved to the area I live in now there were only ten of us, all self-employed, skint, creative types looking for quiet and we would share coal and wood and brandy in the winter and the spirit of what we were doing kept us there. But in the last 2 years there is more than enough evidence that communities like ours and other alternative or minority communities are being driven out by wealth, and the wealthy are trying to buy what we made. Which is something that isn't for sale. I like progress but I like politics and people more."
Theodore and her band will be touring nationally in 2017, spending the latter part of this year writing and draft recording new material. Next year will be a busy year. "We're busy hatching plans, so bring it on," she told me. "Bring it on."
Originally posted on Alan Harrison's Rocking Magpie