Interview
Discovering the Musical Journey of Morgan's Road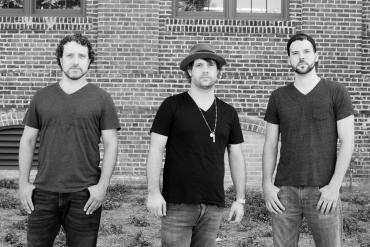 Morgan's Road is an upcoming band from Nashville, Tennessee, who has been creating waves with their new video in tow for "Olde Cumberland." The group have had quite a musical journey, as they unleash their heart and soul into each piece that they craft. The group pens songs that come from a deep, personal place, that will strike a chord with many...as it has for myself. Morgan's Road as a band create a noteworthy and astounding Americana-Southern Rock sound that has been garnering the praise of the masses. I had the pleasure of speaking with Frontman / guitarist Ben Woodruff and drummer / backup vocalist Tyler Perry for an insightful interview you will find below.
How did you decide on the name, Morgan's Road?
Ben Woodruff (Frontman/Primary Songwriter/Acoustic Guitarist): Back in 2011, we were originally known as the King Street band comprised of myself, Morgan's Road drummer, Tyler Perry, and our then bass player, Chris Deaver. Deaver, (that is what he most often went by) had a wife and young daughter at home and so he was working some extra shifts at a pawn shop to support his family and save some extra for his daughter's college fund. Very tragically, the store was robbed and Deaver was murdered just as he was closing up shop for the night.

After Deaver's passing, we took a break for a several months while dealing with our grief.  We discussed getting back together and playing music again but struggled with a name to go by. Chris would never be able to see his beautiful daughter Morgan grow up, whom he loved and cherished beyond anything, and that weighed on us a lot.  And so this thought kept coming back and needling me about what a long road Morgan has ahead of her. She is such a strong little girl and has such a vibrant and gentle spirit, just like her father. And like that, the name came to me in in the middle of the night "Morgan's Road." I discussed it with Tyler; and it felt right and was just a great way for us to honor and always remember our fallen bandmate/brother, Chris Deaver.
Tyler Perry (Drummer/Back-Up Vocalist): Morgan's Road sounds like a pretty generic band name when you first hear it, but if you dive into our story, you'll realize that the name symbolizes a deep truth. Morgan's Road was decided on by the lead singer Ben Woodruff and myself after we both had taken a several month hiatus playing after our bassist Chris Deaver was murdered. We were all the closest of friends and bandmate - brothers. He was one of those people that every single person that knew him loved him. He truly had no enemies. Deaver also had a young daughter named Morgan, who was his entire world. He had only taken on the extra job, working the night shift at a pawn shop because he wanted to start saving money for his daughter's future college fund. Deaver always strived to do everything in his power to give his daughter everything that she would need to get the best start in life.  Ben and I, were inspired to name the band in honor of our fallen friend. Encompassing all of that, we could not think of a more fitting name than Morgan's Road as a way to honor the memory of our brother.
We're loving your new video for "Olde Cumberland!" Could you tell us a little bit about the creative process and how you came up with the storyline?
BW:  I had just moved to Nashville. I saw all the beauty that surrounds this incredible city. So the first verse really speaks that.
What further struck me was the contradiction between this magnificent city coupled with this flavorless pop-country, bubblegum music that saturates much of the local airwaves. The market is flooded with music that sounds like so similar to the songs before and after whatever it was that was played.
I thought, if Waylon Jennings were to walk the streets of Nashville now and hear this, what would he think? There is also this undercurrent of incredibly rich and unique indie music that is happening in Nashville right now, and it bothered me that it isn't getting the well deserved exposure nor airtime it should. There are so many great country musicians here, don't get me wrong, but the pop country that kids today are growing up on is like being served store brand Fruit Loops for breakfast when they could be eating premium steak and eggs. But how will they ever know unless a larger range of independent Americana, Country and Southern Rock sounds aren't even on the menu? And yet, like all relationships, things are often complicated. In spite of these respective pluses and minuses, what endures still is this overarching distinct, character that is Nashville. This town has a way of reeling you in and keeps you wanting to come back for more.
TP: Our lead singer Ben Woodruff will be able to tell you best in regards to the creative process, lyrical and melody wise, but I can certainly add my take. Ben had just recently moved to Nashville and was, for the first time, really able to take in all of the original music that Nashville had to offer…..but none of it seemed to stand out. All of the music he was hearing sounded essentially the same. This inspired Ben to speak to the fading sounds that once defined music out of Nashville.  So what came to him was this song about Nashville and the striking beauty of the Cumberland River running right through it.  Yet, it stands on its' own, it possesses this whisper of country music but with an overriding Americana, and Southern rock vibe to it.
This song illustrates our growth musically in the last couple of years, and really encapsulates much of our music that will be coming out on the next album, with a few uptempo, good time tunes our fans have come to expect as well.
You guys seem to have the perfect blend of Americana and southern rock in your music. How did you work collaboratively to perfect that sound?
BW: Our songwriting process is really by trial and error. My songs always start out as a folk song, which may surprise our fans who have followed us for a long time. But they are actually born from a quiet place, really simple and straightforward. But from there, once I get together with the guys, things get cooking. It's like all being in the kitchen together, we each start throwing in new and unexpected ingredients and things get spicy and we just know when we got it right. It really is most often a blast of a good time.     
Our first album Topics of Love isn't what people would think of as Americana though there are a few standouts that one might place under the Americana umbrella, leaning toward soul and with some heavy, low country, southern rock traits. However, once I moved to Nashville my writing has been coming from a place of deeper meaning and there is more of a narrative element present in my songs. And as a team, we often love to improvise for several minutes on some of the outro's of our tunes when we are on stage and it is in those moments that something incredible comes out that we hadn't played before. We then grab onto those and always try to record all of our live shows so we can then 'watch/review the tapes' the next day.  
TP: This question really piggybacks the answer that I gave for the last question, but it gives me an opportunity to further explain what I meant. Collaboration is definitely a great word to describe how we have grown into the sound that our fans hear today. We have always prided ourselves in creating music that cannot be categorized into one genre, nor be compared to sounding like any one, specific band. It may not be for everyone, but I see it as a strength because it has allowed us to always think outside of the box when we're writing. Once you are defined as a certain genre, it can leave an artist at a disadvantage because you have to continue to create music that sounds like every other song you ever wrote. I think this goes back to why so many original artists sound so similar to one another today.  As a band, we have always allowed the lyrics to dictate where the melody goes, whatever genre that may be in. Of course there are parameters, but we have found that our open-minded musical compositions have grown naturally from a place that is truly what you asked about, a blend Americana and Southern rock.
What inspired your to write this record?
BW: Honestly, I've been wanting to write this record for 15 years. As a band, we really enjoy each other's friendship and musical kinship. So when we started out, our goal was to play fun music so fans would want to dance and party to; so I wrote most of the songs on Topics of Love in accordance with that mindset. But these last two years have really been a time of growth and maturity for me, and in all the right ways from experiences both good and bad.  And this new perspective that I have is very evident on both "Olde Cumberland" and "Better Than" (due out, October 1st) as well as the songs scheduled to be on our upcoming album.
Who are some of your musical influences?
BW: I'm a South Carolina boy who grew up in the 1990's; so to say that Hootie and the Blowfish didn't have a large influence over me would be an understatement. They also came out of South Carolina and were a huge inspiration for myself and so many of my musician friends/peers.  Other artists who made a huge impact on me include The Red Hot Chili Peppers, Tracy Chapman and Matchbox 20 to name a few. But earlier influences include what my parents were listening to when I was a young kid such as: Cream, The Doobie Brothers, and Gordon Lightfoot.  
TP: Hands down, my biggest and most influential musicians as a drummer are Neil Peart, Carter Beauford and Buddy Rich. I started playing drums at age 4, before I can hardly even remember life, and a few years after started religiously studying Beauford's and Rich's styles. I've also always admired how technique-sensitive Peart's style is; he loves off-beat hits and constant subtle drum fills that often go unnoticed to the untrained eye and ear because they are so flawless. But yet would stick out like a sore thumb if he wasn't always performing with such perfect timing. They are truly masters of their crafts and I have always strived to emulate each of them for exactly that.
What was the recording process like for this album?
BW: FUN!!! It's a total blast working with so many talented, smart, hilarious and just really good people. I feel so blessed to have the opportunity to go into a studio and brainstorm with my friends. Sometimes we go in with an idea of how we want a song to sound and when we finish, it ends up being completely different. That's the beauty of creating music, the creative process is part of the magic, we challenge ourselves and one another to get real and see where the sounds take us.
TP: The recording process has been a step above so far for this album. The first two tracks, including our single "Olde Cumberland" was recorded at Catch The Music (CTM) Studios in Nashville. Our producer Zach Allen had some great insight during the recordings of our two most recent singles "Olde Cumberland" and "Better Than" (to be released on Oct 1st). He helped us compose what we believe is some of the best music that we have produced to date, I'm not sure where we will be finishing the album, quite possibly CTM again; but we have also discussed potentially recording in New Orleans or on the West Coast. We are excited to see where the next steps in the recording process for this album will take us and Ben has been writing like a fiend these last several months.
How does Nashville influence your sound?
BW: Nashville has strengthened my songwriting in ways that I guess I had hoped for, prior to moving there but never could have imagined just how much so. Life is often peppered with these pauses; like we get to a good enough place and we become complacent and settle for that which is "okay" or "good enough." In a relatively short time, this town kind of changed everything I had previously thought about myself. My writing is freer, I'm more inspired, more focused, and more confident than I have ever been. It is in this city that I am able to write with conviction. It is truly a magical place.
TP: I happen to possess the outsider's perspective on how Nashville has influenced our sound, because I actually don't live in Nashville with the rest of the band. However, in spite of the distance, we have been able to produce our best work to date because of Ben's move to Nashville. We also still play live shows together at least once a month, so we do see each other fairly regularly, even if it is less than I'd like.  At present, I am now living in South Carolina, while Ben and our guitar player Skot Bradley both live in Nashville. Ben and I had lived in Charleston for a decade prior to our relatively recent and respective moves, where we had played together regularly for a really long time. So that certainly afforded us years where we solidified our core sound. Ben and I have composed music together for so long now, we can literally complete each other's sentences from a musical standpoint whether we are just jamming out when working on some new songs or performing live in front of a rambunctious crowd. No matter how far apart we are, or time passed between gigs, we literally pick up right where we left off.  So the tunes that Ben has laying down of late have really taken us to a whole new vibe and without him having moved to Nashville, I can't see how that would've happened.
Any plans to hit the road for a tour this year?
BW: Absolutely! We've been playing regularly in Tennessee and we've done a couple of runs through Kentucky and Ohio this summer where we've made some really dedicated, new fans. We still play in South Carolina every 4-6 weeks to keep up with the home crowd as well.
At present, we are now lining up a tour down South through Alabama, South Louisiana, the Panhandle of Florida, up through Georgia and South Carolina in November. We are really stoked to be able to bookend this tour around two music festivals in Mobile and Tallahassee where we will be playing on the main stage in front of thousands of people. As for 2017, we will be routing further up the Mid-Atlantic where we have gaining lots of new fans by the week and are looking to add lots of festival gigs nationally and go on tour coast to coast.   
TP: We love to perform as much as possible. Although, I am not able to tour with the band as much as I would like due to the restraints of my job, we haven't let that hold us back. We have already shared bills with some of great acts, including Hootie and the Blowfish, The Marshall Tucker Band, Lady Antebellum, Sister Hazel, and Lee Brice. We are also eager to continue playing at more notable venues and  festivals including SXSW again in the coming year.
We are also presently putting together a tour through LA, AL, FL, GA and the Carolina's through the end of 2016 and are eager to hit both coasts in 2017. We love connecting with our fans and hope to make the world a more joyous and peaceful place through our shared love of music.   
LINKS
http://facebook.com/morgansroad
http://twitter.com/morgansroadband