Interview
The Dustbowl Revival Blend Danceable Beats with Dynamic Storytelling on New Album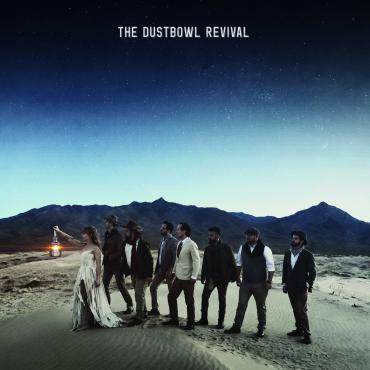 The Dustbowl Revival return, reinvigorated, on their self-titled album releasing June 16th. The eight-piece - Zach Lupetin (lead vocals/guitar), Liz Beebe (lead vocals), Josh Heffernan (percussion), James Klopfleisch (double bass), Matt Rubin (trumpet), Ulf Bjorlin (trombone), Daniel Mark(mandolin), and Connor Vance (fiddle) - ignite  a dynamic sound that blends  Blues, Funk,  and Soul with  storytelling that is nuanced, detailed, heart-wrenching, and sassy. In advance of the release, founder Lupetin took some time to talk about the album, joining forces with producer Ted Hutt, and more. 

This is your first album in about five years. Did you approach it any differently than your previous records?
We released a live record two years ago, but this is the first time we were in the studio in a long time. This album is a whole new project for us because whereas previously we were left to our own devices, this time we brought in a producer, Ted Hutt, who helped us shape the album and its sound.

Ted has worked with artists as varied as Old Crow Medicine Show, Lucero, and The Gaslight Anthem. Why did you want to work with him?
Almost two years ago, Connor and I were driving to a show and thinking about who we could have produce the next record. I love Old Crow Medicine Show's Remedy [for which Hutt won a Grammy] and the way Ted got this fat, dirty sound out of a string band. So, I looked him up, found out that he lived in LA and emailed his manager. In a couple of days, we met and he agreed to do it.
​
With eight people drawing from so many genres, making a record can be a challenge, but Ted really helped us create a cohesive story within the album. He took the time, came to rehearsals, and went out of his way to help us gather our thoughts.  Before, the band was more like my project with everyone contributing here and there and now, we're a collaborative band and cohesive unit. This time everyone is invested and Ted was the perfect fit for that. 
There are varied genres present on the album, but everything truly fits together nicely.
We make a joke about not being able to tell people exactly where we fit in today's modern music landscape, but I think now, as opposed to say five or six years ago, people are much more open-minded about the music they listen to. You see us at folk, jazz and other festivals that embrace different types of roots music as part of the canon of American music - and that's important for us because we try to make something unique within a roots music structure. I think deep down even though we play old time stuff, we like being able to make music you can have a dance party to, but that can also make you feel something, and that's definitely something we went for on the new album. It's not just party jams, there's some really emotionally honest folk music on here. We never really tried that before, so it'll be interesting to see how people react.

Being an eight-piece, how do the songs get fleshed out? 
At the start, I write most of the tunes and then we expand them with horns, strings, and rhythm as we go into rehearsal and play them on the road. I have so much love for creating something that no one's ever heard - and that's what I wanted for us with this record, which meant going in a direction that was more towards Funk and Blues rather than Bluegrass and New Orleans. The result is a funkier, darker, edgier, and dirtier record. However, putting this Folk-Soul sound as the centerpiece of the album and keeping it as the engine that drives it all was hard for some us because we had to cut beloved songs that we thought would surely make it. It's a good problem to have a lot of good songs, but it's also a painful thing when they don't make it onto the album. 

So when we went into the rehearsal space in LA in November and December of last year, we started playing through songs we wanted to pursue on a different level, taking them apart and putting them back together. Some songs were older ones that we had been playing for years and never recorded, and some were brand new ones that we wrote in the moment, like "If You Could See Me Now." I had this hook and chorus and told Liz, who is starting to write more, that it should be her song and that she should write it. I'm kind of an asshole when it comes to lyrics and would be the first one to say something isn't working, but I really enjoyed seeing her blossom and I'm very proud of how awesome her lyrics are - she really knows what she's doing.

That song has such a sassy, confident vibe, it reminds me of Mary J Blige in the best way. 
One of the things that interest me is why records are tracked in a certain manner. Why did you guys bookend the album with "Call My Name" and "Don't Wait Up?"
Good question. So, "Don't Wait Up" is definitely mine and Liz's favorite tune on the record. It's a song that's been around for years, but we've never recorded it or played it live. It's a little controversial and dark and has a story that is a completely different from the rest of the record which is centered around love and relationships. "Don't Wait Up" is a song about a father and a son and has a subtle undertone about fighting for civil rights and the struggle that can happen within families when things go terribly wrong in society. I wanted to have a song that has a point of view and a story that cut a little deeper, especially in these crazy times.

"Call My Name" has the funky Blues groove that drives this record and is a song that when we went into rehearsal was almost going to be discarded. We played it for years as a straight Blues song and when we played it for Ted, he loved it, but he wanted it to be torn apart and put back together as this funky dance song. We worked on it for weeks and the way it turned out, well, it's dirty, raw, and off the cuff; it was this thing that made everybody smile and get fired up - and that, for us, was the way we wanted to start a record. We want people to hear it and be like 'Oh shit, we're in for something awesome." We had to take away our perfectionism and let it roll and I think that it makes the album special.

It definitely succeeds in getting you excited about the rest of the album. There are so many songs with vibrant melodies and that grittier sound, but there are some serious ballads as well, including my favorite is "Got Over." Can you tell me the story behind that one?
That's one of my favorite songs too. In good country music, there's this honest and dark energy of 'My heart's been broken and I'm never getting over it' where I feel with the Blues these types of songs are more cathartic - like, 'My baby left me, but I'm going to make it.' This song came out of the feeling where you love someone so deeply you wonder what it would be like if they were taken from you quickly and for no reason. I think that's the most heartbreaking thing of all in life when someone you love is taken from you because of say, like in the song, someone ran a red light. In the song, the narrator confronts the person who ran the red light and asks why, and the person responds with, 'I don't know. It just happened.' There was no intent or violence; it was just life happening and sometimes that's heartbreakingly sad.

The combination of the lyrics and melody make it intensely moving; it's a devastatingly beautiful track.
The Dustbowl Revival are road warriors, so with this new album what are your plans for touring?
We're always hitting the road hard. We did a huge show at the Fillmore in San Francisco and have the release show in LA on the 17th and then we have shows scheduled all the way into the Fall. We plan to bring this record to the people and win some hearts and minds. 

WATCH the video for "Honey I Love You" featuring Keb' Mo' HERE
For more information visit their official website
Find them on Facebook, Twitter, and Spotify
Purchase the album HERE
Interview originally appeared in
The Daily Country