Interview
Emerging Country Star Jessica Lynn Releases New EP Look at Me That Way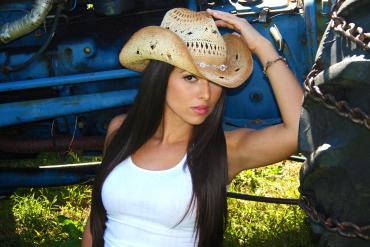 Jessica Lynn has all the makings of a star: beauty, talent, charisma, an awesome band and tens of thousands of adoring fans. Just seeing the love she gets on her social media, there's no wonder why she already has followers in the six figures. Not to mention she creates great music that is catchy, fun and memorable.
Her latest 3-track EP, Look at Me That Way, just officially released in the U.S. today (Sept. 1, 2017), and I'm pleased to have gotten a chance to sit down for an exclusive interview with this talented young lady. Read below what Jessica shares about her debut UK/European tour that she took this summer, opening for ZZ Top and Loretta Lynn (no relation), and what she thinks about being called the "young Shania Twain."
Hi, Jessica! I hear you've been touring Europe and the UK this summer. What's been your favorite part and least favorite part of the tour so far?
Hi! I have been having a truly fantastic time. Memories that will last a lifetime for sure.  My favorite part of the tour has been meeting people from all around the world. What an incredible experience to get to see so many different countries and get to know so many beautiful people. My least favorite part of the tour is how much travel trouble we have had! We have had major issues with our rental cars and trying to fly with our guitars and it has been really stressful! 
How would you compare European audiences to American ones?
I find that European audiences are more attentive than USA audiences often but they are equally as fun to play for. In the USA I find that many festival or concert goers go for the social experience, while here in Europe, I feel that the majority of people go truly for the purpose of intently watching and appreciating musicianship, songwriting, and the performance. I think that's a really cool thing. 
You have your new EP, Look at me That Way, coming out on 9/1. How has your songwriting evolved since your first album release in 2013?
My songwriting has become more mature I think. I have grown a lot and experienced a great deal in the last 4 years and I think that shows in my writing.  All of the touring I have done up to this point plays a part in my evolution as well, as I do often think when writing now, how the song will feel in front of an audience and how they might react to it!  I think I take more risks as well with my writing being that I'm not as nervous about just getting out there anymore! 
Having opened for the likes of Loretta Lynn and ZZ Top, who else would be your dream artist to open for?
This may come as a surprise to you, but I would absolutely die of excitement if I was ever able to open for Neil Diamond. I am a super-fan and from when I was about 7 years old up to now, I have studied his songwriting and have been so inspired by him as an artist. I have never heard a singer put so much emotion in to each and every word they sing like Neil does. That would be a dream come true. 
With Country cross-overs like Lady Antebellum, Carrie Underwood and of course, Taylor Swift, where do you see your music on the spectrum from country to pop/rock?
I think that my music is truly a mix of pop, rock, country, blues, and soul.  Growing up, I had so many eclectic and different influences that I am a melting pot of sounds and ideas. My harmony-heavy music comes from my love of The Beach Boys, my love for stories comes from the great singer/songwriters like Barry Manilow, Richard Marx and Neil Diamond, The Temptations have engrained in me a bit of Motown and soul, etc. I think what's why I'm unique and I'm very happy to have my own style and flair! 
Seeing a lot of the press out there calling you the "young Shania Twain," do you see that moniker being a benefit or a detriment to establishing your own brand of music?
I think that comparison is definitely a good thing! She was also a major influence on me growing up and is an extremely unique and talented artist and performer.  I think if I was a copy-cat of her, the comparison would be a detriment, but being that our music is very different, but still has the same high-energy, sassy, and positive qualities, the comparison is very flattering and gives people an idea of what to expect from me if they haven't heard my music or seen my show before.
With 3 US tours and now your first European tour under tour belt, what are your plans for the rest of 2017?
I plan to tour The USA when I return from Europe in support of the release of "Look At Me That Way," and I hope to record the full-length album in the near future. It has been an incredible ride up to this point and I am so excited for what's to come. Thank you for having me!
Here's "Crazy Idea", the single from Jessica Lynn's EP, Look at Me That Way (out now!)
JessicaLynnMusic.org