Interview
En Route with MilkDrive: An Interview with Brian Beken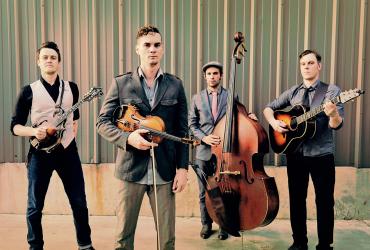 Austin-based acoustic music innovator, MilkDrive, is packed with talent and creativity. While the group's array of stringed instruments harkens back to an earlier time, this isn't your grandpa's bluegrass band.
Multi-instrumentalists and founding band members Brian Beken, Dennis Ludiker and Noah Jeffries met as kids competing in the prestigious National Oldtime Fiddlers' Contest in Weiser, ID. Bassist Jesse Dalton completes the quartet. With three contest-honed fiddlers in one band, you'd expect a fair bit of testosterone-driven musical posturing, but lead vocalist, Beken, said that's not the case.
"We met each other as little kids at the national fiddle contest, and that's where we had the whole competitive thing going on back then," Beken explained. "We became friends and then started to jam together and grew up together musically, so all the competitiveness has dried up," he laughed.
In fact, Beken credits his bandmates for improving his own chops. "I've always been told that in order to get better, you've got to play with people that are better than you, and that's absolutely true for my case with this band. Every time we play, I'm always as much of a spectator as I am a performer."
MilkDrive started primarily an instrumental band, and that tradition continues. However, recent albums have included more vocals. Although Beken was nervous about the transition to lead singer, the results have been worth the jitters. The reluctant frontman is modest about his ability, but he has a lovely voice. The band's harmonies are a beautiful addition, adding new depth and layers to its wonderfully eclectic sound.
"There's a running joke among fiddle players that it's time to pack it up whenever the fiddle player starts singing," Beken laughed.
Beken doesn't place any boundaries on his songwriting. Although early preteen influences were confined to Nashville country radio, that went out the window once he started buying his own music. These days, he's as likely to channel Trent Reznor as he is Bill Monroe.
"It's really cool to take all of those influences and do what you like and see how it turns out," he commented. "Sometimes it doesn't turn out very well, but sometimes it does. And when it does, you feel like you've actually created something, as opposed to recreated something." 
MilkDrive's latest release is Places You've Not Been. You can take a listen to it on the band's website.