Interview
Epilepsy Blues: Chris Fullerton on New Album + Song Premiere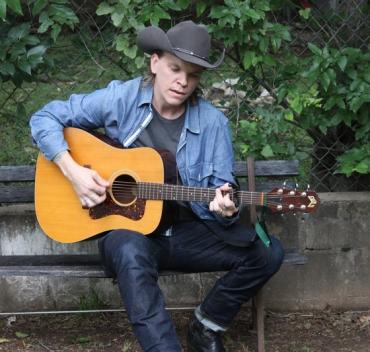 Central Texas-based Chris Fullerton delivers truths – both hard, heartwarming, and hopeful – on his debut full-length, Epilepsy Blues, due August 11th. The singer-songwriter crafts songs that are candid, mixing sonic palettes of honky-tonk, folk, blues, and psychedelia, that provide the musical backdrop for stories anchored in his experiences and love for his wife. In advance of the album's release, Fullerton graciously took the time to speak about his epilepsy, the album, and much more.

Epilepsy Blues, your full-length debut, is releasing this Friday. Have you been playing and pursuing music for awhile?
I've been around music since I was a kid. My mom, who is one of seven, comes from a musical family where they all play instruments and sing, so I grew up around hymnals and old country music like Hank Snow, Hank Williams, and Johnny Cash. I started playing guitar when I was seven, and around ten or eleven, my Mom and I would play "Amazing Grace" at funerals in Camden County [New Jersey]. We did that for a while and then I had my first taste of punk. Once I heard The Clash, I formed punk bands until I eventually segued back and forth between that and country.
That's a diverse combo!

Before moving to Austin, you lived in Boston. What spurred the move to Texas?
I moved to Austin six years ago, sort of on a whim, and I love it. While I was living in Boston, I had a western swing band that was gaining traction, but I started to have seizures, learned I had epilepsy, was drinking a lot, and had a girlfriend who was cheating on me. Things were not going good, and I knew had to get out of there. So I packed up and moved to Austin because I knew all of these songwriters who I loved, like Adam Carroll, Townes Van Zandt, and Dale Watson, were from there. Right away when I moved, I met my wife, Lindsay, who is an angel, and we had a son, Townes, who is almost five. Lindsay really helped me make this record because every time I wrote, and I mean every time, she helped me edit lyrics; and she helped me with the mixing and production process by letting me know how things sounded. She didn't mean to be in the business, but I think I kind of accidentally threw her into it (laughing).
It sounds as if the two of you make a terrific team. What about the songs? Were they ones you had in your pocket, newly written, or a combination of the two?
Some I wrote a few years ago. The first track, "Bad Winds," I wrote when I was still living in Boston. That one has pretty abstract lyrics, but I was drinking a lot and reading a lot of Dylan Thomas and that kind of shows in the lyrical theme. A lot of the other songs on the record show appreciation to my wife for all she's done for me. When I first moved to Austin, I was struggling; I couldn't get health insurance or get in to see a neurologist. Lindsay helped me get into a doctor who did an MRI and told me I had an AVM (Arteriovenous Malformation), an 80% risk of stroke, and that things were hopeless. I got very depressed trying to accept that, but Lindsay wouldn't accept it. She worked hard to find someone who did CyberKnife Radiation, which is common now, but at the time was an experimental treatment. I wrote many of these songs as I was going through radiation, which ultimately made the AVM better. I will most likely need to have open skull surgery in a year, and hopefully, that will achieve complete obliteration, but I will always have epilepsy, which I guess is the price of it.

Coping with the diagnosis of something so serious as well as a chronic condition can be incredibly difficult. How are you doing now?
I certainly get very depressed sometimes, but I think that having a child, a wife who needs me, and a family who supports me definitely helps. In addition to my wife, my in-laws have given me so much support. Even though they live in Dallas and have their own troubles, they were by my side for every operation, and they funded this record. My whole family has given me so much, so sometimes when I feel depressed I think of them and pick myself up. You can't get too down because there are people who need you and things you have to pay back.

Being that epilepsy has been a major part of your life for years now, is that why you chose to title the album Epilepsy Blues?
I didn't think it was the best song on the record before I mixed it, but after I had mixed it I thought it turned out pretty cool, with a very White Album vibe. It's a simple song with simple lyrics, but I think it captures the essence of the record the most.

Very much so. 
The album's artwork is incredibly unique, and very eye-catching. Did you design it?
There's an artist I am friends with in Boston named Zoe Tyler, who is mostly a wood cut artist, and he was nice enough to do the artwork for me. I gave him a bit of direction, for example, I loved the way he does eyes, and we talked about the broken bottle and cactus, but he listened to the record, thought about me, and knew what to do. It's paid off because people look at the cover, open it up, and comment on how cool it is. I never expected something so perfect.

We spoke about the title track, but what about the closer, "Seven Roman Candles?" Is there a story behind the song?
I wrote that song on my in-laws piano, which is a piano I feel like I write my best songs on. I was thinking about the setting of when I was living in Cambridge. I had friends, but I didn't have anyone to talk with about my medical situation, and there were nights when I was all alone. I remember one night when I was becoming increasingly despondent, I fell asleep in a snow pile and was woken by police in the morning. That was kind of this awakening for me to straighten up although I didn't achieve that right at that moment. When I was asleep in the snow pile, I had a dream which is sort of the story line of that song. At the end of the song, my wife recites a poem called "Brooding Likeness." It's my favorite poem by my favorite poet, Louise Gluck, who was a poet in residence at Yale. I finished that song and put the poem in there, then sent out a plea on Facebook asking if anyone knew her. Someone actually did, and got me in touch with her. She ended up telling me she thought it was a little provocative to have the poem in the song, but she liked it and let me use the poem. We spoke for a little while and ended up talking about medicine because it turns out, she is epileptic too. It was an incredible experience getting to talk with her.  

It's not every day one gets to talk with some they admire like that.
Finally, where can people catch you live? Do you often get to play out?
I'm not cleared to travel yet, so I play regionally around Austin, San Marcos, and Dallas. A year ago I wasn't able to go out and play at all, so this is great.
Originally appeared on The Daily Country