Interview
Eva Kano opens new doors to jazz with ukulele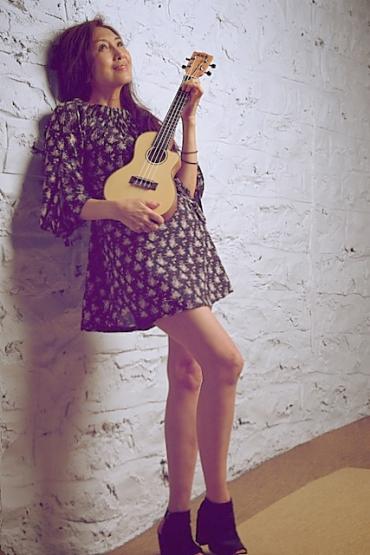 Vocalist/multi-instrumentalist Eva Kano opened minds a year ago by releasing a ukulele jazz album, New Chapter. It was a startlingly fresh twist on the genre, taking it into undiscovered territory but accessible to a mass audience as well. Who would've thought, right? Kano is a true independent spirit, as her diverse influences revealed in this interview will reveal as well.
Q: What attracted you to the ukulele, and how did you learn how to play it?
A: I was playing the guitar when I was a high-school student and wrote my original songs playing the guitar. But, the beautiful sounds created by only four strings on the ukuleles attracted me right after I started playing in summer 2016 seriously. I started working at some ukulele store in New York - I am still working there - and I got into ukuleles. And, I wanted to adapt my jazzy ideas into ukuleles. I have a soprano, concert, tenor, and baritone, and I play many jazz chords on them. I have even bass ukuleles. I leaned the ukuleles by myself.
Q: What was your introduction to music? How old were you, and how did it affect you?
A: My mother took me to my first piano lesson when I was four-years-old.
Q: Did you grow up in a musical environment?
A: Yes. Fortunately, I attended a private elementary, junior high school, and high school attached to Japan Women's University, where they gave us a lot of music mandatory classes including violin, chorus, and music selective classes including one for chamber music and string orchestra class. There were even some chorus class competitions at the high school every year. I felt so lucky back then.
Q: What styles of music had the greatest impact on you creatively?
A: Some folk and pop songwriters music influenced on me when I was a teenager, but I was inspired by jazz music in '40s and '50s when I became an adult. My favorite jazz singer is Peggy Lee. I like Julie London, too.
Q: What was the first song you ever wrote?
A: My first song was very simple and short. I don't remember the title of the song, but, some of my songs I wrote earlier were called, "Teen" and "Partner."
Q: How would you describe your music?
A: I think my style is "Cool Jazz" or "French Jazz," or "Jazzy songwriter-song."
Q: What artists influenced you the most growing up?
A: Yumi Arai (to be Yumi Matsutoya after she got married) and Maria Takeuchi. Both of them were pioneers of New Wave music in Japan.
Q: How have you evolved creatively?
A: My emotions when I remember something in the past, when I miss something, when I feel inspired. and when I hope or desire something make me create some melody lines. As you may know, I wrote "New Chapter" when I was inspired by my daughter and her teammate. They represented the U.S. to compete at the Rio Olympics when they finished their last routine, which was the very last performance of their career. They retired right after the Olympics. The end of a career means the beginning of a new chapter of a life. I saw them accomplishing their dream, and it was a little bitter sweet, but some positive feeling rose to become some melody line in Rio. I finished the rest of the song when I came back to New York.
Website: