Interview
Exclusive Interview: Austin artist Nagavalli brings Eastern Soul to the West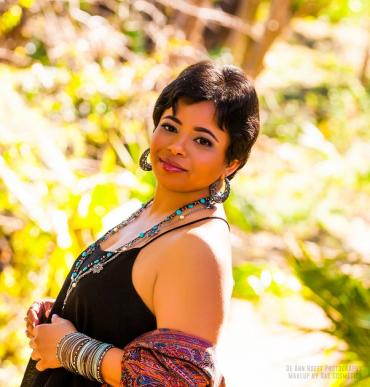 I'm always intrigued when I encounter an artist from halfway around the world who has managed to successfully assimilate and plant roots within the US. Being born and raised in India, Nagavalli did just that, eventually settling down in Austin, Texas. She not only brought her native heritage with her through her music, she created a whole new sub-genre that she calls "eastern soul." Nagavalli has also grown a US fanbase and gained a coveted spot among the Top 10 Female Vocalists and World Music artists at the 2015-16 Austin Music Awards. Her music is captivating and her skillful vocals bridge the Eastern stylings and the Western pop/soul sensibilities ever so subtlely. Nagavalli's new single, "Reach Out," is definitely worth a listen and will draw you back for repeats. Read on about this intriguing new artist and check out her single, "Reach Out," below!
Americana Lady:  How was the process of making your newest single, "Reach Out" different than when you were writing the songs on your first album four years ago?
Nagavalli:  "Reach Out" was a song that was very much "in the moment." I wrote and recorded it in quick succession, whereas with the first album, I recorded songs that I had written over a period of time. There is also more knowledge and confidence that comes with experience. I was more tuned into what I wanted to hear on the song, and was able to better convey that to my musicians. So I had lot more influence on the arrangement and overall production of the song.
AL:  How did your family and friends react when you told them you wanted to write songs and perform in a band? Was there any resistance being that your degrees are in Information Systems?
NV:  Ah yes. There was apprehension and worry that I was venturing into the unknown, far away from home. There was also some concern around the optics that came with being a woman in a band and with having all these male musicians around me. "These could hurt my prospects of getting married!" It was actually quite stressful at the time. Don't get me wrong, my folks absolutely LOVE music. Several music lovers and singers in my extended family as well. But what did I do with this gift? I started a band! I know that my family loves me and is proud of my music. But it sure took them a bit to get comfortable with my chosen path. Sure took me a bit to find my own voice as well. There seems to be something beyond oneself that keeps one going. Music was no longer a choice for me to make.
Initial reactions from friends were varied. Some of my friends had little context or engagement with the live music scene, some were just not that into music, and then there were those that went out of their way to come and support me at my shows. I am grateful for my family, friends, fans, and music lovers… each and every one of them.
AL:  Has living in Austin made a difference in your music career?
NV:  Yes. Austin is where I wrote my first original song, played my first full solo show. I found people here who encouraged me, excellent musicians who played with me, artists and venues that offered me a platform, and listeners who appreciated my music and even voted for me to start showing up on local music polls. I am now eager to take my music further and share it with the rest of the world!
AL:  Who are your biggest musical influences and why?
NV:  I grew up learning Indian classical music from age seven. I also listened to and learned Indian semi-classical, spiritual and Bollywood music. Growing up, I had some limited exposure to Western pop/rock. I can't think of individual artists who influenced my music, but I think my writing mostly comes from the same focus that Indian music generally has on melody. The vocal melody is primary and then I build the rest of the sound around it. I started writing original songs only after having spent a couple of adult-life years in Austin, so when it comes to the sheer idea of expressing oneself through songwriting, I must have learned from just watching other artists do their thing.
AL:  What do you think is the one thing that draws people to your music?
NV:  I think this is for a listener to answer really. It's my hope that people find something authentic, honest in my music. I also hope that people enjoy the melodies I write!
AL:  After this new single release, what can your fans look forward to from you over the next few months?
NV:  I will be releasing a video for "Reach Out" this month. I am getting back into the studio soon to record another single. Also, in the upcoming months, I hope to finalize the mix on a full album of Indian spiritual / meditative music that I have been working on. Please stay tuned to Nagavalli news and upcoming shows at http://nagavalli.com.