Interview
"Face-Melting Folk Rock": A Conversation with Reid Genauer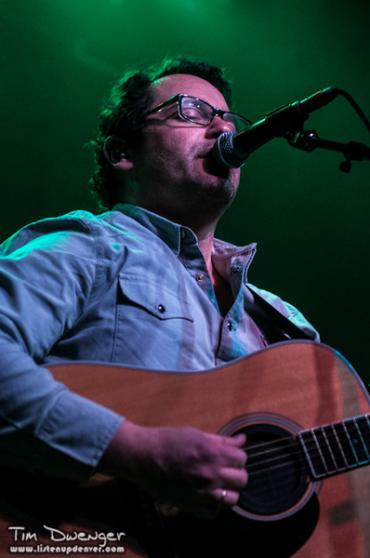 Reid Genauer is the lead singer and songwriter of two renowned jam bands: Strangefolk, which he co-founded in 1991 while a student at the University of Vermont, and Assembly of Dust, formed in New York in 2002. Genauer has won praise for his fable-like lyrics and soulful vocal delivery, and continues to perform regularly across the country with both bands.
Assembly of Dust has just released their latest album, Tales from The Oregon Trail, recorded live in Portland, Oregon. Here, Genauer talks about his musical influences old and new, and the challenge of balancing his folk background with his jam rock sensibilities.     
Assembly of Dust was founded in New York and has traditionally been an east-coast band. Yet this new release was recorded in Portland, Oregon, and you recently relocated with your family from New York to San Francisco. Does being a west coast "outsider" have any tangible effect on your songwriting and performances? 
There has always been a magic and allure associated with west coast music. And for me personally, I have always been drawn to the music that was created here in the 1960s and 70s. The psychedelic rock of that era. Namely, the Grateful Dead, but also Joni Mitchell, Neil Young, Crosby, Stills, Nash and Young and others. Lots of the bands that were playing the Fillmore during that era. In addition, the whole social movement of that period, the Summer of Love, Ken Kesey, etc. It was hugely influential on the music and culture to which I feel closest. Being an east coaster, there's always been something almost Dr. Suessian about the west coast: the temperature, the plants, the environment, the smells. It's like a heightened state of being here. And ever since I have been a musician, there has always been an audience here for me, probably in part because my music is informed by the geography and maybe because there is so much bi-coastal travel – regardless, that's the exact reason it has always been really rewarding. For me to be playing live on stage so far from my inception point in New York, to always have had supporters and friends here, makes it exotic and familiar at the same time.
You seem to take great care to write lyrics that tell a fully realized story, yet going off script is what jam bands do best. How do you balance a songwriters' pursuit of perfection with a musicians' desire to explore new sounds on stage?
My music is informed largely by the grandfather of jam bands, the Grateful Dead. And to a lesser extent, the Allman Brothers, Clapton, Cream. You could even say bands like The Marshall Tucker Band and Lynyrd Skynyrd too. That guitar driven sound, which is essential in the jam sound. But really, just having a good song at the heart of everything is key. That is the philosophy that those guitar hero bands followed and we do too. Plus, a certain chord structure – or even a lack of chord structure – and a willingness to expand the song instrumentally, that's what all good improvisation is. And personally, I've always tried to weave in little nuggets of lyrics into my performance, by either mashing-up some of my own lyrics with someone else's lyrics, or singing the words from one of my songs with the melody of another -- riffing off a rhyme scheme -- that kind of thing. As a singer, I try to contribute occasionally in the little ways that I can to the notion of improvisation.
But honestly, sometimes it is hard to find that balance between being a lyricist and a singer in a band that is known for jamming. Oftentimes people want you to be singular in what you do, and I end up wondering if we are alienating the audience. There is no road map that says 'this is how you do it.' Each band does it differently. 
As a songwriter, I want people to know what I'm saying and the story I'm trying to tell, but I also want them to hear what the amazing musicians I perform with are capable of. I like to leave ample room for the band to really show what they can do live in our performances. I play a supportive role more often than not during the improv, but I get off on listening and being in the flow of it. This new live album is really more about highlighting their abilities as musicians than about me as a songwriter and storyteller. I like to think of the improv as part of the texture and color of the story told live.
You often perform solo acoustic covers during your set. How do you choose your covers, and is it hard to get people engaged in solo acoustic songs in the middle of a raging jam session?
In regards to the covers that I choose to do onstage, it really comes down to songs that I feel I can deliver credibly. Ones that fit into my musical and emotional range. What I tend to listen to a lot is Gillian Welch, she is my favorite. Also, Wilco, Neil Young, Bonnie Raitt, The Band. Real Americana grit. That's what speaks to me. They all have a distinct lyrical style, chord progressions, rhythms and instrumental structure that are all consistent with Americana music. And I try to integrate a lot of that into my own lyrics. I touch on themes like the Civil War, and drinking bootleg whiskey, and characters from places like Arkansas. It is American storytelling. Sonically too. That's the part that might be confusing, though. I worry audiences might miss the high and lonesome core because there is a raging guitar solo in the wings.
I tend to do the solo acoustic numbers either early or late in the set. Because I think once in a while people welcome a little sorbet. Something to soothe them. Because it's nice to reset. Perhaps there was too much noodling and too many crescendos and people are tired of getting punched in the eye with electric guitar. At the end of the set, one to three solo songs on the guitar is like a breather – a few minutes of fresh air.  They don't need the dynamic explained to them. It's like an acoustic mint after a hearty meal.
In an alternate universe or another life without Strangefolk and Assembly of Dust, I perhaps could have pursued just being a more traditional folk singer. Just me and my guitar. But I do love raging electric guitar solos. I'm no guitar hero, I'm not the one creating these shredding solos, but I love them.
There is a renaissance taking place now in the Americana music scene. Which of these contemporary bands do you admire?  
There are so many. Old Crow Medicine show. Colexico. The Civil Wars. Ryan Adams. Band of Horses. The Wood Brothers. Railroad Earth. Leftover Salmon. The Dead Winter Carpenters. The Devil Makes Three. They are all super cool bands, many of whom are also friends
Can you talk a bit about the differences between Strangefolk and Assembly of Dust and what each means to you?
Strangefolk and Assembly of Dust are both Americana, folky roots bands wearing the sonic facade of psychedelic rock bands. All our studio records have stripped down versions of the band, and we consciously pursue that Americana, folksy sound as part of the spectrum of styles and production value. There is often an explicit "no noodling" rule applied to a handful of tunes on our records and to a lesser extent on stage.
Strangefolk was a band that we created when we were in our 20s. I think it represents youthful exuberance. We learned to play together. It's not a sound or experience that I can reproduce with anyone else except the three other guys in the band. We have our own special dialect. With Assembly of Dust, it's more of a universal version of that. A bit more sophisticated, but a little less quirky. We like to call it "face-melting folk rock."