Interview
Freakwater: "If You Stop Talking You'll Die"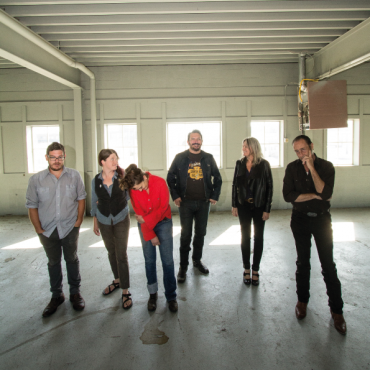 Freakwater is a Hillbilly term for moonshine. It's often used for people from the country or in the mountainous regions in the US, chiefly Appalachia and the Ozarks. 
Freakwater, the band, started life as the musical pairing of Janet Beveridge Bean and Catherine Ann Irwin. Apparently neither of them knew that Freakwater was a term for moonshine. However, there are many reasons why the name suits their cut. The Appalachian Mountains were settled by people mostly from Ulster. Irwin's father is from Northern Ireland. And you can hear that dark thread running through her lyrics --that dry savagery not meant to offend, but at the end of the day, you can like it or lump it. We're masters of it in this part of the world.
They were teenage punks when they met, and spent those formative years in a series of bands. Those punk origins wind their roots round the attitude with which Freakwater writes and performs its murky alt-country. There is folk music in there -- both electric and acoustic (Irwin was in a folk trio with her brother before the punk kicked in). There are darkly atmospheric arrangements with fiddles, mandolin, and steel guitar, and there are the special twisted Carter Family vocals, like a Depression-era zombie leading us by the hand down a dark path into the woods. It's enough to make one wonder: are they only after our brains, or do they want our hearts as well?
Regardless, Freakwater's sound is their own. It is Freakwater-specific, but they remember where they came from. "We were definitely both marked by the beast of punk rock," wrote Irwin to my emailed question about the impact punk has had on the band. "We came up in a time and place where everyone we knew was in a band. It was important to do something, to make something. We have always just been making our own fun — without regard for rules or laws. Being in a band is just a natural thing for people who love music to do."
That lack of regard for rules and laws cannot be understated. What Freakwater does, they do in their own time and in their own way. As their Facebook bio puts it, "Their rate of production has been wildly sporadic. Freakwater's lack of any normal human ambition and complete inability to capitalize on the brightest moments of critical acclaim have endeared them to their most loyal fans – while their dense shroud of mystery continues to lure the young and vulnerable."
After all these years working together, even though they live in different parts of the US, they "are without a doubt like family to each other," says Bean.
"It was really funny when we discovered that both our fathers rocked out to bagpipes at full volume — very early in the morning and very late at night," Irwin adds. And that Irish influence meant that "Clancy Brothers records were playing a lot of the time." Irwin's mother, on the other hand, was responsible for opera being played in the house. More specificaly, she says, "Lots of Mozart, and also quite a lot of Gilbert & Sullivan and Kurt Weill. When I was about 12 my mother developed a freakish love for Emerson, Lake and Palmer and Jethro Tull. I'm not sure if Janet knows about this. Yeah, my mom was way into Aqualung. I'm sure the reason I hate that record so much is that I associate it with vacuuming."
Bean also shares her bagpipe horror stories: "I have an older sister that, in retrospect, had rather diverse listening tastes. She had a Charlie Rich 8-track that I played a lot and Jesus Christ Super Star, and a Troggs LP that I adored. My parents didn't listen to much music, although I know both of our fathers had a love for the Royal Scot Dragoon. We share a history of being persecuted with bagpipe medleys. I have always had a soft spot for orchestral '60s pop – Burt Bacharach, Petula Clark."
It's rumoured that Irwin laughed when she first heard Janet Beveridge Bean's name. "That's how I remember it," Bean told me when I checked that with her. "Nut I think we all might have had a fair amount of Milwaukee Best at that point skewing all processing for the average 16-year-old. This is how the lore goes in my tome."
David Wayne Gay was introduced to Freakwater back in 1988 and has been a mainstay of the band ever since, appearing on every record they've released. "Dave is the human embodiment of Freakwater," Bean says.
"His minimalist bass playing has really helped to define our sound," Irwin adds. "Dave understood right away that Freakwater songs are always constructed following the lyrics. It's really not about math, which is funny because one of Dave's many attributes is his savant-like math ability.
Their first record, the self-titled Freakwater, was released in 1989 (a year in advance of Uncle Tupelo's No Depression, which set off what came to be known as alt-country or Americana). It was followed in '91 by Dancing under Water, and in the intervening years, the band has produced a total of seven studio albums.
While Freakwater has been working in their own way, and in their own time, Irwin has released two solo records (Cut Yourself A Switch in 2003 and Little Heater in 2012). Bean released the solo Dragging Wonder Lake in 2004, and has had a parallel run with the band Eleventh Dream Day, basically for as long as Freakwater has been alive, while also playing with acoustic folk band The Horse's Ha.
Freakwater released their latest album, Scheherazade, on Bloodshot in February. Scheherazade is the name of the queen in One Thousand and One Nights who avoids being beheaded by telling stories to the king, all night, every night, for all those nights. It suits. The album is paced, stem to stern, with discordant stories of man, war, and destruction. It's not easy to hear, but it's bloody easy to listen to.
"If you stop talking you'll die," Irwin says. "I think Janet and I have both really internalized that message. I love the title of our record. We are both huge freaks for Led Zeppelin. I think, in our minds Scheherazade sounds like the title of a Led Zeppelin song. Like 'Cashmere,' I guess."
By way of explanation, the song "What the People Want" starts out innocent enough then quickly starts chasing us down a dark road. This is way beyond murder ballad – powerful, superb, and utterly horrible. "Humans are capable of such incredible horror," Irwin explains. "Songs about politics are really, really hard to write. I think it's best to leave things a little bit abstract. Our friend Kathleen Judge is animating a completely heartbreaking video for that song. Kathleen has worked with Neko Case on a lot of her beautiful videos and designs."
Freakwater are famed for their dead baby songs, and "Down Will Come Baby" seemed to be Scheherazade's entry. "I do love a dead baby song," Bean admits. "But 'Down Will Come Baby' isn't one, I am sorry to tell you. My home is on the top of a wooded sand dune. The place is mainly windows and I spend a lot of time watching a murder of crows that call the trees outside of my bedroom window home. ... I have to thank Catherine because when I suggested we have this long jam part in the middle, she didn't check my temperature. I wanted this weird [mashup] of Deliverance meets the Isley Brothers. It came out just how I imagined it." (Listen out for some fine wah-wah guitar on this one.)
"Take Me with You" is about mountaintop removal, a highly destructive form of mining -- "a method of coal extraction now underway in Appalachia," Irwin explains. "[That song] was written a couple of years ago for the FREAKONS, a project Freakwater is doing with our friends Jon Langford and Sally Timms of the Mekons. That record is going to be so fucking great, whenever it finally gets made!"
The title for the tune "Memory Vendor" comes from a poem by the Palestinian Poet Mahmoud Darwish called, "In Her Absence, I Created Her Image." "The song is about children in war," Bean says. "How does a child come out of that violence? Are they able to? The sound of keening is being made at this moment and every moment in this fucked-up, war-ravaged world, by mothers and fathers losing children, by children losing their mothers and fathers. It is a debilitating thought."
The music for these songs is as striking as the words and the stories. Only the finest collaborators were drafted to join – artists like Warren Ellis (Nick Cave) on alto flute and violin, and Sarah Balliet (Murder By Death) on cello. The album was recorded and mixed with Kevin Ratterman, the engineer of choice for My Morning Jacket, in his LaLa Land studio. "I've worked with him on a few other projects over the years," Irwin says. "His recording studio used to be above his family's funeral home. I remember doing vocal overdubs in the basement between two giant ferns — obviously where someone had been laid out in a coffin earlier that day. … The LaLa Land atmosphere is very chill."
Originally posted on CultureHub Magazine