Interview
Freddy Trujillo on The Delines, Richmond Fontaine, and the Music of his Mixed Heritage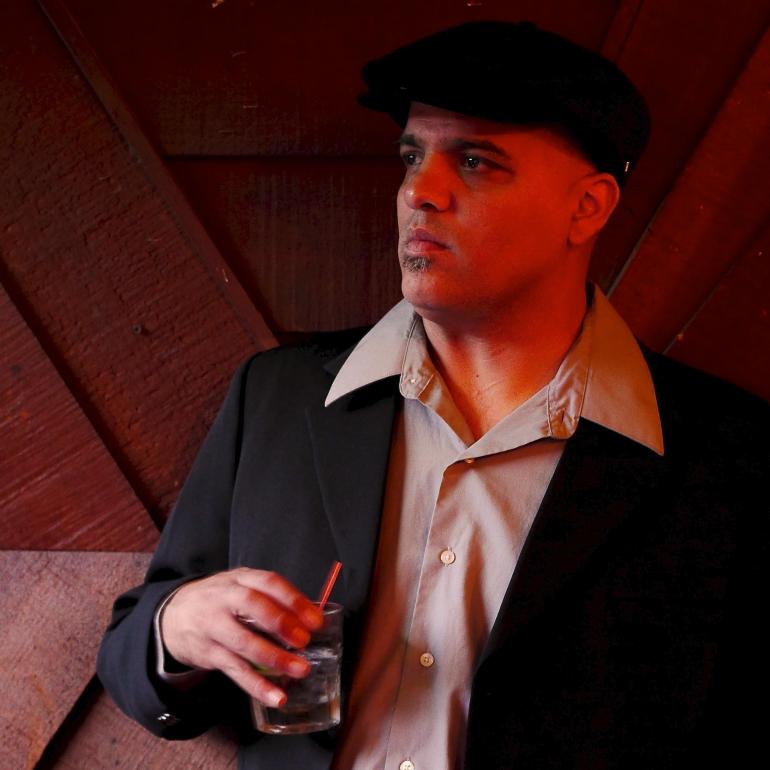 Freddy Trujillo plays bass for The Delines and Richmond Fontaine. He is also a singer songwriter in his own right releasing his second album Amexica in autumn last year, the follow-up to his 2003 album Hawks and Highways. Both records are fuelled with a deep insight into the community and wider society he comes from, while his Native American and Chicano heritage is explored, explained and illustrated.
It was around 1999 that he met Willy Vlautin, founder of Richmond Fontaine and The Delines. "As a matter of fact, I met all of the Richmond Fontaine guys because Luther Russell produced the (Richmond Fontaine) "Lost Son" album," Trujillo explained. "Luther and I had a band called Federale with Marc Ford and Jimi Bott, and we did some shows with those guys. There is a poster in the Fontaine practice room probably from 1999 with me opening solo for them at the White Eagle.  I want that poster. I should ask them if I could copy it."
There is a lot going on there. How does he balance working with both of Vlautin's bands, and his own work, and having a life? "Well the cool thing about being in a band with guys that have been playing for years is we don't have to practice as much. And if the songs are good they almost just play themselves. Plus the Delines and Richmond Fontaine don't overlap. There isn't that much stress like bands I had when I was young.  But most of all my wife and kids are very understanding and proud of me. They know music is my Zoloft. It is necessary in my life. I wish it was more rewarding financially. We deal!"
Willy Vlautin writes the material for The Delines and Richmond Fontaine. He is a renowned author and songwriter, who weaves stories into his songs. As a songwriter himself, I wondered if Trujillo ever wrote with him. "No I haven't! I am a little intimidated" Trujillo responded rather humbly.  "He is such a good lyricist. I don't know what I can offer in that department. We all construct the arrangements together after Willy brings in the stripped down idea. That is the extent of it. This first go around I was really trying to be as low key as I can in both these bands. I really wanted to see how I can fit into their creative process. Maybe one day I can offer up a tune for The Delines or I can work with Willy on something?"
Richmond Fontaine will be releasing their next album You Can't Go Back If There's Nothing To Go Back To, in 2016. Their original bass player Dave Harding moved to Denmark, and Trujillo was asked to come on board. "I think that Sean (Oldham) and Willy weren't sure what was going to happen to Fontaine after Dave left and that is why they started The Delines" he explained. "I sort of figured I would be the American bass player if they were asked to do gigs as Richmond Fontaine here in the states and when they went to Europe they would use Dave."
"Willy is such a forward thinker and very prolific as you know. And I think that was going to be the issue with Dave living so far away. How were they going to do new songs?  We got asked to do some Richmond Fontaine gigs and it was a natural fit. Before you know it Willy was trying out some tunes with us and bam we were in the studio.  I was thrilled! The new record goes back to a classic Richmond Fontaine sound comparable to "Post to Wire" or "Winnemucca"."
The Delines have just announced that they have recorded "nearly a full length record we're calling Scenic Sessions."  It is a 10-track road CD for sale on their UK and Ireland tour. "It was different doing this recording" said Trujillo. "We didn't actually have the time to do it live like we would normally do."
"I think the idea for this 'road CD' is to have extra things to sell while on the road. I think it is going to be a real treat for hard-core Delines fans. One called "Cool Your Jets" is particularly a favourite, and another is a song called "I'm Just A Ghost." It came out great. I am pleased with our little 'Road CD'."
In the midst of all this however, Trujillo has his own music bubbling in the background. He has been playing bass since the '80s, in bands varying from punk to rock to Chicano. "I see myself as a rock musician who has constantly reinvented himself under the umbrella of "Rock and Roll," he told me when I asked how he would describe where he is musically right now.  "I have been soaking in so many styles of music through the years. I feel like anything I absorb grows a new branch of tricks or knowledge that I am able to use later. No genre of music that I have participated in or studied is unimportant to me."
"In my formative years heavy metal and punk were what I knew and gravitated towards. I will still jam along to Iron Maiden or Bad Brains records to keep my chops up. I played classical bass in college for the PSU orchestra.  I will practice that stuff too on the double bass.  Right now I feel real lucky to play with the Delines, Richmond Fontaine, Fernando, and my own band. I am able to be taken serious with these bands. Meaning I don't have to put out any image. I can grow old with these guys. Tom Waits had it right. He went for the old drunken look early and reinvented himself musically. I feel the Delines is a good step in that direction for us.  Plus it feels nice to be part of a group."
Trujillo comes from a family of musicians. "My dad was into guitar players like Chet Atkins. And he loved the Beatles and Stevie Wonder. That is sort of my roots in music. Some of my earliest memories are hearing those records." However Trujillo's far reaching ethnic heritage holds an enormous sway on his musical influences as well. There is the Native American legacy; and there is the Chicano, to mix in with the punk and the rock and the classical bass. They also, of course, impact strongly on his world vision, his family and his approach.
In so far as his Native American heritage is concerned he considers himself to be Mestizo. This, he told me, "is a Spanish term meaning mixed Native American and of some sort of European decent. I don't know as much about the American Indian side.  I was told I was Comanche from my grandfather on my father's side. He died when I was 4. All I know is he and his brother were relocated as kids and put in catholic foster homes and sent west."
What does he think about this? "I sort of romanticise this side of my family. It really is silly because I consider most people from Central and South America as much or more native than some people in the states that say they are so.  The border complicates it. I guess these were the thoughts I was putting together and connections I was making about myself while making (debut solo record) Hawks & Highways … (which) has more of a Native American theme."
Hawks & Highways is described on Trujillo's website as dealing "with the intertwining of Native American and Chicano experiences in rock & roll form." So I was keen to know how this heritage could have influenced rhythms, instruments or refrains in his song writing. His response went in a completely new direction. "To tell you the truth the main influence for that particular album was a band called "Redbone" he told me. "I identify with them in so many ways particularly the two brothers and band leaders Pat and Lolly Vegas.  The fact that they were wearing Native American regalia as their band image and were incorporating Native American beats, singing, and dance blew me away. And Pat and Lolly had a Spanish surname to boot. So in a way they made me curious about this particular side of my heritage. And at the time I had just moved to Oregon and it was the perfect place to seek out native culture. That is how I met my wife."
Then there is his Chicano heritage – a heritage that as he learns more has empowered him as an artist. "In college I was exposed to history that I never learned in high school" he explained.  "One particular moment in history is the Treaty of Guadalupe Hildago. It helped me identify with the idea of being "Chicano" or "Mexican-American". Both of my grandmother's family trees go back before the signing of the Treaty in 1849."
As we grow older we tend to become more interested in our roots; in putting together jigsaw pieces of the history that has shaped us. We all have our reasons for this personal journey; and history lessons can come from various mediums – including music. "The Mexican group "Los Tigres del Norte" has a song called "Somos Mas Americano" that states," We didn't cross the border, the border crossed us". This cleared things up for me. As a kid my parents referred to us as Mexican and I didn't think any different because kids on our street often made sure we knew we were brown.  But on the other hand, as I got older I came across some Mexican nationals that referred to me as a "Pocho," meaning that I sold out to American culture by not speaking Spanish perfectly. Complicated crap for a young person to go through."
With all this being said, what impact is it having on his music? "This knowledge has empowered me and inspired me to start singing about such topics. The knowledge was a shot in the arm. I started to reflect on experiences I had and away I went.  As a musician my curiosity was naturally drawn toward the music side of Mexican culture.  I really started to seek out Chicano artists and bands. I was even drawn to bands from other parts of Latin America. I was especially interested in finding rare rock bands."
"There are many great Chicano artists spanning from Lalo Guerrero in the forties to Chicano Batman now. But probably the most important to me is Los Lobos. For the same reasons I mentioned about Redbone, Los Lobos drew me in. They are able to use Mexican rhythms and instruments in such an organic and fresh way. They are also super deep in their knowledge of Americana. That is why I wanted to try to use instruments like the "harp" and the "vihuela" on songs like "Mas Macho Que Macho" ,"Little Birds" and "Adios California" .
Do the Native American and Chicano influences ever merge? "Yeah, the song "Owl Dance" off of "Hawks and Highways" is a perfect example of this" he explained.  "An Owl Dance is a ladies choice dance at a pow wow. This was a song I wrote about meeting my wife for the first time. The song has a pseudo Native American beat with a Spanish lyric. I felt it was easier to have a sappy love song in Spanish.  The song was my best effort at doing what "Redbone" does on their records. For example, having a cross fade at the end of "Owl Dance" into traditional singing and drumming is exactly what they would have done."
In 2014 Trujillo released his second solo album Amexica. A trailer for the album described it as a "rock and roll ode to Chicano identity. "I had this idea for a record called Amexica for a long time. It manifested after Raul's death." (Raul Ugalde was frontman for the Chicano-rock ensemble Caguama that Trujillo played with). "My long-time friend and producer Luther Russell was planning on producing the next Caguama record. When that came to a halt, Luther reminded me about Amexica. He said, "We have to turn that energy into something".  He asked if I had songs and I lied because at the time I only had some sketches. I needed to do this record really bad for some healing purposes."
What would Trujillo want listeners to get from this 'ode to Chicano identity'. "First of all I would want them to get a good feeling from it. But also I would want them to think about the Southwest differently. Realize that there are families like mine that are deep rooted for centuries in those states. And there were points in history where Mexican workers were legally permitted to be here and work. Maybe we could go that way again with our immigration policies for our neighbour state? I would like to see that instead of hateful ideals of guys like Phoenix Sheriff Joe Arpao. I believe Mexicans would rather be in their home than here if they could. There is a documentary called "The Other Side of Immigration" that touches on that."
The title track "Amexica" is a prime example of getting this message across. "I was trying to say, "What is the fuss? Mexicans were in those states along the border long before you." And historically there were "bracero" programs bringing Mexicans up for extra help during WWII. Bracero meant extra arms. "Brazo" is the word for arm in Spanish. I have the line in this song about "Modern day braceros going underground". People will still hire Mexicans for cheap labor."
"Atzlan" is another example. "Aztlan is a term that was popular during the Chicano Movement in the sixties referring to the Southwest. Especially the areas lost in the Treaty of Guadalupe Hildago. The border is a hot topic. From cartel wars to immigration issues the border is like a wound. This song was to hopefully give a back drop of the area of the country I am singing about on Amexica. Like an overture, I guess?"
The song "Assimilation Blues" talks about "Kids who speak English and not their native tongue". It points out the "Assimilated generation standing at the gates." I wondered if he worries about the impact of assimilation on his kids, family, or community. His response was illuminating. "I really don't!  I welcome diversity" he told me. "Plus I never really spoke Spanish as my first language. My parents were well on their way to assimilation. That song is just a story of 3 generations. 1st verse grandparents, 2nd verse parents and 3rd the grand kids."
"It is a little bit autobiographical" he continued. "Especially the line about having "privileged American kids speak better Spanish than they ever did". I sort of experienced that.  When I was a kid all my Mexican friends were made fun of for not speaking English very well. I was sort of in between that. Everybody wants to fit in, so we did. Decades later it was a tough pill to swallow when suddenly people were seeing the advantage of speaking Spanish for a business edge. They send their kids to fancy language schools abroad to learn Spanish. I had a little resentment. I am over it now. I got it out in this song. I do however encourage families that are first generation to not lose the language before it is too far gone. So they can have the advantage of being bilingual. As far as my family - my kids are growing up with Pow wow dance and Aztec dance.  I think they have a better idea of who they are than I did at their age. I am not able to teach them Spanish completely. But they understand some Spanish. Hopefully they want to learn on their own."
Video credits: Gerry McNally, Freddy Trujillo