Interview
Frontman/trumpeter Robert Dehlinger debuts the Alpha Rhythm Kings with swinging energy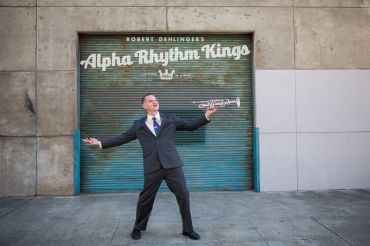 Some bands debut with the subtlety of a falling feather. And then are others who burst onto the scene with scorching horns, thumping bass, and jumpy drums. Such is the case of the Alpha Rhythm Kings, who has just leapt onto California's jazz community with an electrifying swing debut EP, California Boogie. Frontman/trumpeter Robert Dehlinger discusses how it all began.
Q: How would you describe your music?
A: Currently I play a fresh take on vintage swing, jump blues, lounge, and boogie-woogie.
Q: What artists influenced you the most growing up?
A: Frank Sinatra, The Beatles, Stevie Wonder, Miles Davis, Clifford Brown, Louis Armstrong, Chet Baker, Roy Eldridge, Frank Zappa, Guns N' Roses, John Williams, Nino Rota, Henry Mancini, TV show theme music, Sun Ra, I could go on.
Q: What styles of music had the greatest impact on you creatively?
A: I remember TV show themes and jingles, going back to my very earliest memories. Also, my parents listened to a lot of Frank Sinatra, Nat King Cole, and soundtracks to musicals. As a teenager I really got into the Beatles as well as Guns N' Roses. I eventually found the great jazz artists like Miles Davis, Clifford Brown, Thelonius Monk, and John Coltrane. As an adult, I wound up playing a lot of swing, 1940s R&B, and boogie-woogie. I studied the old records and really endeavored to recreate those sounds, which influenced my playing in a huge way.
Q: What was your introduction to music? How old were you, and how did it affect you?
A: My family bought an upright piano when I was very young. I have memories of feeling very calm as I listened to my parents peck away at the keys (they didn't know how to play). It was a great feeling. I also remember picking out the melody to "Yankee Doodle" by ear, which was satisfying. My formal training began in my local public middle-school band program, when I was 11-years-old.
Q: Did you grow up in a musical environment?
A: My parents both loved music and sang in the church choir every Sunday. There was no professional music going on in my family, growing up. A lot of records were played on the stereo.
Q: What instruments do you play, and how did you learn?
A: My formal training began on the trumpet. I learned in school. I then went on to play in community bands and youth orchestras, and went on tour, as well as attending the New England Conservatory of music in Boston, Massachusetts. I earned a master's degree in jazz performance.
Q: What was the first song you ever wrote?
A: I wrote a bossa nova-influenced song, with lyrics, called "Problems" when I was 11. I had made up some little ditties before that, but that was the first time I actually sat down and wrote out a tune with lyrics.
Q: How have you evolved creatively?
A: I'd say that my music has gotten less eclectic, and that I've found my own specific vibe. Very much Louis Prima, Louis Armstrong, and Harry James. It actually allows me to express myself more clearly, and to connect with the audience, having a clearer vision and approach.
Website: