Interview
Getting Personal: Shovels & Rope on 'Little Seeds'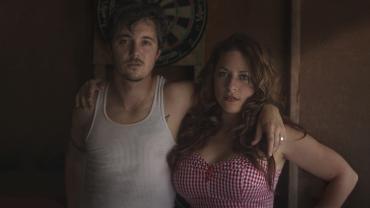 Music can help us calm down or rev up. It can teach us and heal us, or just help us fill a void. At it's best, though, it's redemptive — a truth Cary Ann Hearst and Michael Trent, perhaps better known as Shovels & Rope, tapped into on their new album, Little Seeds (out Oct. 7 on New West Records). For a duo used to telling other people's stories, going personal this time meant leaping without a net. Thankfully, the music was there to help them land on their feet. 
In a short window of time, Hearst and Trent became parents, were rocked by the shooting at Emanuel A.M.E. Church in their hometown of Charleston, South Carolina, began grappling with Trent's father's decline into Alzheimer's, and lost a friend in a tragic accident. While any one of these events might have inspired music in and of themselves, taken as a whole, Hearst and Trent turned them into an opportunity for considerable growth — hence the title of the disc. 
The music on Little Seeds, meanwhile, is revelatory. Where the duo sits back into a folky groove, they sit way back; where they rock out, they rock hard. There is no grey area on this disc, and no time or need to mince words. "BWYR" (about the Charleston shooting) and "Invisible Man" are perhaps the strongest moments, plunging deep into some of the greatest unknowns with utter trust and abandon, but that's a place where so much of this album resides. Shovels & Rope's hands are deep in the dirt on Little Seeds, making it one of the finest records in roots music this year.  
Kim Ruehl: Let's start with the title of your new record Little Seeds. What does it means to you guys?
Cary Ann Hearst: The title comes from a line in the song, "Botched Execution," when [the character is] talking about the repercussions of the lifetime of his actions. He's paying the price. He's reaping what he's sewn as he's making a run for it. I feel like that's this whole record for us, too. We've been thrust into a new adult position. [It's] a new state of adulthood that we didn't really anticipate what it would be like, being new parents and facing the aging of our own parents, being in the middle of the big old circle of life. Everything is coming into the third phase of life for us. That refers to the macrocosmic part of our life.
Michael Trent: The beginnings of the beginnings, the beginnings of the endings, and just a whole lot of starting places.
There's a lot of tragedy on this record, between the Charleston shooting and the Civil War song and the songs about Michael's dad's Alzheimer's. I was thinking about you guys being new parents, and I have a two- year-old, so I'm very much in this frame of mind myself. I'm wondering if part of the energy on this record came from you trying to grapple with bringing a new person into this crazy world.
MT: Yeah, definitely. A lot of things were happening to us at the same time — the best things and the worst things. We felt more joy than we've ever felt in our entire lives, with the birth of our daughter and the excitement that goes along with being new parents; and also with the Emanuel [A.M.E.] shooting and we lost a friend … it's been a lot of intense joy and intense grief. I think that, [for] whatever reason, that came out in the songs.
We are usually a little less personal in our writing. We like to explore character-based songwriting with made-up characters and made-up stories. [It wasn't] even on purpose, but those things — those very real-life things — were creeping into the songs for this record.
Parenthood changes the way you view your family for a lot of people, the way you view your parents. I hear a lot of that in this record. It sounds like you're broadening what "family" is: Not just grappling with your dad, but a lot of the questions raised by "BWYR," with its theme about the bigger human family and what we are to each other. Maybe I'm being too metaphysical here…
CAH: No you are right on. You said you have a two-year-old, so you personally know how vulnerable you are, because you have something to lose that you never had before. The world seems scarier and you're thinking how are you going to help them navigate it and make sure they have love and get to have their own kid …
It never really crossed my mind that that would become the dynamic … [and] the lens we would look at the world through from now on. With "BWYR," [I think about] the fact that most people who have children want the best for their kid, and a safe world for them. The fact that we all have that in common is somehow not enough for us to create a world where kids aren't at risk all the time. I can't believe that's not enough. That's the most powerful energy I've ever felt, personally – that protective motherhood thing.
We've been thinking about all the mothers in the last 10 years who have lost their children to violence, whatever kind it is. It's just a cruel, cruel thing.
Yeah, I was going to ask you why you think it's important to comment on those things in music but I think you just answered that. So why do you think songs can be the right vehicle for talking about these things?
CAH: When we write a song, it's helping us personally, selfishly, dealing with how we feel.
MT: We've never really meant to go into the writing of a song thinking, "I'm going to teach somebody something about this." It's more [that] our thoughts and emotions [are] working their way out through music.
Music on its own can be powerful, even without the lyrics sometimes. But when you can paint the picture with the words, and the music supports it in a way that [helps] it make a little bit more sense, it can be a very powerful thing.
CAH: And when we include a song on our recording, in a body of work, it's available for use by somebody else. Maybe one of these songs is something they connect to, and they can use it.
There's some folkier songs on Little Seeds, but this album generally rocks hard. There's a rawer, harder rock thing … this album 'goes there'. Were you trying to get a little louder and more raw this time or is that just what the songs called for?
MT: It's definitely the loudest we've ever been on record, some of the heaviest music that we've tracked. But there's also some of the sparsest arrangements on this record.
We're always trying to stretch ourselves a little bit. Every time we've made a record and put it out, the songs have all been played live [before that]. I feel like, before we were coming in to record this, we were playing songs from Swimmin' Time and songs from O Be Joyful and those arrangements had been ramped up a little bit [in our live show]. So we were trying to match that energy when we came in to conceptualize the arrangements for this record. We wanted to turn it up and lay it down like that [first] instead of trying to turn it up later.
There's a couple of places on here where you sound like one person singing. You usually go there in your live performances, but you really nailed it here, on "Invisible Man," especially. You're singing in unison and it sounds like this crazy echo inside someone's head. I wonder do you practice that or is that justhow your connection works as people?
CAH: I thought it was pretty cool when we were working up "Invisible Man" and Michael suggested we sing it in unison. I thought that's a really cool departure from what we generally do. We usually do like the Everly Brothers, and sing harmony from top to bottom.
It took us a while to tune our voices to singing unison so that we could sound like a double of one person. There are nights when that happens and then there are nights when we're not quite dialed in, and usually I'm departing from the melody.
But it's a super cool feeling, when you're really imitating each other — like when a guitar string is being tuned and the vibrations go a little bit faster or slower until it's in tune. That's kind of what's happening. It's a new experience for me. I mean, it sounds like the simplest thing to do. All you've got to do is sing the same thing as somebody else. But! It's different. We're approaching it with a really deliberate kind of head-vibrating [energy], trying to get that exact same vibration. It's a pretty cool physical feeling, too.
Singing comes really natural [for us]. When we would make records, we'd sing our part live in a microphone configuration, [where] we can sing at the same time, because the performances are just always better. We can kind of use our keen psychic awareness, watching each other's facial expression and knowing what each other is going to do. That's something we've always been able to do.
Y'all are able to capture the live energy on record in a way that I think a lot of bands try their whole career to do. Maybe that's a husband and wife thing, and maybe that's just the magic of your music making.
MT: That's all the pent-up marital frustrations. [Laughs.]
CAH: We used to could do that because we were young lovers and we were just into each other, and kinda flirting like that. Then later in life we were a band, becoming a band. And now we're two people who spend 365 days a year, 24 hours a day together, who actually get along pretty well.
We must have an amazing clinical codependency that's actually functional and compelling. [Laughs.] I don't know. We've got the family thing going on around here. It's a new magic realm that we live in and are navigating — and it's awesome.