Interview
Going back to our roots via Canada and Colorado; interview with Tia McGraff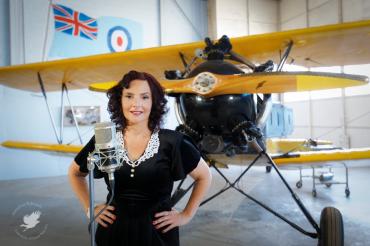 Ahead of her UK tour starting later this week I caught up with Canadian singer-songwiter, Tia McGraff.  As we know, the connections between the UK and Canada are many and strong; our chat certainly reinforced these in a musical context. With seven album releases and a dedication to performing that would put many to shame, including as many tours of the UK and a new album on the way, we had a lot to cover.
Tia and her husband, producer, co-writer and co-performer, Tommy Parham were over here last May so the obvious place to start was with what's been happening since. "Touring and writing mainly; we've been performing in the US, particular highlights were shows in Texas and Florida as well as a lot of dates back home in Canada. We've begun to write for a new album, after all 'Crazy Beautiful' our most recent record, is two years old now", How do you combine writing with the rigours of touring? "Ideally, the best place to write is back home so we are doing a lot just now as it's a quiet time on the touring schedule. But we do write on the road; last year we wrote two songs in a single day's break while in Nashville".
This seemed a good opportunity to dig deeper into where Tia derives her inspiration. "Places, movies, people" came immediately to mind. "For example on last year's UK tour we were driving over Dartmoor when we came across the wild ponies. I wrote a song about that lovely place and the ponies which will feature on the new record. Also, Tommy and I love movies. Over the holidays we watched 'Come Hell or High Water' set in a small Texas town that inspired another song. While we write our own material, we do collaborate with many others who bring new ideas so rolled together there's a lot to draw on".
Two highlights of last year's set drew on the long history of Tia's home in Port Dover, Ontario. Is history another source of ideas? "Sure, I love this area, on the north shore of Lake Eire, steeped in history and natural beauty. Tommy is from Colorado, another beautiful place so we can combine the nautical with deserts. Not many can do that but in the end it's a life message we bring".
Inevitably we digressed into politics prompted by a song from Tia's 'Diversity' album' 'Angry Eagle'. Written in the aftermath of the financial crash about people losing their homes, it rings true today. The eagle is still angry. "Thank God for music".
With so much to write about, I had to ask Tia when she knew she wanted to be a songwriter. How did you get started? "I began writing and performing in Canada then moved to Nashville where I really learned my craft". And is that where Tommy came onto the scene? "Yes, he'd moved there six months previously, we met through his publishers then we started writing together. Soon after I broke my piece of advice to myself, don't date your co-writer. We've been married for ten years now and an early decision was, do we stay in Nashville or go out to our audience? So we moved back to Canada but that's really a base from which to travel".
A Canadian and an American living in Nashville then Ontario; the catch-all tag, "Americana" might seem a bit limited so how do you define your music? "Definitely not Americana! In Canada, what we do tends to fall into the folk category but it's certainly roots. I loved Leonard Cohen and the melodic vocals of Joni Mitchell and Anne Murray. Tommy's influences include The Eagles and Jackson Browne. Nashville has also been a big influence as has Texas". Do you feel Canada gets less than it deserves in terms of musical recognition? Quite undeservedly, I added quickly, after all most of The Band were Canadian and they are credited with having invented Americana. "Absolutely, we perform 'I Shall Be Released', The Band version of course. Isn't that the original Americana song? I guess we Canadians are used to being the younger brother. Big bro US is the quarterback, we run the hotdog stand. But there's a lot of talent coming out of Canada right now; these musicians just know they have to fight harder to be heard so that makes them all the more determined".
Pushing that in a more personal direction, how did you get noticed, Tia? "Before I got to Nashville it had never occurred to me that you wouldn't be both a lyricist and write the melodies. You just did both in Canada but Nashville taught me to write a song". Going back to her early days of writing Tia revealed she had always aspired to write a children's book. And now she has. Applying her typical thoroughness she took a course on the intricacies of writing for children. Did you discover anything that could be applied to songwriting? "Definitely, don't tell but show the character". Tia had a great opportunity to put all this into practice. Last time over here she played in South Shields, near Newcastle; on the setlist was 'Abigail', a song about a local heroine who had saved the lives of sailors whose vessel had been shipwrecked on Lake Eire in 1854. Immediately her audience could relate that to Grace Darling who had performed a similar heroic rescue not far away off the coast of Northumberland only 16 years earlier. Pursuing that link Tia and Pearl Saddington, Community Heritage and Events Manager of the Old Lowlight Museum in South Shields, set up a type of song exchange where a group of local kids and another near the Port Dover Museum each wrote a song which they performed to each other over Skype. Pen-pals for the 21st century?
We finished with the upcoming UK tour. "We are doing this in two parts; we start on 17 February with dates in the north of England, Wales and Scotland. We go back home then return in May for more shows in the south". What will you be playing? "A bit of everything really, some songs for the new album, some from 'Crazy Beautiful' and older material". Will you have anyone joining you? "No, it's just me and Tommy. Makes travelling arrangements easier!"
We certainly covered a lot but then there is a lot to this highly talented artist. UK fans; catch Tia and Tommy when they are over here.