Interview
Hannah Aldridge: "If I'm Not Willing to Go Out on a Limb, Why Bother Writing?"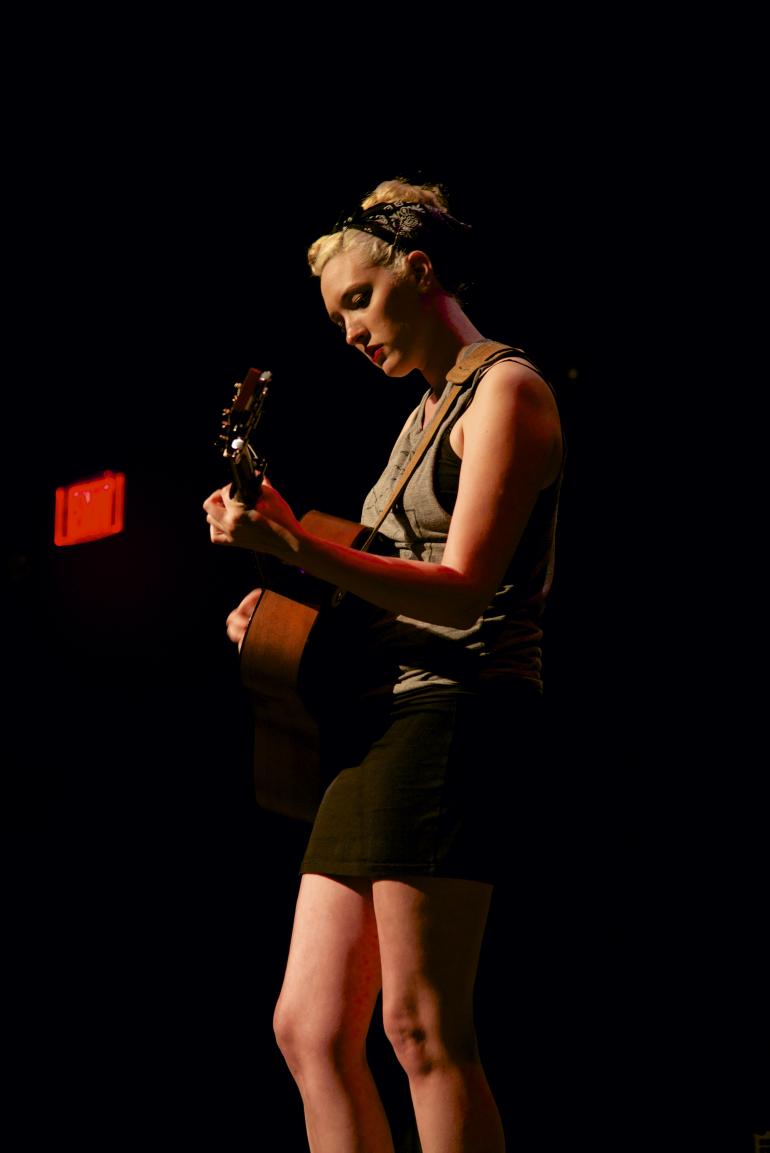 And she is out on a limb. Hannah Aldridge, the daughter of renowned songwriter Walt Aldridge, pours stark, wrenching realities into her music. She grew up in Muscle Shoals, and carries her Nashville influences on her sleeve. Her debut album Razor Wire draws from this musical heritage. Released last May, it is blunt, and confessional. It was written by a woman who, by the age of 26, had suffered the stomach wounds of a failed marriage, been through rehab, and put the shards of this into her music. The feelings and the consequences of those dark times are there for everyone to hear. "It absolutely helps to write about them," she explains. "It helps me clarify my thoughts. It is nice to sit and have to sort out your thoughts when you are hurting, and to understand why you are hurting."
An example of this is the album's title track "Razor Wire," a song that spills out the end of her marriage. "When I first wrote this, I was so scared for people to hear it because I had not addressed the fact that I had gotten a divorce, or why. This song was my way of telling my side of the story, and also something that was so real for me that it just came out. I felt nervous, but at the same time, if I'm not willing to go out on a limb and say what I really mean, why bother writing such a personal song?"
"For my album release show, I cried all the way through 'Razor Wire', because that record was so hard for me to get released and I had so many emotions. There are many times that I get choked up on the road singing. I've also had experiences where I am playing and people chit chat all the way through, and that is part of being a musician. At the end of the day, it teaches me to stay humble and to really engage my audience."
Razor Wire is all her own work, apart from one memorable track. "Try" is from Jason Isbell's Sirens of the Ditch album, and Aldridge's own version happens to be backed by Isbell's own band, The 400 Unit.  Needless to say, she is a big fan. When asked about artists from Muscle Shoals who have impressed her, her answer is clear. "My go-to answer is Jason Isbell.  I'm a big fan of his, and I truly appreciate how hard, and for how long he paid his dues to get where he is."
She continues on the Muscle Shoals theme. "I think right now it is mainly focused on artists versus recording," she says. "There are certainly plenty of projects that are working in the studios down there, but what I see a lot of, is people trying to do the artist or band thing. I love Jimmy Nutt and the work he does down at his studio, The Nutthouse, where I've cut many projects."
With all this music, and writing and recording, she tours a lot. Indeed, this March she is embarking on a European tour, leaving her seven-year-old son Jackson at home. And it's tough. "It is like walking on a tightrope with my eyes closed," she says. "It is so hard. Luckily, Jackson's dad is really an amazing dad, and is so accommodating with me. We have so much help. I could never do it without their help."
She'll be hitting the UK and wider European cities on the tour, and she's doing her homework. "I don't play many countries at the moment that require other languages, but I do know some French, and I'm working on German, so I can be ready for that this year!"
She describes herself as a storyteller. "I like people to know why I wrote a song, and I like to make people laugh. My songs are very heavy but I like to make fun of myself for writing 'I'm so valid' songs all the time."
An example of one of her "so valid" songs would be "Parchman" off Razor Wire, which paints a powerful picture of a woman on death row. "It was a co-write with Greg Barnhill. I came in and told him I had seen a TV show with a woman on death row, for killing her husband, who was beating her. So we immediately started writing a song about it. I wrote it from my stand point, not hers. I put myself in her shoes and tried to say what would go through my head if I were her."
She embraces the chance to make social comment through her music. "The beautiful thing about art and artists is that we have a platform to express our views and support people."  But she has some words of warning on this too. "We also must be careful with this. It seems some artists think that means they get to say what they want. You must choose your words when the world is watching."
Aldridge was classically trained on the piano from the age of five. She sees this as an advantage because, "you learn all of the rules of music in classical training, so you know how to break them." But she wasn't always aware of her talent, or her need to use to use it. "I was a very strange and eccentric child. I was scared of everything and extremely musical, but I didn't ever think I would actually do music because I was so shy about it."
The first show she played was at The Bluebird in Nashville. "It was a pretty big train wreck, looking back on it. I was chosen by my school to play in the round for their showcase. I think I played the only three songs I had ever written. It could have been worse."
Despite all this, though, it looks like the musical pedigree may be passing on through to the next generation.  "Jackson is so much like me as a kid. I thought that maybe the music gene skipped him, but lo and behold he has decided he wants to be a musician and he wrote his first song called 'Ain't No Ghost Gonna Crack My Soul'. It sounds like a Robert Johnson/ Hannah Aldridge co-write. He truly is a great writer for a seven year-old!"
She's not biased at all. But she is fully aware of how important those early childhood influences are, for a working musician. "I think a lot of things from years 0-25 shaped Razor Wire, and the new songs I am writing now. They have influenced me a lot. My parents also taught me to love traveling at a very young age, so this was important when I decided to be a touring musician, because I love to travel."
Hannah describes her music as "dark Americana." Is her personality equally as dark? "My humor isn't super dark. I'm very dry and I think people don't know that I'm joking most of the time. I do think very dark and weird thoughts, but I try to keep those for songwriting! Anytime I get into a writing slump, I pick up a Bukowski or Kerouac book and get the gears turning. I really like Charles Bukowski. He is so dark but so smart and thought-provoking."
It sounds to me that there is plenty of appreciation of darkness there. But who else does Hannah appreciate? As a teenager it was Counting Crows, Dave Matthews Band, Radiohead, Pink Floyd, Jackson Browne, and Bonnie Raitt. "At the moment I am really enjoying John Moreland and Ryan Adams. I listen mainly to people who are songwriters and inspire me lyrically. I listen to all of the people in my market to see what they are up to."
Jackson Browne deserves special mention here, as he is the namesake of her son Jackson. So what is it that's so special about Jackson Browne? Her answer is resolute. "His voice, his lyrics, and his guitar playing are perfect. It's honest and relatable. His voice is unique and edgy and he smokes on guitar."
Of her own playing, Aldridge says "I'm still trying to figure out how to play guitar. I'm learning electric but I'm not sure if that counts." I suspect she is being humble. This is an artist who has toured extensively across the U.S. and Europe, with a steadily growing fan base. She told me, "I think people really enjoy that I treat my audience like we are in my living room." It might be worth getting a ticket while her shows are still intimate enough for that.
Hannah Aldridge - "Born To Be Broken" - Music City Roots
Photos Credits: Amanda Chidoni Barton and Tim Rogan