Interview
Hard To See Trouble Coming: Conversation with Camper Van Beethoven's Victor Krummenacher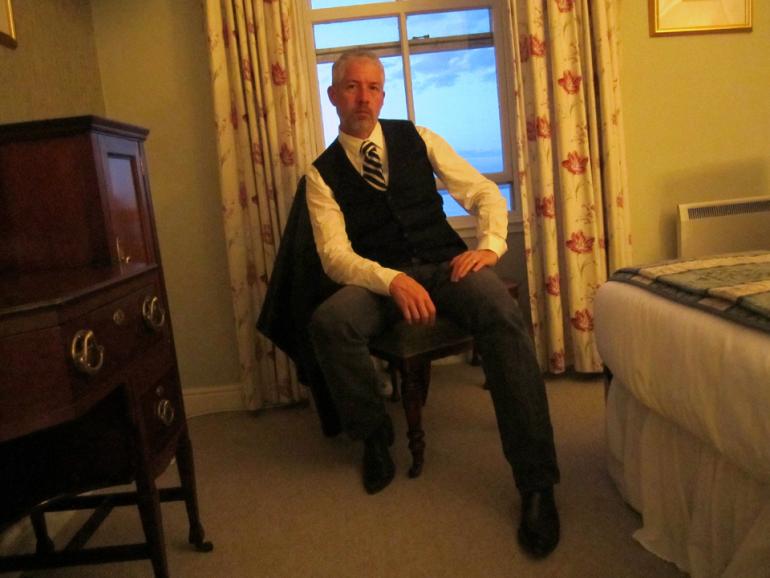 The stringed portion of Camper Van Beethoven's rhythm section, Victor Krummenacher, recently released his ninth solo record, this time under the Veritas Records label. Although a founding member of the indie quasi-punk icons, Hard To See Trouble Coming is a revelation back to the rootsier side of the CVB emblem. Krummenacher surrounded himself with top-shelf talent on this effort calling on multi-instrumentalist Bruce Kaphan (steel guitars, keyboards, mandolin, percussion), Paul Olguin (bass), John Hanes (drums), Loralee Christenson (vocals), Rich Kuhns (accordion), Chris G. Miller (guitar), James Sasser (vocals), Jonathan Segel (mandolin) and Katy Sloan (violin).
A true-to-form dive into the interstellar country twang but teetering on his natural-born punk ethos, this record may be his best solo outing yet. There's an acute honesty, coming off as a memoir of sorts or at least a hinted turning point. Perhaps this is due to the fact that it's his first outing at playing a guitar on record or live, commandeering and recording with a Fender Strat, Martin D18, and a Jazzmaster. Luminous gems like "Chem Trails" and "An Act Of Kindness" adorn the record, the latter displaying Bruce Kaphan's anything but pedestrian pedal steel fills. There's beautiful stuff lyrically, as well.  I'm overtly excited to have had the chance to catch up with Krummenacher to talk about his solo career, the birth of Camper Van Beethoven, a new Monks Of Doom record, his musical influences, and his top five favorite albums:
SSKTDA:   How long have you been collaborating with Bruce Kaphan and where did you originally cross paths?
Victor Krummenacher:  Bruce and I have been working on music together now more than 20 years. I got some money from IRS to record some solo demos back when Monks of Doom stopped touring, and at the behest of Mark Eitzel, I hired Bruce. It seems like the dark ages -- we were recording on ADATS in bedrooms, mixing in off hours sessions at the old Music Annex in Menlo Park late into the evening... but we had a pretty immediate simpatico. He's among the best engineers I know and a stellar musician, and a superlative human. His support has really kept me going through some extremely tough times and we've made a lot of great music over the years.
After numerous side projects, CVB, Monks Of Doom, and now 10 solo records, which outlet captures the truest Victor Krummenacher? 
The solo stuff of the last few years is the most accurate reflection of what goes on in my brain, musically. I don't ever really feel confined by style. ... I actually don't believe in musical style all that much. I can go in any number of directions, and feel completely invested. But really, I like a great story-song and that's what I try to do most of the time. It's the folk idiom, and that really makes sense, because the first music I remember hearing was folk music. But y'know, I'm working on finishing the first Monks album of new material in 20 years and it sounds like King Crimson. So don't hold me to nothing.
How was Camper Van Beethoven born?
The punk rock scene, pre-internet. I grew up in the Inland Empire, the music scene was very small and there were not a lot of people in 1979 who were into the new music there. David Lowery grew up there and I met him at a party, probably around the same time I met Johnny Hickman. Those guys were older and they were playing music and I figured that it would be a good thing to hang out with people who were actually playing music instead of talking about it. David was home for the summer of 1983, and Camper began as a summer project in Redlands, where David's parents were living. We wound up moving up to Santa Cruz later that year and we just kept at it.
How does the writing process differ from other projects? Describe your creative process for Hard to See Trouble Coming.
When I'm songwriting, it's constant. I am usually writing something, I'm always thinking through ideas, it's just a very natural process for me. Whether or not I'm actively writing or not, I'm always thinking about kinds of songs, or ideas for songs, things I want to try. Once the lyrical idea is honed, I can make a lot more choices about where to go, but frequently there are lyrics without music or music without lyrics, and things have to be matched. Sometimes songs have totally different arrangements, totally different music, and we'll record it and for whatever reason it won't work. It's a totally fluid process. But I interpret the world through music, that is the constant, and it's how I express myself. The experiences I go through wind up percolating their way into my music, and then the musical experience transforms me. That's just how it works.
Who do you credit as musical influences, early on and up through now?
Early on it was the first-wave UK punk rock stuff. It was happening when I was a kid so it was super exciting. The Clash, The Jam, The Pistols. Then LA punk rock. X/Blasters/Germs/Slash records. Then post-punk stuff: The Fall, Joy Division, LA underground, The Dream Syndicate. ... and then it all exploded. I was a young musician in Santa Cruz living with a bunch of people with wide-ranging taste. You could have Ornette Coleman, Sun Ra, Television, The Basement 5, and The Chocolate Watchband and Gram Parsons playing one day and Nina Simone, Billie Holiday, REM, Funkadelic, Nick Cave and James Brown the next. I never turned back. I listen to anything if it's good.
Constants, as far as songwriters, would be things like Rodney Crowell, Richard Thompson, Dave Alvin among the living and John Martyn, Bert Jansch, Bill Morrissey, Kare Wolf among the dead. That's really just scraping the surface. Dylan, Robyn Hitchcock, Buddy Holly, The Everly Brothers, Peter Green's Fleetwood Mac, BB King, Aretha Franklin, Rowland Howard ... Spoon, Interpol, Sleater Kinney, Built To Spill. ... Errol Garner ... I don't know. I could go on.
What mark do you hope to leave in the rock and roll ether after all the dust settles and we're long in the tooth?
I just want people to understand that songs, played by humans, in real time, with hearty imperfections, soul, bad notes, and poor tuning are the meat and potatoes of our human musical interface. That's where, in my experience, the most compassion and solace for the human experience shows up. And that is usually a coffeehouse gig with an acoustic guitar. Usually. It's all relative, but for me, that's the lesson. Heart-to-heart songs are vital to people, and their value is equated by anything more or less than how they make you feel, and that feeling can be anything in the spectrum.
What are your top 5 go to, all time favorite albums?
This list will change tomorrow, but:
Richard & Linda Thompson - I Want to See the Bright Lights Tonight
Bob Dylan - Love & Theft
Ornette Coleman - The Shape of Jazz to Come
Television - Television
Dave Alvin - Ashgrove
+Words: Victor Krummenacher/Scott Zuppardo+
SSKTDA on Facebook | SSKTDA on Twitter
***Check us out at Sad Songs Keep The Devil Away for more musings and such. Dig Deeper, you deserve it***
music submittals: sadsongskeepthedevilaway@gmail.com