Interview
Homeless Balloon takes flight with different sounds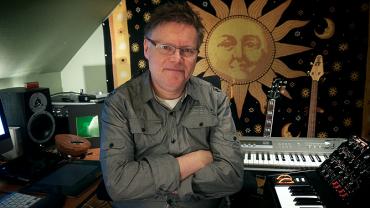 Homeless Balloon is not a thing or a band; it's a person. His real name is Helge Krabye, a Norwegian composer and multi-instrumentalist who cannot be contained by a single genre. Under the Homeless Balloon moniker, Krabye has released music that can be classified as New Age, acid jazz, and blues. But how was this versatility born? Krabye revealed all in this interview.
Q: How would you describe your music?
A: The word that best describes my music is eclectic. My musical taste is very broad, and I love acoustic and electric instruments as well as synthesizers and digital software. The genre I like to use when describing my music, is ambient jazz. (Even if "jazz" is too big as a word to describe my music.) Some listeners find my music when they search for chill-out. I tend to use minor scales more than major, and my music usually has some strong, melodic elements, which proves that I'm an melancholic person. I always improvise when creating music. Eno said once that "Luck is being ready!" In order to compose interesting music, I need to have inspiration. To get inspiration, I sometimes have to wait for the right moment. When the inspiration hits, I record as much as possible. Then comes the hard work: Listening, analyzing, building further, trowing away, cleaning up, orchestrating, and mixing.
Q: What was your introduction to music? How old were you, and how did it affect you?
A: I am quite sure that my first introduction to music was by listening to the radio as a very small kid. This was in the 1950s. My grandmother discovered that I was fascinated by the music, and she bought me a small, wooden zither with eight strings (tuned in C major). I remember bowing my head close to the zither, touching and feeling the strings and enjoying the sound and plucked away without knowing anything about harmonies and music theory. I still have this instrument, and it is still playable!
Q: What instruments do you play, and how did you learn?
A: I haven't practiced on my violin enough to say that I play it any longer, but I sometimes use it in my own compositions, thanks to digital editing and ProTools. I also love to play electric and acoustic guitars, electric bass, mandolin, mountain dulcimer, keyboard and synthesizers, but I am self-taught and not comfortable with performing on a stage. Much inspired by Brian Eno, I view the recording studio, the mixer, and the computer with software as instruments in the true sense. Music is all about sound, and making music is to catch new sounds and put them together in a landscape that make the listener feel something. In the early '80s, I discovered the Macintosh and software that made it possible to record and create music. I saved money for a year and managed to purchase the very first version of SoundTools, that later became ProTools. I dived into the world of MIDI, the computer language that makes electronic instruments play in sync and be controlled by software. I studied manuals, I experimented, and I read interviews with electronic artists. On the recording side, I had professional training at work (NRK) where I was a sound engineer.
Q: Did you grow up in a musical environment?
A: Absolutely. When I was six, I started to learn to play the violin, and after a few years I was playing first violin in the school orchestra. I was very lucky to have a great violin teacher, Peter Hindar. So, classical music was my entrance into the world of music. However, when the Beatles released "She Loves You," "Help!" and "Day Tripper," I was, of course, convinced that the electric guitar was the instrument I wanted to play. A new musical world was opening up in front of me. I remember warm summer days out on the lawn with my friends, and the small, portable record players with the latest 45s by the Beatles, the Stones and the Kinks! We only had one radio channel in Norway in the '60s, so it was the vinyl records and foreign radio stations like Radio Luxembourg that meant so much to us.
Q: What styles of music had the greatest impact on you creatively?
A: The '60s was a fantastic time for music, not only because the youth culture was becoming so strong in Europe and the U.S., but also because how fast the technology developed. When I first heard "The Last Time" by Rolling Stones in 1965, it wasn't just the melody and song, it was the sound. That distorted, electric guitar, the heavy drums, the cool voice of Mick Jagger. "Day Tripper" was released by The Beatles later that year, too, and there was that cool sound again! So it wasn't only the music, it was also the sound. When I was 15, I bought my first tape recorder (Tandberg), and I started recording both my instruments and physical sounds in my daily surroundings. Eight years later, I was working as a sound engineer at the National Broadcasting Company (NRK) in my hometown Oslo. Because of the strong interest in sound, I discovered the German composer Karlheinz Stockhausen and his album Kontakte, and I heard sounds I hadn't heard before. Electronic and experimental music sounded so fascinating. And the new, electronic sounds began to pop up in rock and pop music as well, like on Beatles' Sgt. Pepper album in 1967.
Stevie Wonder's Music Of My Mind (1972) also had a great impact on me and my creativity. This album was a milestone in many ways. Synthesizers were not just used to add a little spice, they were the main instruments, and they sounded great. Songs like "Super Woman" and "Happier Than The Morning Sun" were pure art in my ears. The early 70s was a special time for music because the recording studios had become so advanced, with multi-track recording and a lot of talented sound engineers and producers. Mozart's "Symphony No. 40" and music by Ravel and Stravinsky also has had a great influence on my creativity. They helped me understand the importance of harmony and variation in music. Listening to jazz musicians also helped me discover the importance of silence in music.
Q: What was the first song you ever wrote?
A: The first song I wrote was an ambient soundscape I named "Song Of Norway." I created it by mixing sounds and voices from the radio with short performances on my acoustic guitar. I used over-dubbing with a new Tandberg tape recorder with so-called cross-field technique. This was in 1972, and I was 19.
Q: How have you evolved creatively?
A: I worked for many years in the Radio Drama department in NRK, as a sound designer. I was allowed to compose music for several radio plays, and this was the perfect place for me to evolve creatively. Later, I began working as a sound designer and post producer in television, and I composed original music for television documentaries. I have had a very creative relationship with one of the best photographers and creators of nature documentaries in Europe, Arne Nævra, and I have composed music for several of his television series. My music album "Wild North" is just one example of my music for TV. Working with both picture, sound, and music has been very rewarding and helped me develop creatively.
I think I know myself better now than when I was younger, but the irony is that the more I let myself go, the more creative I can be. Letting the ego go, that's what's important when you create. Just like with inspiration: it suddenly drops down and wants to be grabbed. My best musical compositions were not created by me, but by something much bigger that I am just a small part of.
Website: