Interview
Hot Damn! Richard Lynch Talks Traditional Country, Kentucky, And Cinnamon Scnapps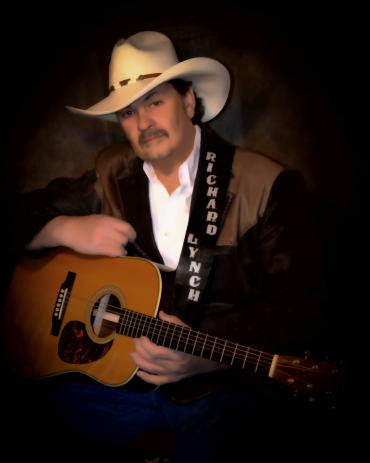 Independent Country Music Hall of Fame Inductee, Richard Lynch has a new album out, A Better Place. Recorded and produced with renowned songwriter, Billy Yates, the album has spawned a #1 Roots Music Report single, the hauntingly beautiful title cut.  The track is receiving international acclaim and airplay.  Richard took time out from his busy touring schedule to talk with us about his unique brand of traditional country music, his Kentucky roots, and his penchant for a shot of cinnamon schapps.
MTS: You've performed with some pretty big names in country music.  How does opening a show for a well-known act compare to your own headlining shows? 
Richard Lynch: It's honor to play with the major performers in country music but gratifying to be my own headliner.   

MTS: What's the craziest thing that has happened while on the road, and where did it happen?  
RL: Taking my Dad back in the 90's to Baltimore MD and he goes to the bar and the next thing I know he has struck up a conversation with a bar patron (Dad did not know a stranger) come to find out he had gone elementary school in rural eastern Kentucky back in the 30's and had not seen the fellow since he had left Kentucky way back then.

MTS: Your video with Billy Yates has been very well received on outlets like CMC TVUSA and Yallwire. Tell us about the video for "We Both Drink Alot Alike."  Where was it shot?  Who is in it?  Who directed? What is the concept, and How did the concept come about?    
RL: That video was filmed in a club in Dayton OH and myself and my band along with the songwriter/producer of the song Jess McEntire is in the video as my duet partner.   The concept came from the video director Josh Hasty, young upcoming videographer from our area and he concepted the idea of showing how we all "drink a lot alike" just having a good ole time in a honky tonk.   Also I end the song with the statement I am tired of this drinking thing accept for a little shot of Hot Damn which is a cinnamon schnapps I sip from time to time  So there are shots of the Hot Damn shots in the video, too.
MTS: Critical praise, record sales, or industry awards...which one is most important to you and why?  
RL: Industry awards mean the most to me because it makes me believe the peers of my music profession show their appreciation for my music with these awards

MTS: Tell me about your latest single and video, "A Better Place."  How did the song come about, who wrote it, and what was the recording process like, working with Billy Yates?   
RL: The song was written by Billy Yates and Trent Tomlinson and when I heard the demo I was blown away with how the story touched my heart, gave me goose bumps.   Recording the entire album was an amazing professional experience with top industry players in the high quality Beaird Music Group studio.    A peak in my music career.

MTS:  Have you been writing and recording for a new album yet?  If so, tell us about the direction the new album is taking. If not, when do you think you will begin working on the next record? 
RL: Yes I have been writing some songs.  The direction I want to take with this next album is to have more content that I have written or co-written in.  The music will be real traditional country music.

MTS: Up to this point, what is the highlight of your music career?  
RL: Having my music play internationally in so many different countries with so many new fans listening is a highlight to me!

MTS: Do you have a follow up single planned, after "A Better Place?"  What song is it, and when do you plan on releasing it as a single?  
RL: I would like to follow up with releasing Look Out Below from the Better Place album.  Some radio stations are playing this song with no promotion behind it so they have picked the song which tells me it has some appeal to it already..it has also shown up on some charts as well

MTS: What is one career goal that you hope to accomplish in the next year? 
RL: Perform overseas...Australia or Europe would be an awesome experience, where so many people appreciate traditional country music.

MTS: Outside of music, what does Richard enjoy?  And if I was to come to your house, what would you serve for dinner?   
RL: I enjoy the farm life, raising the hay, messing with cattle dog, fussing with the horses.......for supper we would have fried taters, soup beans, corn on the cob, cornbread, fresh tomatoes and onions from the garden if its summertime!  Now that's country!