Interview
How LA artist James Bowers combines film noir, STP and The Beatles in his new song & video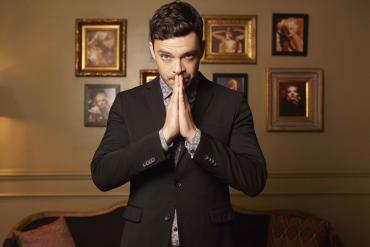 What can be more appropriate for the Halloween season than a video that gives you the creeps...or rather, a video entitled "Creep" that leaves a bit of a chill in your mood. LA singer-songwriter James Bowers took on the daunting task of re-making the 90s grunge rock song by Stone Temple Pilots but in the style of "Eleanor Rigby" by The Beatles. Bowers and his production team do a nice job both sonically and visually maintaining the dark meaning behind the STP lyrics, while instinctively adding a string arrangement that harkens to another song about "lonely people." He teamed up with film noir expert, Federico Torrado Tobón, to create the music video for Bowers's version of "Creep" that captures the bleak mood of the song quite eloquently. While the subject matter is depressing, Bowers definitely is not. He has a lot to look forward to personally and musically in the coming year, as he explains in his in-depth interview below...
Welcome to No Depression! What prompted you to recreate the song "Creep" by Stone Temple Pilots? And how did you end up working with powerhouse producer, Paul Broucek (Lord of the Rings trilogy) and arranger, Jonathan Sadoff (Beautiful Creatures film, starring Jeremy Irons and Emma Thompson)?
Thank you for having me! I'm a big fan.
Paul and I have actually been working together for about 10 years now, I'm very fortunate to have him in my corner he has an ear like you wouldn't believe. Paul brought in Jon for this project, we actually met in the Warner Bros parking lot and immediately hit it off. Paul, Jon and I are all from Chicago so we have a similar vibe I suppose.
The cover of "Creep" came about while I was sitting in Jon's studio working on other songs for the project. We watched the video and listened to a few different versions and I knew I wanted to do it. I always loved the haunting lyrics and tonality of the song. Jon and I started working on it and actually had a real hard time at first, to the point that we shelved it and continued to work on other songs, eventually when we came back to it, it was like a bolt of lightening hit us and we figured it out. One of those "How did we not think of this first" types of situations. It was very important that we do the song justice, especially after Scott Weiland's passing, which happened while we were working on it.
Your version of "Creep" is such a vast departure from the raspy-vocal, rock STP version. What was the production process like in deciding to use strings in a style reminiscent of "Eleanor Rigby" by The Beatles?
Paul came up to me one day and told me he had an idea to make an album in which "Eleanor Rigby" was the inspiration for each song. I have always been a huge Beatles fan and that song specifically really impressed upon me the scope of what a band or a musician can do. I was immediately on board. My previous project with Paul (The Celia EP) used a lot of strings in its instrumentation, so I already felt very comfortable in that space. It was a lot of fun, and the album sounds gorgeous.
What was the video-making process like, working with Colombian filmmaker Federico Torrado Tobón? Are you a personal fan of film noir?
I've been a film noir fan ever since I saw the movie Rumble Fish as a kid. I love the use of light and shadows. More importantly, we felt it important to pay homage to STP and their original video which was directed by Baz Luhrmann, if I'm not mistaken. So if you watch both videos you'll notice there are some similarities. Fed was fantastic to work with. He has such a calm demeanor, but inside his eyes, you can see his brain is running at a mile a minute. He has so many inspiring ideas. The end result was fantastic. He did a really great job, and I couldn't be happier with the video.
"Creep" is the first single from your upcoming EP Eleanor Sessions, due out in early 2019. Can you give us a preview of the rest of the tracks on the EP?
Absolutely!  
"Oh My My" is a somewhat whimsical pop song about love and wanting someone so much, your head spins and you can't think clearly.
"Orange Monarch" is a song about a relationship that's fleeting. One of those fast-burning relationships that end as fast as they start but shape you profoundly.
"Someone Like You" is another cover, one of the song by Kings of Leon in which we really took that song and made it dark and eerie.
"I'm Sorry" is a song about leaving someone through no fault of their own.
Any special plans for Halloween, besides celebrating the release of your new video? And your plans for 2019?
For Halloween, I generally like to steer clear of any restaurant or bar as they're packed. My wife and I like to walk around the really nice neighborhoods in Hancock Park and see all the decorations and all the kids running around in their costumes. We sometimes also dress our dog up purely out of a love of watching her hate whatever she's wearing.
As for 2019 – I have big plans! I really want 2019 to be the year in which my music reaches a broader audience. I plan on getting ready to work on my next album and touring. Also, my wife and I are expecting a baby girl in January, so I'm sure there will be a lot less sleep on 2019 but I'm really excited for it.
Ladies and Gents, the music video premiere of "Creep" by James Bowers...
Find "Creep" on Spotify and iTunes.
For more info:  JamesRBowers.com